Chef James Won's new restaurant, Bouchon Enfin, is inspired by his time in Lyon, France.
You have your bistros and your brasseries, but another French restaurant style is a 'bouchon', exclusive to the city of Lyon. A bouchon typically features family-style dining with large plates designed for sharing, and you'll often find that the menu consists of recipes that have been passed down from generations before. Bouchon Enfin, according to Won, is a "true fusion" of French and Malaysian cuisine, making the former more accessible with flavours familiar to locals.
The restaurant is located on the third floor of Pavilion Kuala Lumpur and has an eclectic yet inviting interior. On the outside, you'll find alfresco seats and a mural just around the corner done by local street artist Kenji Chai.
On the topic of local talent, Won has ensured that his new restaurant places a deep emphasis on locally-sourced produce. He's worked closely with local pig farmers to source the pork used in Bouchon Enfin – and there are plenty of pork dishes here – as well as Langit to source heirloom agricultural products from Sarawak including rice, peppercorn, and more.
What do you think is the perfect fusion of French and Malaysian cuisine? Did Bouchon Enfin do justice to it? Below, I dissect several items on the menu that I've tried and why you should order it for yourself.
Appetisers
Won mentions that his house platter of smoked and cured meat from charcuterie (RM78) is particularly popular, and we can see why. Charcuterie boards have been enjoying its time in the spotlight recently, particularly because people are finally realising how nice it is to just idly graze from a platter of assorted meat, cheese, nuts, and dried fruit. Bouchon Enfin's version features an assortment of local pork cuts. My particular favourite was an extremely thin-cut slice of pork jowl that had a delightful bounce and texture. At the heart of the charcuterie board is a serving of acar — a Malaysian-style pickled vegetable dish tossed with ground peanuts. This particular one is Won's grandmother's recipe.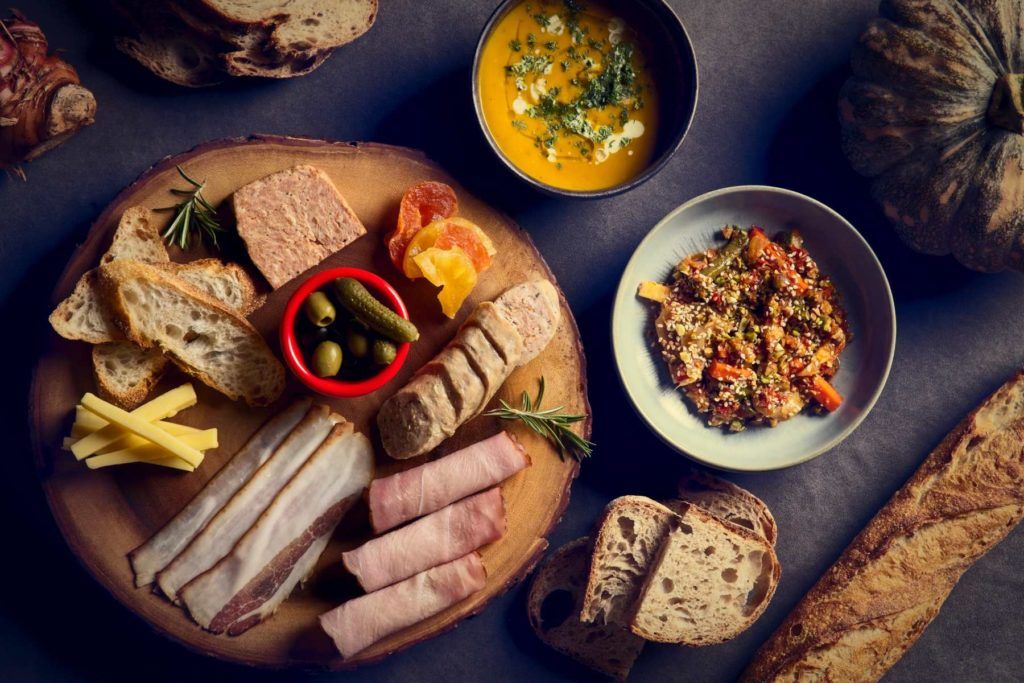 The Soup of the Day (RM19) that I had was a curry pumpkin soup that perfectly encapsulated European and Asian flavours. On one hand, there is the rich and creamy flavours of pumpkin soup that we're all familiar with. Then, the Asian part kicks in and lets you know that both can coexist harmoniously, making the dish even better. The Asian part that I'm referring to is the spicy nyonya-style curry flavours that were infused perfectly into the soup, lending a glorious spicy kick that locals can definitely appreciate.
Mains
A classic French staple that you might be familiar with after a whole season of Emily in Paris is coq au vin, a chicken stew that has been slowly braised in red wine and a bit of brandy. Bouchon Enfin's version of Coq au Vin (RM58) is made with spring chicken and all the standard ingredients, except that Fook Chow red rice wine has been used in place of your standard red wine. While both alcohols are extremely different – one is fermented rice and another is fermented grapes – this traditional Chinese replacement surprisingly worked well for the dish. It emboldened the stew and gave it a rich, earthy flavour with extreme depth.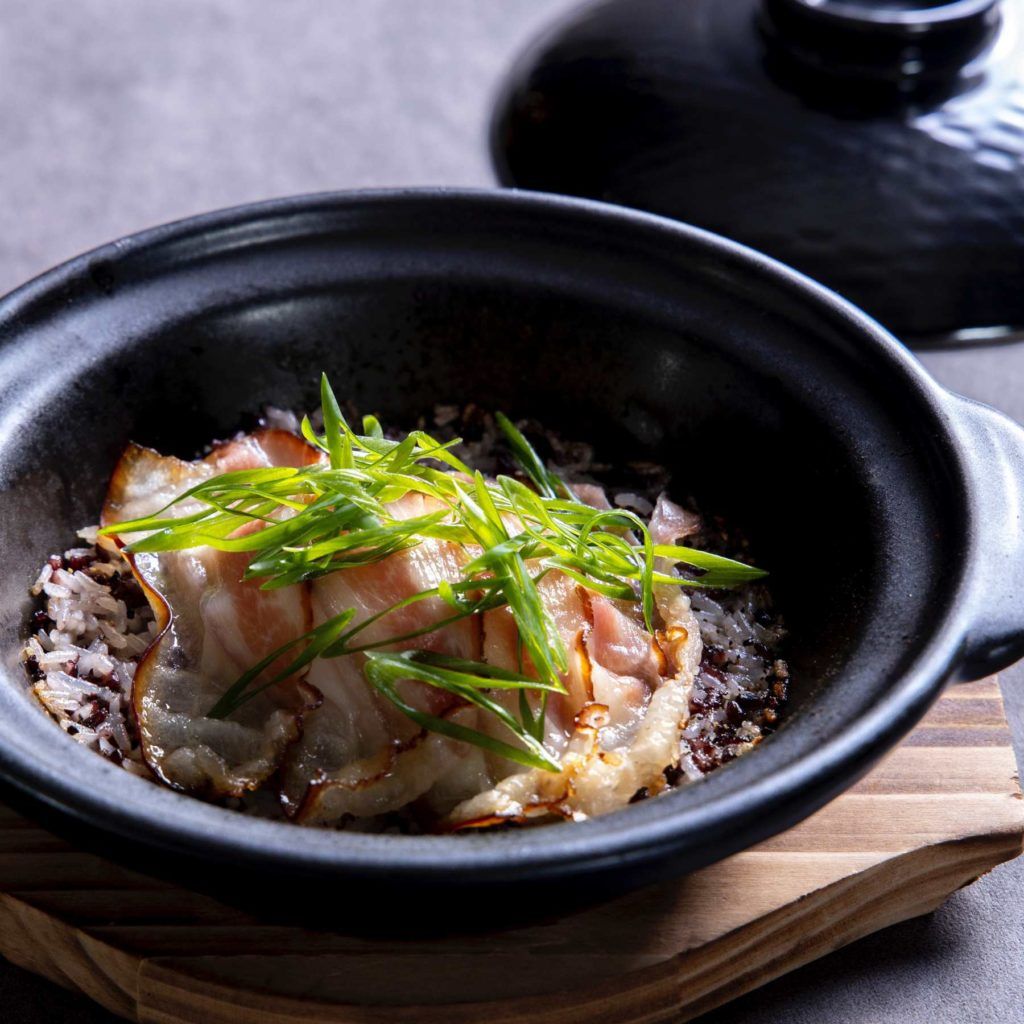 Another must-try, in my opinion, is the Wild Rice Bowl (RM39). This hearty rice bowl comes in a single-serving clay pot and comprises a variety of rice variants including beras Salleh and Rumie from the Sarawak highlands. The protein in this is smoked cured pork cheek slices, spring onions, superior soy sauce, and crispy pork lard bits, topped with soft-boiled kampung egg on top. Mix everything well and feast. If you haven't tried the different varietals of Sarawakian highland rice, this will definitely be a good introduction for you. The different flavours and textures of rice feel amazing on the palate while imparting an earthy flavour completely different from your standard Siam rice. This may not be a French dish, but it will have a special place in my heart.
Desserts
Did you know that single-origin Sarawak peppercorn exists? I didn't, and was today years old when I found that out from Won himself. Most of the pepper sold has already been mixed with several varieties, but single-origin Sarawak peppercorn has a distinct citrus-forward note that's special only to our terroir. You can taste this for yourself in both the Lada (Sarawak peppercorn) Creme Brulee (RM18) and Sarawak Pineapple, Peppercorn Tarte Tatin and Vanilla Parfait Glace (RM49).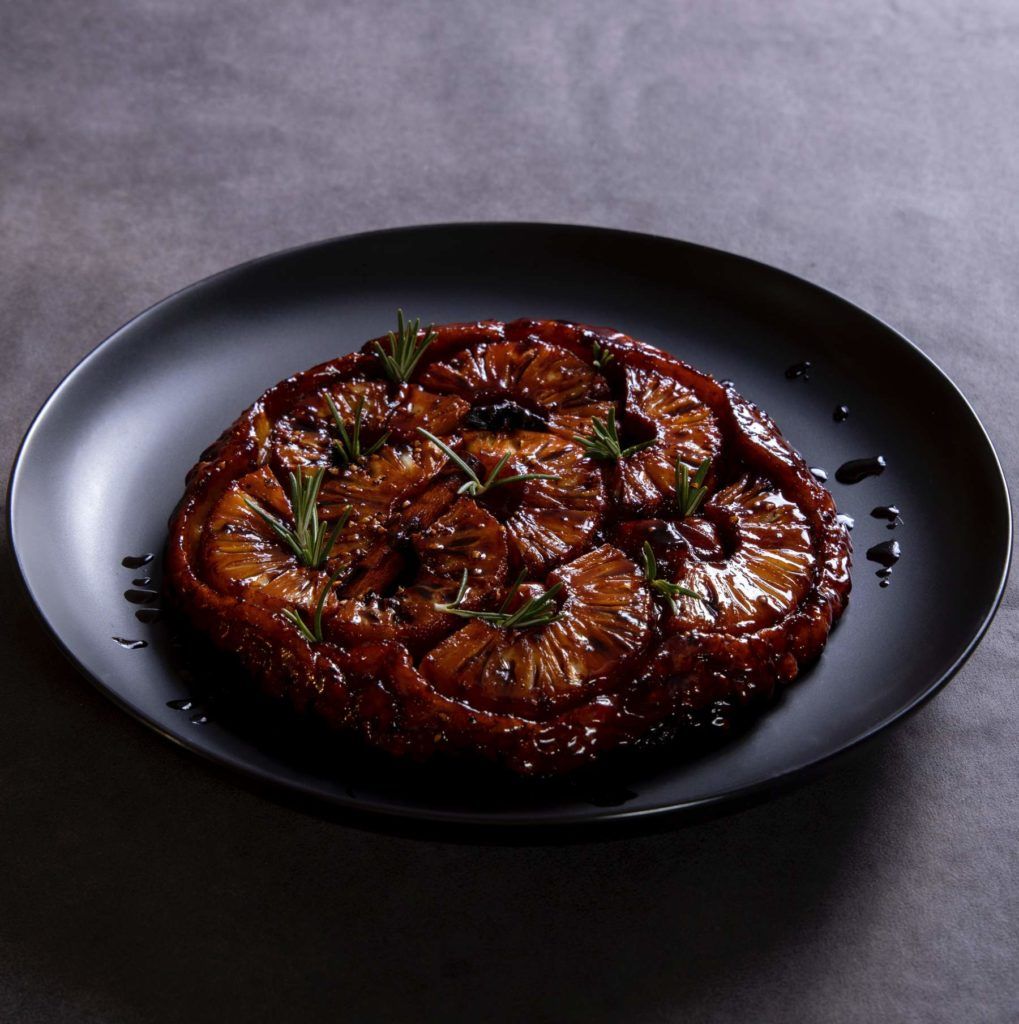 The flavours of the peppercorn were exceptionally distinct in the creme brulee. You might think it's a weird addition to the dessert, but you barely even notice it. Like chilli chocolate ice cream where you taste the spiciness in the aftertaste, you really only taste the peppery sensation in the aftertaste of the creme brulee, but your first tasting notes will be of citrus and the creamy, caramel flavours of creme brulee. The tarte tartin, on the other hand, is a work of art. Do note that you have to wait 30 minutes for this baby to bake, so order it while getting your appetisers and mains. The Sarawak pineapple is juicy and properly caramelised, while hints of peppercorn add an earthy tone to the tarte tartin. Don't discard the rosemary sprigs though — have it with the tart and you'll discover a different world of flavours.
Takeaway and delivery
Of course, seeing as dining-in isn't an option for the foreseeable future due to the MCO, you can also try some of Bouchon Enfin's offerings via delivery or takeaway. Order your food delivery here.
(All image: Bouchon Enfin)