It's not just James Bond's timepieces and cocktail that's iconic — his Aston Martin cars are equally as impressive.
The sky's the limit when it comes to worshipping the world's most famous spy, so imagine the excitement when Aston Martin announced that the next in line of its Continuation program was to be the DB5. The Aston Martin badge has long been affiliated with James Bond, but a particular model — the DB5 — has ascended to not only become the quintessential Bond car, but also one of the most recognisable automobiles in cinema history.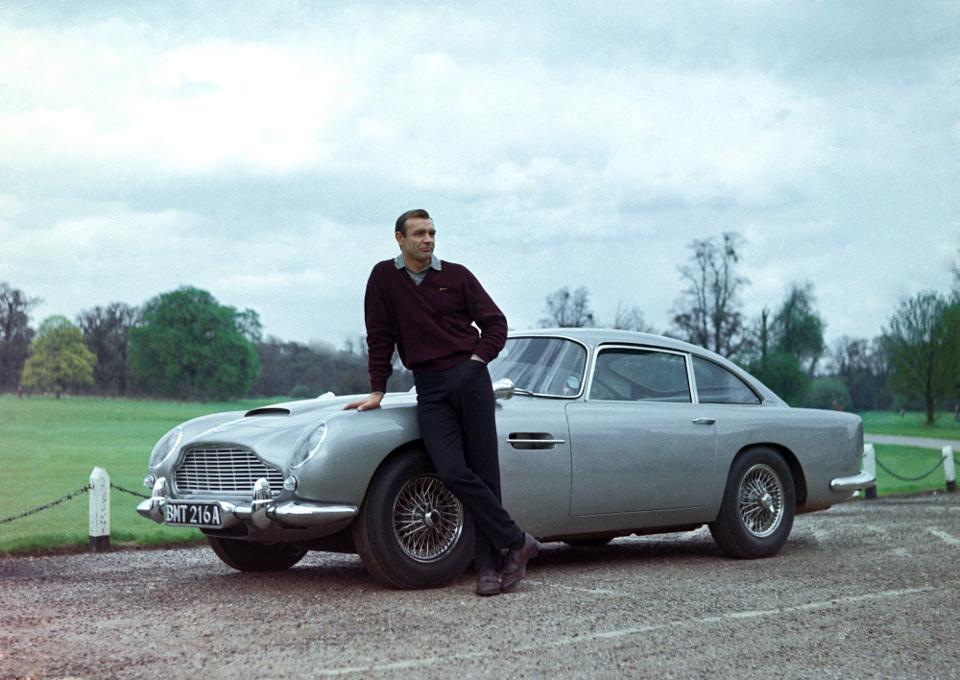 The British luxury grand tourer first appeared in Goldfinger in 1964 despite having only been released three months prior to shooting. Designed by Italian coachbuilder Carrozzeria Touring Superleggera, the DB4 evolution became such a success that it returned for Thunderball. Eagle-eyed fans would've also spotted cameos in Goldeneye, Tomorrow Never Dies, Casino Royale, and Skyfall.
For those who want a true piece of cinematic history, the Aston Martin DB5 Goldfinger Continuation will be a working replica of the ultra-famous icon. Now that the marque has resumed production at its Newport Pagnell factory, the talented specialists at the Heritage Division are continuing work on the 25 DB5s being built, each of which takes about 4,500 hours to complete.
It might have been over five decades since the last DB5 rolled off the production line but Aston Martin has enlisted the help of EON Productions to ensure these new babies stay as true to reel life as possible. James Bond has probably already sold more Aston Martins than all its sales representatives combined, but the 007 gadgetry here is really what makes this limited run one of the most desirable 'toys' ever built. The package includes a rear smoke screen delivery system, a rear oil slick delivery system (only simulated, unfortunately), three revolving number plates, and a bulletproof rear shield that emerges from the boot. The famous machine guns that are hidden behind the sidelights and the tire slasher that pops out from the side are both simulated too so don't expect to tear down the neighbourhood like a maniac anytime soon. There's also an optional removable passenger seat roof panel, presumably for the ejector seat you can threaten your partner with. The list goes on inside. The simulated radar screen tracker map, telephone, under-seat hidden weapons and storage tray, and remote control for gadget activation were all developed with the input of Chris Corbould OBE, who has worked as the special effects supervisor on more than a dozen Bond films.
All DB5 Goldfinger Continuation cars will come in only one exterior colour, Silver Birch, just like in the movie. As with all vintage originals from the '60s, it'll also see an aluminium exterior body that's wrapped around an authentic DB5 mild steel chassis. Under the hood lies a 4.0-litre naturally-aspirated six-cylinder engine that's good for 290hp. Even the robust ZF five-speed transmission will return, with three SU carburettors and an oil cooler. Braking is courtesy of old school servo-assisted hydraulic Girling-type steel disc brakes. As much as you'll want to parade this car with your new wardrobe of Bond suits and swimwear, you'll have to keep this in the driveway for now because it's not street legal. The cars will go for £2.75 million (approx. RM14.7 million) each, but that's only a small price to pay for one hell of a lot of role-playing, no?
This article first appeared on Lifestyle Asia Singapore.