If there ever was a car that I could use as both a daily driver and a weekend cruiser, it would be the Mercedes-AMG A45 S.
I don't mind a good hatchback, something that Mercedes-Benz does pretty well with the A-Class. Usually, most hatchbacks in Malaysia are either oddly-shaped, cheaply made, or both, bar a few exceptions. But give me a hot hatch and I'll swoon. Anything from the new Civic Type R or even the Mini Cooper JCW for that matter works just as well.
However, there is a special place in my heart for the Mercedes-AMG A45 S. There's just no denying how sleek and sexy it looks, especially in the AMG Edition 1 package. This was limited to just 20 units and we were lucky enough to take it for a spin over the weekend. Scroll on down below to see what we loved and what we felt could be better about the car.
Bumblebee-inspired Look One of the reasons that I absolutely loved about the AMG A45 S is its colour, of which there are two. There's the Designo Mountain Grey Magno or Sun Yellow with both colours also being used to highlight decal graphics in a contrasting shade. We got to take the Sun Yellow variant for a cruise, decked out with the Designo Mountain Grey Magno decals.
It had a sort of Bumblebee-esque look to it, that is if it decided to swap out the Chevy Camaro. To say it turns heads is an understatement — I lost count the number of times someone turned their head to get a good look at the car. Say what you will about Mercedes, at least it knows how to garner attention.
AMG made it their own
AMG takes the cake when it comes to both styling and performance for the A45 S. It's both menacing and sporty, making it clearly distinguishable from the lower A35 S as well as the AMG Line. Its distinctive front apron with the AMG-specific radiator trim in black amidst the Sun Yellow paint provided a great contrast of colour while still looking sharp and sleek. The Edition 1 package also made sure to include high-gloss black detailing to its already striking design. At the rear, you'll also spot the AMG Aerodynamics package, which includes the racing spoiler. This increases downforce, thus making cornering a lot smoother. You'll also spot two twin-tailpipe trims with its diffuser and four vertical fins. Lastly, there's the 19-inch AMG 5-twin-spoke light-alloy wheels in matte black amidst the bright red brake calipers.
All this gives the AMG A45 S a look on its own that you won't see everyday.
Breakneck speeds
To say that the Mercedes-AMG A45 S is really fast is an understatement. In true pocket rocket fashion, the AMG A45 S is undoubtedly one of the fastest hot hatches of 2020. Resting at its core is the new M139 2.0-litre turbocharged four-cylinder engine with 421hp and 500Nm of torque. This allows the car to hit a top speed of 270kph while also going from zero to 100 in just 3.9 seconds.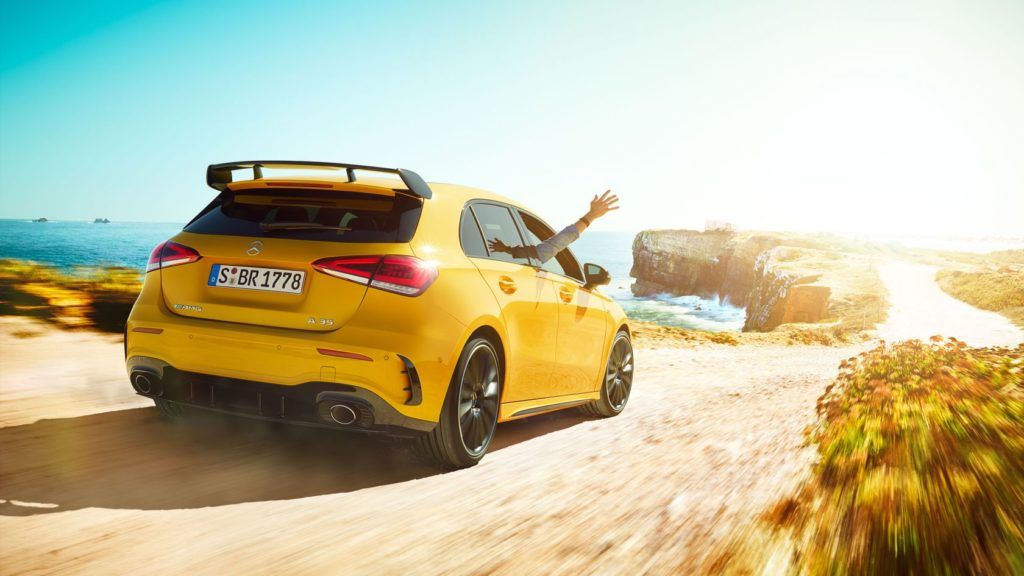 When starting it up, you're greeted with the AMG Emotion Start. This gives the car that snap, crackle, and pop you'll soon be familiar with soon enough when you start revving. What's great is that AMG has managed to dampen it, ensuring it doesn't ring across the neighbourhoods at the wee hours of the morning.
Taking the AMG A45 S on a road trip was a dream. It took sharp corners and windy roads like a champ, thanks to the AMG Performance 4Matic+ all-wheel-drive system with AMG Torque Control. This gave the car immense handling capabilities, allowing you to breeze through aggressive corners without breaking a sweat. When on the straight road, it takes to the blacktop without a care in the world. While I never got to push it past 200kph, it was still a thrill nonetheless.
Keeping you safe
The Mercedes-AMG A45 S comes with a host of safety features but with certain limitations. Sure there's Active Lane Keeping Assist, Blind Spot Assist, and Active Brake Assist, the last of which is the autonomous emergency braking feature. While all those are to be expected of a luxury sports car, there aren't any active cruise control features of any kind, which is quite unfortunate. The car also comes with Active Parking Assist with Parktronic, which works well enough in brightly-lit areas with clear parking line indications. What's not available is a 360° overhead camera, which is something one would expect seeing as the price you're paying is pretty steep.
Racing-inspired everything One of the first things you'll notice is the AMG Performance bucket seats in DINAMICA microfibre, giving you a much softer and more comfortable feel when you're seated and strapped in. Much like the exterior, the interior also receives yellow highlights throughout with black being the dominating shade. You'll find yellow highlights in not only the seats but on the AMG Performance Steering Wheel as well, which is also draped in DINAMICA microfibre.
The steering wheel was great with the left side fitted with buttons for handsfree phone calls while the right gave you access to different driving modes like Comfort, Eco, Sport, and Sport+. The last is also known as Race mode, which will change the instrument cluster with three selectable options. There is also another 10.25-inch widescreen display at the centre console, which is where you will control everything about the car. From ambient lighting to temperature control and even massage and lumbar features for the seats, it's all there. This is all thanks to the Mercedes-Benz User Experience (MBUX) infotainment system, which also comes equipped with Apple CarPlay as well as Android Auto. Wireless charging is also thrown into the mix with its own dedicated slot just beneath the AC ducts. The A45 S also ensures that you will want to stay in the car for long thanks to its Burmester surround sound system. And to top it all off, a panoramic sunroof is also available for those who need that extra dose of Vitamin C.
Verdict
The Mercedes-AMG A45 S is everything you want out of a modern-day hot hatch — breakneck top speeds, immaculate handling, aggressive styling, and a comfortable cabin. This is all available in the A45 S, but you'll have to fork over a small fortune. RM459,888 to be exact. While it is a steep price to pay, you will have to take into consideration that it doesn't have some of the features one can come to expect from a premium brand.
With that said, it is still a pocket rocket that turns heads from the moment the engine roars to life.
All images courtesy of Mercedes-Benz Malaysia.