Having already taken the new Mini 5 Door for a spin, it was time to bring out the big guns — the Mini Cooper JCW Countryman.
It's hard to not point out a Mini Cooper on the road, given its already cult-like status. The Mini is like how the Beetle is to Volkswagen — a compact yet edgy car with enough horsepower to run a rally while looking stylish. We recently had a go in the car, but not in the way you'd expect.
We got the chance to take the Mini Cooper JCW Countryman out for a spin at the Sepang International Circuit. This was part of the recent Mini Track Day 2020, which saw all the latest models speeding down the long straights and through the chicanes. To sweeten the deal, the Mini Cooper Countryman we rode in came in the John Cooper Works line, giving extra aggression and raw power into its performance.
Design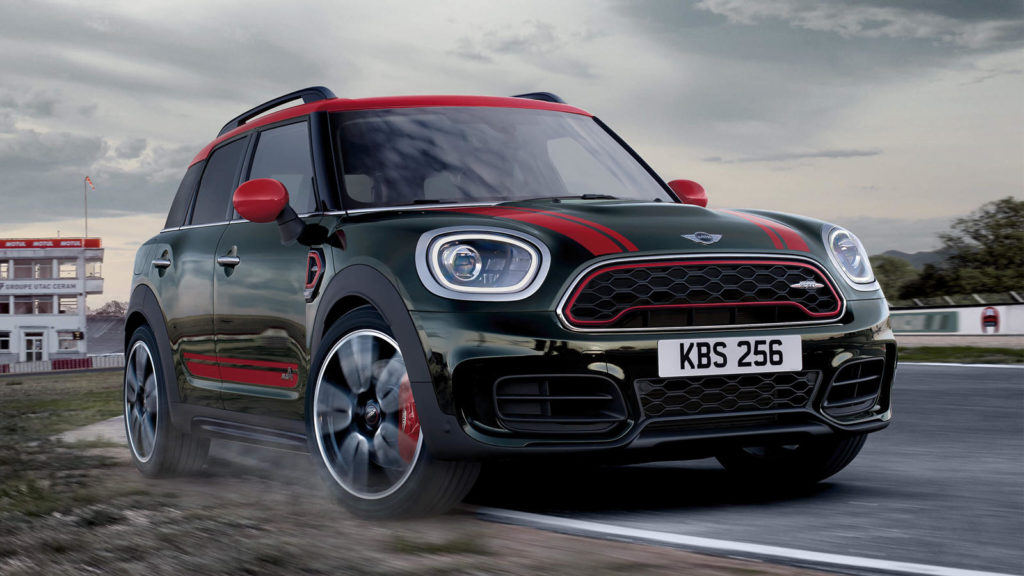 While the look of the Mini has transformed over the years, it's still as distinguishable as ever. There's no mistaking its ferocious LED headlights along with its honeycomb grille. As the devil is in the details, it's safe to say the Mini Cooper JWC Countryman shows off its aggressively-styled lines and contours to great effect. For wheels, it features a 19-inch  JCW Circuit Spoke Two-Tone with an edgier racing-inspired look.
Interior
To fully experience what the John Cooper Works line has to offer, you'll have to step into the car. Inside, you're greeted with JCW sports seats wrapped in Carbon Black Dinamica Leather upholstery. Its a combination of comfort, functionality, and aesthetics in one, allowing you to be at your maximum comfort when behind the wheel.
Speaking of which, the steering wheel comes in JCW perforated, soft-grain leather with red accent stitchings. There is also specially dedicated thumb rests for greater grip without any discomfort. This gives you easier access to a host of multimedia options. Straight ahead, you'll find the heads-up display that will display your current speed and other statistics.
As for the centre console, it's all about being technically efficient while maintaining an easy aesthetic on the eyes. The circular 8.8-inch multimedia touchscreen comes with great connectivity features, which now includes an in-car 4G SIM card as well as the updated Mini Connected App. This gives you direct access to Apple CarPlay, Mini Online, and its concierge service. Music also sounds amazing in the car thanks to its Harmon/Kardon speaker system.
Performance
Mini Coopers, in general, are known to be fast. This is due to its go-kart-like look with a much lower centre of gravity. Of course, its pop-culture status is nothing to laugh about with movies like 'The Italian Job' showcasing the speed, agility, and control of the car.
The Mini Cooper JCW Countryman embodies all that and so much more in a compact package. It's made for the track while showcasing the very essence of motorsport with a revised BMW B48 2.0-litre TwinPower turbocharged engine. This allows the car to produce 306hp and 450Nm of torque.
When taking it out on the track, the Mini Cooper JCW Countryman roars to life. It hits 100kph and above in about five seconds and it takes sharp corners and chicanes like a pro. Flooring it on the long straight at Sepang allowed the car to go all out, peaking at 190kph before hitting the apex. Its lowered suspension is what allowed for this, giving you a more authentic racing feeling as you slide across the turn.
You can also pick between driving modes for the Mini Cooper JCW Countryman. This ranges between Sport and Green mode with the former being great for track days or even empty highways and back roads. Green mode is much greater for when you're driving in the city and you want to conserve on fuel.
Verdict
The Mini Cooper JCW Countryman goes for RM378,888, making it the most expensive Mini to date. However, it does offer a great driving experience, whether you want to make it a daily or weekend car. It's agile, quick, and easy on the eye for you and the people around you. Comfort is also a big deal with the car and it is to be expected when you get a Mini.
All images courtesy of Mini Malaysia.