When it comes to luxury armoured cars, many would think that they are specifically made for the leaders of the world, with the President of the United States being one of them. A simple Google search will show you all you need to know about "The Beast" or "Cadillac One", which is a one-off unique Cadillac. This Presidential state car is one of the most unique vehicles to ever hit the road, which has since birthed the rise of luxury armoured cars around the world.
Personal safety should always be a primary concern, especially when you're driving or travelling. Widespread violence that is occurring across the globe is not something to be taken lightly, and this affects not only your everyday citizens. The rich and famous, alongside the likes of politicians, diplomats, and heads of states will always be a target and that is why luxury armoured cars are a must in their usual convoys.
With these luxury armoured cars, you can now travel in style and comfort without having to worry about your safety. With the inclusion of modern-day technologies, these cars will have defensive capabilities like bomb blankets to counter improvised explosive devices (IEDs); run-flat tyres to ensure it doesn't puncture mid-drive; and bulletproof materials that can withstand heavy damage.
1
Mercedes-Maybach S600 Pullman Guard
There are plenty of Mercedes S-Class variants in four different lengths, two of which are regular Mercedes S-Class sedans. The other two are in collaboration with Maybach and one of them is the Mercedes-Maybach S600 Pullman Guard. It has enough armour surrounding the car to protect its passengers while behind the rear seats is a steel bulkhead to protect important passengers from assassination attempts. The Mercedes-Maybach S600 Pullman Guard also features thick bulletproof windows and tyres, sirens, and even an external communications system with a microphone and loudspeaker.
2
Range Rover Sentinel
Land Rover is one of the most popular luxury SUV makers in the world with Range Rover being its most popular model to date. However, if you're looking for something slightly different with a lot more protection, the Range Rover Sentinel is the ideal choice. This armoured version of the Range Rover features plenty of protective prowess that includes more than one tonne of armoured plating and glass to protect the occupants from any potential threats. The Range Rover Sentinel drives on run-flat tyres while its front bumper features new LED lighting. An optional siren and emergency lighting package can be made available if you so wish for it.
3
Bentley Bentayga
Another British luxury automaker makes this list and its none other than Bentley. While many are already familiar with the Bentayga, not many would know of the world's first armoured Bentayga, which is done by Canadian-based super security manufacturer Inkas. The Bentley Bentayga comes with a B6 ballistics protection rating, ensuring that it can suppress the heaviest of gunfire without putting its passengers at risk. If you're wondering what type of gun, it wasn't any normal Glock; it was the AK-47 and AR-10 rifles. The Bentley Bentayga can also withstand heavy hand grenade explosions from the sides and from the bottom. Inkas also ensures the car is kept safe at all times, reinforcing the fuel tank and battery. If that isn't enough, Inkas also offers James Bond-esque features like a smokescreen system, electric shock door handles, a surveillance system, signal jamming, automatic weapons detection, and a chemical protection system.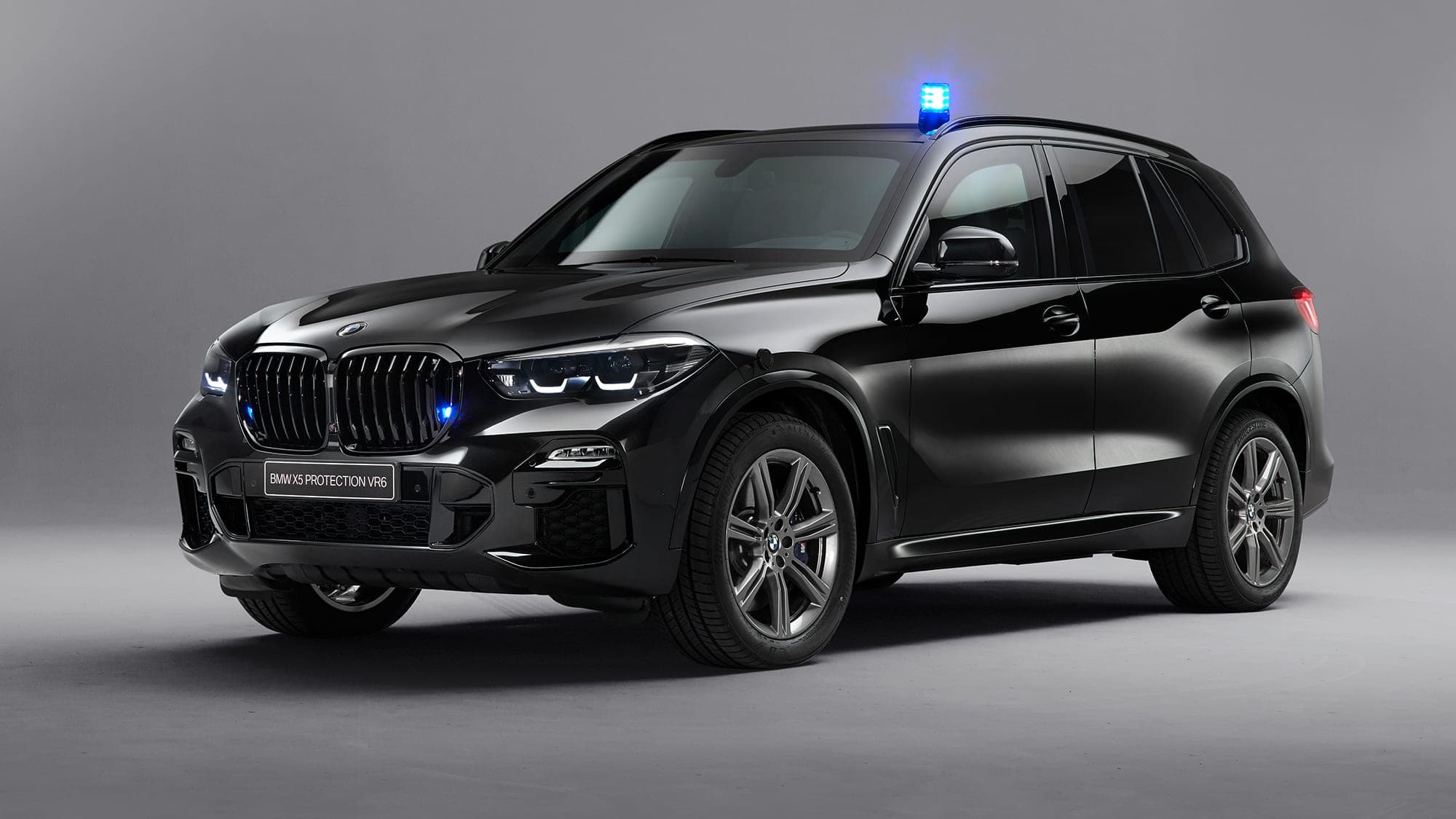 4
BMW X5
Just when you thought you've seen it all, BMW comes in and ups the ante with an armoured SUV, more specifically, for the BMW X5. Known as the X5 Protection VR6, this armoured version comes with enough protection and armoured plating to withstand drone strikes, AK-47 gunfire, and even grenades. The "VR6" in its name denotes to its armour plating rating, according to the Associations of Testing Institutes for Attack Resistant Materials and Constructions's strict criteria. High-strength steel panels are moulded into the doors, the roof, the front and the side panels. 1.1-inch thick safety glass panels with splinter protection are fitted into the windshield, side and rear windows.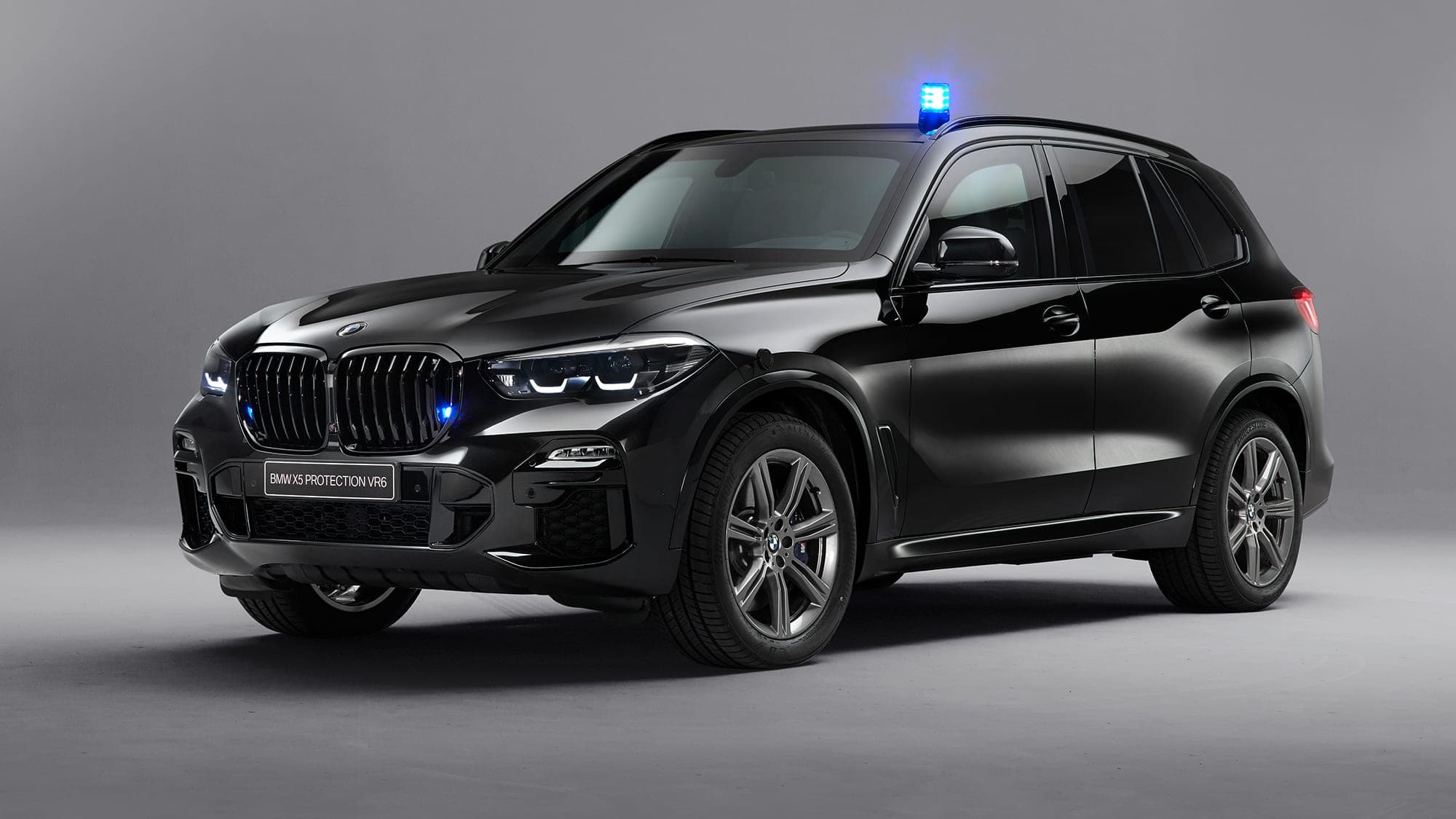 5
Cadillac Escalade
With the help of AddArmor, you can turn a regular Cadillac Escalade into an anti-ballistic tank. It comes an Executive Protection Package, which includes B6-level armour in place of regular glass. The doors are also reinforced with antiballistic carbon composite panels, making it 10 times stronger than regular steel while still being 60 times lighter. Other protective measures include electric shock door handles, pepper spray dispensers, and a smoke screen system. But if you ever wanted to take matters into your own hands and go on the offensive, you can start off with the counter-attack sound system siren to distort your enemies. If that isn't enough, there are also gun ports hidden within the vehicle allowing you to fire at your enemies at will.