Bang & Olufsen is a household name when you think of premium quality speakers with a modern-day sense of style. The same can also be said for its Beovision Harmony TV, which now has a new 88-inch model.
It becomes the latest addition to its lineup of the 65- and 77-inch models, but with a twist. With help from LG Electronics, the Beovision Harmony 88-inch TV will be the world's first 8K OLED display. This means that you'll never have to worry about the TV's picture quality. 8K OLED panels are the new industry-leading standard that was set forth by the previous 4K displays. It is also 16 times better than standard HDTVs, making it a must-have in every modern-day household. The Beovision Harmony 88-inch 8K OLED TV also provides a wide viewing angle to go along with its advanced tone-mapping technology for scene-by-scene optimisation.
But there's more to it than just the size; the Danish electronics company is keeping it in-line with its traditional Scandinavian designs. It's based on mid-century entertainment cabinets that help to shelter the TV behind delicate blinds, which allows it to fully integrate with your living room.
There are two types of front covers to choose from: either the bronze tone aluminium paired with walnut wood panelling or brass-tone aluminium with almond oak panels. These two tones were handpicked by Bang & Olufsen to enhance the overall appearance of the Beovision Harmony. It also helps to create a balanced environment to match with most B&O speakers in terms of design and performance.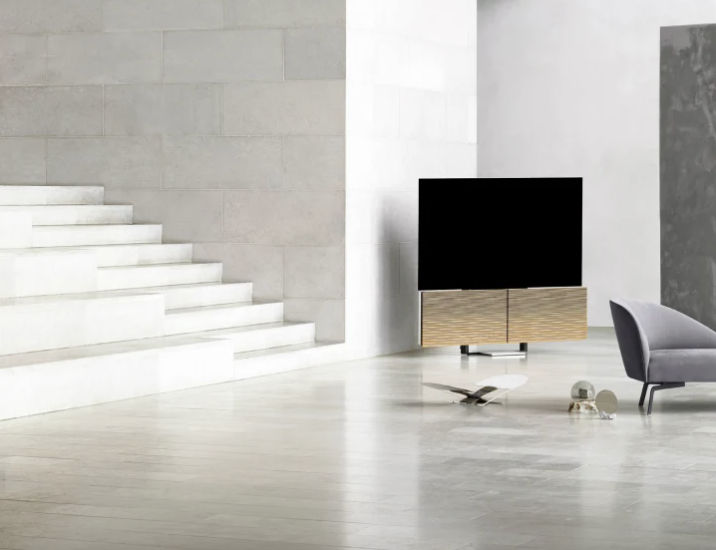 It runs on a webOS Smart TV system, which connects to the Beoremote One. This all-in-one remote connects you to all the TV's available content at your fingertips. The TV also comes with its own three-channel speaker system with a built-in subwoofer. For a full home theatre experience, you can opt to connect up to eight of the B&O's Beolab speakers.
The Bang & Olufsen Beovision Harmony 8K OLED TV is now available online starting from 46,500 euros (approx. RM222,434). If you're looking for something slightly smaller, the 65-inch model starts at 13,500 euros (approx. RM64,577) while the 77-inch model has a starting price of 18,500 euros (approx. RM88,495). Of course, the latter two do not come with an 8K OLED panel.
All pictures courtesy of Bang & Olufsen.