Angeline Tan remembers her father who laid the foundation of Maria's SteakCafe where she now serves as CEO.
In our Father's Day series, Lifestyle Asia KL reaches out to entrepreneurs whose candour and generosity allows us to be the audience, as they recollect memories of their fathers. In honouring their lasting legacies, these entrepreneurs open up on confronting the pain of bereavement and share their own journey in overcoming grief.
Although she confesses that it is difficult to choose, by virtue of inheriting his contemplative side, Angeline Tan admits to being a daddy's girl. A man of few words, as Angeline Tan puts it, the elder Tan would often let his actions speak for himself – often in the kitchen. Every morning when she waltzed into the kitchen, hearty breakfast would be laid on the table, ready to be consumed. When she was done with it, her dad would gently remind her to bring along a Tupperware of food for school.
Apart from food, love was also expressed through sage words. Topics piquing his interest were those revolving around economics and politics, with reading being a habit he instilled in Angeline. He was, as the cliché goes, a consummate family man.
"I distinctly remember us spending quality time together, from the simple moments of him dropping me off to and from school to the near-daily breakfasts, lunches and dinners we had together as a family," Angeline recalls fondly.
So intimate was their bond that Angeline would find herself confiding in him. She would take his advice to heart. The elder Tan would afford freedom to his children for them to explore and pursue their likings, "but we knew there was always a boundary and if we were to overstep that boundary, we would be corrected," Angeline continues. "I remember the first time I drove out at night to have supper with my friends, he called to check on me," she says, adding that she offered to buy home some food to appease. "He laughed and just reminded me to lock my car door and to never stop the car even if I met with an accident on the way home."
"When I was studying in Singapore, he would call me at least 3 times a week, and I would look forward to telling him about what I was doing in school," she continues.
For the tight-knit family of seven, including Angeline's four other siblings, their world was drastically altered in one afternoon. Upon completing her A-level studies, the 19-years-old received the forlorn news that her father suffered a heart attack.
"It was really sudden," she says. "No words spoken or written down could begin to encapsulate or express the grief I felt. It was so overwhelming, as if the Earth itself stopped spinning for a moment."
Food is the crux of their family.
"Before papa dropped us off at school, he would ask us what we would like for lunch, and he would cook that for us," Angeline continues. Though having a successful business in real estate development, when the Asian financial crisis struck them hard, her parents had to pivot to other businesses. In Maria's SteakCafe, they re-established hopes, turning their passion into a business.
"The aftermath was really difficult," Angeline says. "Mummy was always looking after the food aspect of the restaurant, but to manage an entire restaurant, it was a whole different ball game." There were late nights when she bore witness to her mum toiling away in the kitchen or stressing over the ledgers. With school-goers to sustain, financially, the family wasn't at its rosiest. Angeline recalls having to supplement her pocket money by teaching tuition on a part-time basis in Singapore, despite securing an Asean scholarship, just so she could return home to see her mum and younger sister in Ipoh every other week on a bus.
It went on for several years. Upon fulfilling her bond in Singapore, Angeline decided to return to Malaysia to assume the Maria's SteakCafe brand located in Damansara Perdana vacated by her sister. Though she harboured ambitions to immerse herself in the family business, it wasn't part of the elder Tan's plan for his children.
"He just wanted us to be happy and do whatever we liked in life," Angeline says, "I remember he said that once we have all grown up, he would run a smaller café for retirement."
It has been 16 years since the elder Tan departed.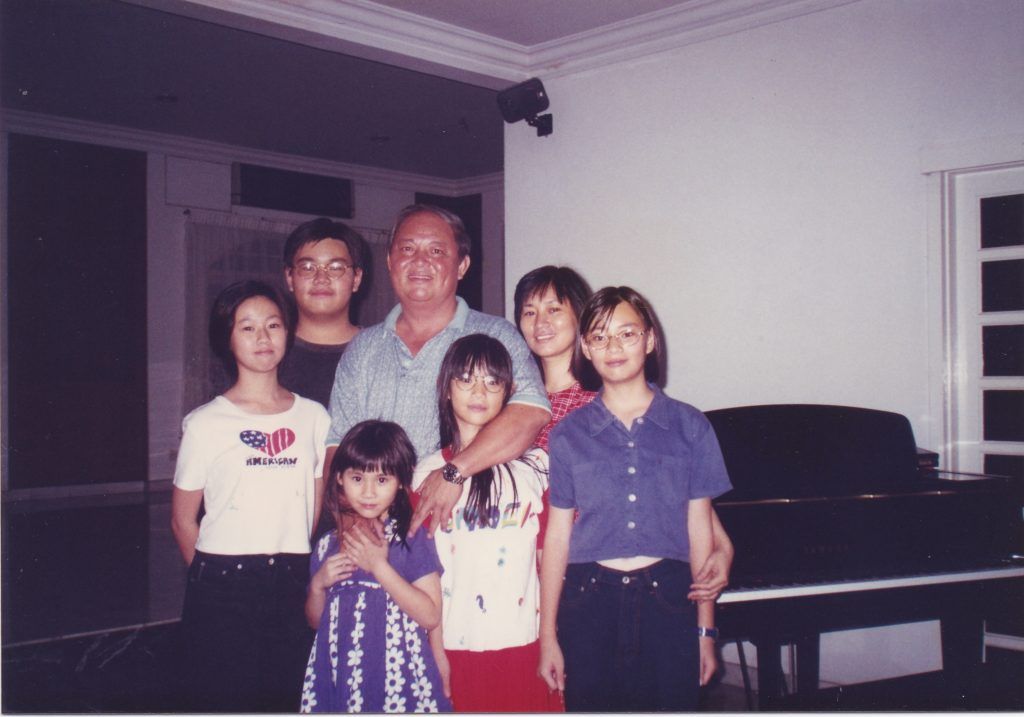 "Papa was always there, and even now that he is not around anymore, sometimes it feels like he is still around," she says. "There are a tonne of fond memories, but that feeling of just being absolutely safe whenever my papa was around is something which I will never forget until I become old and grey."
From a humble café in Ipoh that went through familial turbulence, Maria's SteakCafe now has five outlets with the latest flagship operating out of Suria KLCC, Angeline does wonder once in a while what might have been if her father were still alive. She wishes that her father could see how far they have come and that he would be proud of them.
"I reminisce about the past and dream of him once in a while. I miss him and even as I am writing this, I have tears in my eyes. I sometimes wish he would be able to walk this earth again just for a day, to see what all his children are up to today, to cook up one of his glorious meals for us and him just smiling as we all excitedly fill him in on what has happened for the last 16 years.
"But alas, we shall settle for the love and wisdom he gave us which really made us who we are today. I think in some ways, he never left us, because each of us in the family has taken a piece of papa, and nurtured it as part of our characters and souls… and through us, he lives on," she says, finding solace in the values he had instilled in them.