HiBlendr is now the super chic, portable blender that's on everyone's social media.
What were you doing when you were 23? For most of us, perhaps not much. We were either in university or just started off in the rat race, trying to survive in the world. As for Andrew Poh, he was studying for his bar exam in the UK when he got the idea to create a portable blender, now known to the world as HiBlendr.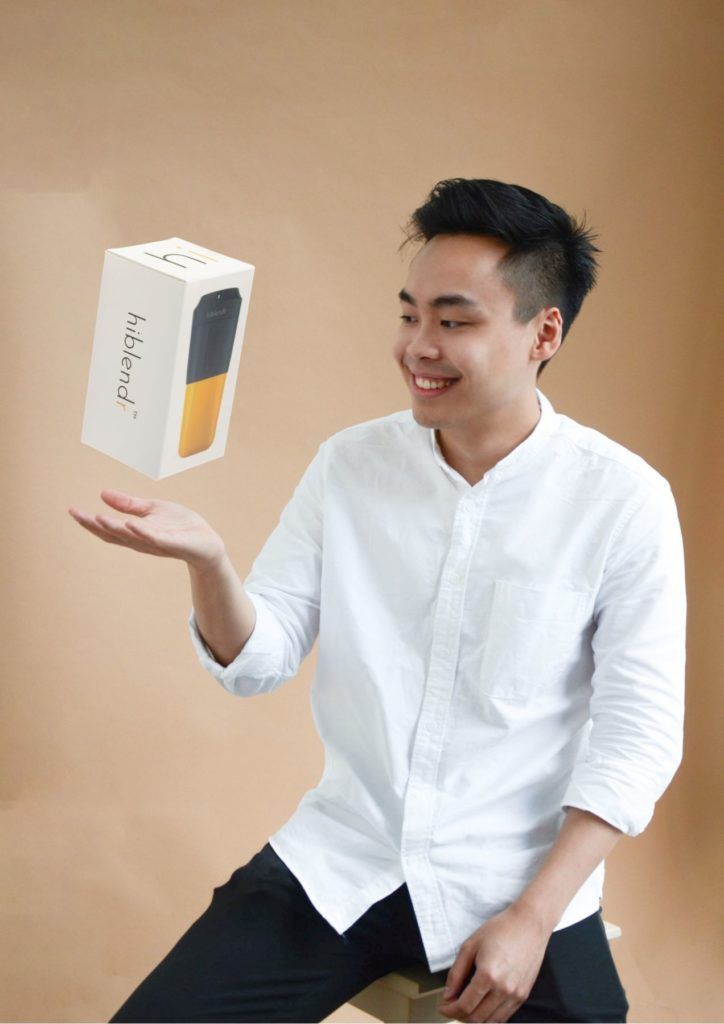 As with most inventors and entrepreneurs, Poh sought to find a solution to his problem. His issue? Trying to fit in a healthy diet in between studying and having a healthy social life. With fast food being the easy way out, he soon realised that he needed to do something about it after facing some health issues.
Adding fresh fruits and vegetables into his diet in the form of smoothies seemed like the easiest way to have a healthier diet, but therein lies another set of problems: cost, choices, and portability. With such limited choices available in the market, Poh decided to solve his own problem by creating a portable blender that could also double as a water bottle. Thus, the HiBlendr was born.
One can only imagine how successful HiBlendr went on to be. With its minimal and chic aesthetics, this portable blender can easily fit into the trendy lifestyle of most young millennials and Gen Z-ers. More than the aesthetics, it also matches the fast-paced lifestyle we're all used to. When there's no time to be healthy and meal prep, a smoothie to-go is the perfect option — simply freeze your fruits overnight, pop them into the blender with your dairy or alternative milk of choice, and you can get it going while on the way to work.
While riding high on the success of HiBlendr, we got to speak to Poh a little bit more on his journey getting here, his entrepreneurial heroes, as well as his favourite smoothie recipe on the HiBlendr.
What gave you the idea to create a portable blender that doesn't have its own dock, like most traditional blenders?
The idea started from my own desire of getting a quick meal or smoothie in between my day-to-day activities. As I was pursuing my Bar Professional Training Course (BPTC) course in the United Kingdom, I wasn't always able to prepare a balanced diet for myself due to time constraints. I then went on a search for a portable blender to blend smoothies and protein shakes as meal replacements.
At the time, I didn't consider a kitchen blender since I was an international student and kitchen blenders sold in stores were not portable so if I had it shipped back to Malaysia that would have incurred additional costs. Not only that, I considered the fact that it would also be troublesome to resell if I ever considered purchasing one.
That was when I realised that there were not a lot of choices in the market, especially one that was portable and looked like a normal water bottle. Hence, I decided to create one and started a business selling them!
HiBlendr has a very minimal and modern design, unlike some bottled blenders out there. What inspired you for this design aspect?
I would say brands like Apple and Dyson definitely gave me a lot of inspiration when it came to the design of the blender. When I first started looking for manufacturers, I approached them with a minimalist and modern design in mind. Fortunately, one of the manufacturers made it a reality for us. The colour choice also complements the minimalistic aesthetics of our blenders and has been really well-received by our consumers.
How long did it take you to come up with the concept and design for the HiBlendr?
It took me approximately two months to look for a manufacturer, modify the prototype, and design the visuals for the HiBlendr website. The concept of a portable blender started in the United Kingdom and the design of the blender was finalised when I was in quarantine after I returned to Malaysia in late March 2020.
How long before you were able to successfully market your product to the world?
We actually started taking pre-orders from the United States and European market in May 2020. However, due to logistical issues caused by the COVID-19 pandemic, we were forced to switch our target market to Malaysia and Singapore, which eventually grew to be our main markets as of today.
What's your customer base like for HiBlendr?
Our target audiences are definitely urban, busy individuals (i.e white collars), people who live active lifestyles and participate in sports, and generally anyone who is conscious about their health. Currently, our main customers are women aged 21 to 40. That said, we are actively expanding our reach to the masses who are aware of the importance of leading a healthy, balanced lifestyle, but don't necessarily have the time and space to fulfill that aspect of their lives.
Having said that, HiBlendr provides more than just premium portable blenders, we aim to be a lifestyle brand with the goal to build a  foundation for a health-conscious community that promotes positivity and confidence whilst educating the public on healthy living.
What future plans do you have for HiBlendr?
We are currently in the process of planning out the launch of our next product, which is a Frozen Fruits Box Subscription in Malaysia. While customer feedback for the portable blender itself has been very positive and well-received because of the added convenience it provides to one's busy lifestyle, buying fruits to be blended was also listed as one of the challenges faced by our customers.
Due to time constraints, many of them claimed that they were not able to prepare the perfect smoothie they desire. Hence, we decided a product that pre-mixes frozen fruits would be a perfect addition to match the hectic day-to-day of our customers. With the Frozen Fruits Box Subscription, our customers can start blending smoothies without needing to purchase, cut, and freeze the fruits themselves.
Finally, can you share with us your favourite smoothie recipes to be used with the HiBlendr?
Bananas are one of my favourite fruits, a smoothie can't go wrong with bananas. For beginners, I would recommend a banana and blueberry smoothie, it's very easy to make and tastes amazing! Even writing about it now makes me want to blend a cup for myself.
For those who love avocado, you can try avocado with milk, that, and a little touch of honey is one of my favourites too! Lastly, my current daily breakfast recipe is a blend of whey protein, bananas, oats, chia seeds and milk. This will definitely give you the energy and nutrients you need for the rest of the day.