Unprecedented times calls for more than just physical strength.
Everyone's going through their own battles during the pandemic. Whether it's personal, work-related, or just being present in such strange times affect everyone on different levels. As the world continues to be on a standstill from the horrors of COVID-19, it's up to ourselves to push forward.
As for one woman, it is her grit that keeps her going. Responsibilities may grow during the partial lockdown, along with the weight of maintaining the household. But there's a grit within that preserves her and pushes her forward during these unprecedented times. These are people that wear multiple hats just to make a difference in their lives and the life of others. Nana Al Haleq is one of these women who rely not only on her physical strength but also on grit to keep her going through these strange times.
In collaboration with Under Armour, we spoke to Nana Al Haleq on how she maintains her grit. She balances her personal life, career and lifestyle, while also support the life of others.
Watch the video for the interview or read her replies below.
As a woman we play many different roles in life, how do you maintain or grow your grit through time?
I say this and I highly encourage all women to do this — wake up and just think positive. The way to gain strength and grit is to basically hype yourself up. Start the day with a positive attitude, energy, thoughts, and when you go back to bed at night, you have to end it with positive thoughts as well.
So that's the first thing on how to grow yourself during times like this — because being stuck at home you can feel depressed, claustrophobic, lonely, and that can affect your emotions, even if you're really busy at home with meetings because you still can't see the outside world. You tend to feel uneasy and the way to get rid of that is to hype yourself to feel more positive.
Learn to divide your time. Learn through lessons. If you don't do better today, then do better tomorrow. Just do better. That's just one of the best way to grow your grit, along with some positive energy.
What motivates you to go on with what you do?
Passion. I wake up every day knowing that even if I don't gain anything from this, at least I'm able to share my passion and love with other people to make a difference in their life. It makes me happy. To me, the ultimate success in life is not money or wealth but happiness. If you have a lot of money but you're not happy, it's no use. The poorest people can be the happiest with little things. I'm so blessed to be able to wake up every morning to inspire and help people. When people do it and feel happy about it, and I feel happy about — it makes my day.
It's all about passion. If I have to wake up, do something that I don't like — that's not what I intend to achieve in life.
What are the self-care tips that you practice to lift your mood and stay positive?
For me personally, I don't take myself too seriously. People who are close to me can truly see who I am. On Instagram, people always perceive me as someone really serious and fact-based. Only people who know me like my best friends would know that I am not like that. I wake up and am constantly bursting with happiness, and I do silly dances. I talk funny, I have silly conversations with my cat. All these little things make me happy and keeps me motivated.
This is the best time for people to discover themselves. People at the office always have to control themselves and they can't be silly because they're afraid of being judged. But when you are stuck at home, just do it! Just dance away! This is the best time to go for it. Have fun!
Don't start your day with something hateful — don't engage in hateful or negative conversations. When I binge watch on Netflix, I watch something funny and shows that make me happy. If you see negative comments or posts in the morning, you can just read through but don't be affected it. Rethink yourself to something positive.
As a trainer yourself, how do you stay active and keep up with your fitness without being able to head to the studio or gym?
Everybody works out with the intention to reach a goal. Some want to look good, some want to lose weight or look toned. There are also some people that work out because they want to look leaner, that's more on the rehabilitation stuff.
Before you engage in any activities, I would ask and encourage you guys to find the big 'why'. Why do you want to do this first? Then you ask yourself again, why you don't want to do this? Why do you dislike it? When you find the reason why, you'll find the middle ground on what you can agree on.
It doesn't mean you have to workout every single day, seven days of week — not everybody can do that. If you find a middle ground, for example, you can do twice a week and 20 minutes per session. When it comes to physical activities, it doesn't have to be strength training. It can just be dancing in front of the TV, or do stretching and yoga.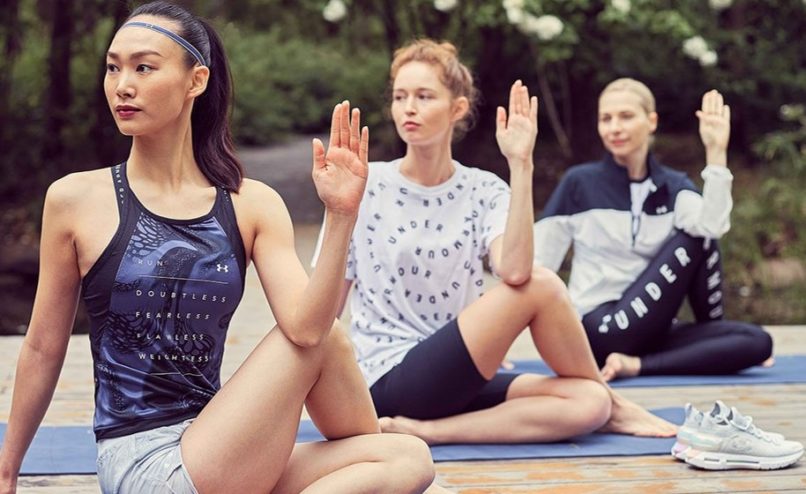 It's finding that middle ground. You must know the big why — why you need to do it, why you should push yourself and why you can't do it.
As fitness is key in your journey, do you use any fitness apps to help you keep track of your fitness routines such as UA MapMyRun or MyFitnessPal?
Unfortunately, I can't use MapMyRun. As for MyFitnessPal, it's interesting and it's really effective in terms of guiding me and telling me what type of food and portions I need to take daily. There's also blogs about fitness and eating healthy.
MyFitnessPal have been my companion since a long time ago and it's amazing.
What are your words to women out there who struggle to find their very own 'me-time' or stay active during this period of time?
Ladies, enough of your excuses! "I don't have time", but you can binge-watch Korean dramas and the shows on Netflix. Even if you are relaxing at your bathtub, you can still work out. Same goes to watching TV, don't tell me you can't move your legs for 20 mins while you're sitting down — that's just laziness.
Enough with excuses. I'm not asking you to do it everyday — I'm asking at least half an hour, or 20 minutes for three times a week. And that's enough.
As you are on your bed in the morning, with whatever that you're wearing — Just do mini stretches or 20 minutes of yoga. When you start getting sweaty, active and with such positive energy and then you take a shower — habis cerita!