Style influencer Syed Syafiq isn't afraid to break the rules and challenge the norms.
Syed Syafiq describes himself as an open book. Everything you need to know about him, his everyday life, the people around him, his taste in interior design and fashion, as well as what his daily social media consumption are all on his Instagram page. He imagines his life as a jetsetter, hopping from one country to the other in glamorous outfits — living la dolce vita.
But the 22-year-old has a genuinely humble, most down-to-earth demeanour that rings with his motto in life. "Don't take life too seriously, and always be true to yourself," he confides.
Despite having all his travel plans halted due to Covid-19, he continues to live his life positively and has since taken his role as an influencer more seriously. Syafiq recalls his venture into the influencer game rather as a coincidental encounter about three years ago, saying: "People have been interested in my travel stories back then. And I mix that with a lot of fashion in my own style. I guess that was the catnip for my followers."
The undergraduate iterates that he is a person that doesn't want to be bound by rules. He wants to be remembered as someone who did his own thing, a trendsetter who wants to pioneer a style and inspire others to think along the same line of thought.
In our recent fashion shoot with him for Gucci Epilogue (his first with an international fashion brand), the fashion debutant is putting his nerves aside as he talks about breaking the rules, staying true to oneself, and what it takes to be a social media influencer.
What inspires you every day?
I can be inspired by anything and everything that I see online or in real life. Just looking at random colours can inspire me to put together something; an outfit or something. And you have to try it on sometimes to know what works for you.
Do you dress up based on how you feel or how it would look on social media?
I think I'll go with how I feel because what I wear will ultimately determine my mood for the whole day. I dress up to make me feel good throughout the day — it's crucial to start my day on the right note.
How has the pandemic affect Gen Z-ers like you?
It's rather demotivating because I couldn't travel like I used to. But it has taught me to be more grateful and aware of my surroundings. You tend to take things for granted when travelling way easily accessible; you're free to go anywhere and do whatever you want. But when you can't, you know that things like these are precious.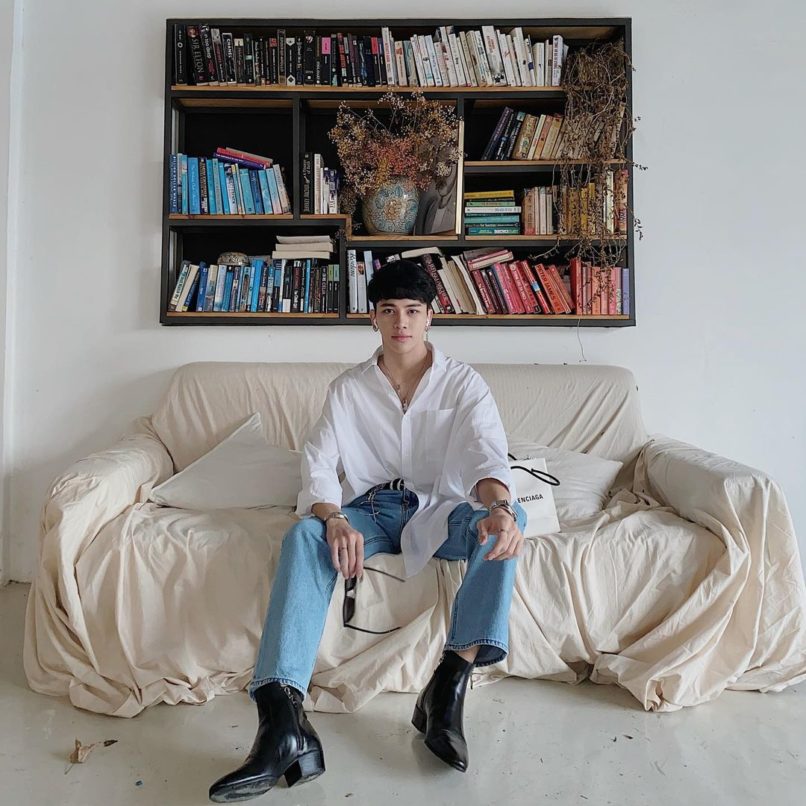 What does it take to be an influencer?
Try to take nice photos and make great videos because creating the right content matters a lot. It's easy to be 'famous' but when you don't have quality content to pair, it's easy to fall off the cliff. You also need to weave in your own style, taste and aesthetic — it will set you apart from others. And to be honest, being an influencer is a tough job… people simply don't see it.
What do you aspire to be in the near future?
At this point in time, I hope to grow as an influencer and keep pushing my limits. I'd like to come face to face with my fears. Being an influencer, you can sometimes be afraid or intimidated by many things — shooting with a bunch of models makes me feel inferior at times. But you got to fake it till you make it and stop playing to your fears. I used to not do something because I was afraid, but now I'd just go for it.
So 'fearless' is the buzzword for you?
Yes, don't let fear stop you from doing what you want to do. But being fearless can also be perceived as overconfident. What works for me is to weigh the pros and cons, then figure out the outcomes and consequences before attempting to do something especially when it comes to big decisions or something radical in your life.
Sometimes, being young is defined as wild and adventurous. How do you turn this energy to your advantage?
I am adventurous and think I don't need to follow the rules. I take that bold spirit — sometimes unapologetic — to try new and unexpected things. Personally, that's how I see myself inspiring others. Those who vibe with me will see the unconventionality and influence that I'm able to offer to my followers out there.
How do you see yourself right now?
I'm in a good place. Of course, there are a lot of things that you want to change about yourself (appearance-wise) but try my best to work with what you have. Use outfits as a way to make yourself feel better; to feel more confident and comfortable in your own skin. Many times, I've depended so much on my outfits to perk me up in the morning. That's one way you can always fall back on fashion for some positive vibes.
What advice would you give to dream chasers like you?
Don't wait for people to accept you for who you are — just do what you like, and do what you want to do. Don't be afraid of being scrutinised, as long as you're true to yourself.