Since he began following in his father's footsteps, 18-year-old Alister Yoong has already made his mark on both local and international tracks.
As the son of Alex Yoong, Malaysia's first Formula One driver, anyone would be inclined to assume that Alister would naturally follow in the footsteps. But surprisingly enough, Alister only joined the racing game later in his life at 13, when most would normally start as early as 6 years old. He became enamoured with the sport as soon as he watched the action before his eyes at his father's races.
"I could really see the passion in it when Dad was winning," Alister muses. "I saw the teamwork and the smiles on everyone's faces. And I really loved that."
For the 18-year-old, racing is so much more than the glamorous sport that it's often perceived as. Alister highlights the importance of being committed to something you love, even if it gets hard — and especially when it does. To give your all to something as unpredictably dangerous as racing can be very draining, but Alister believes that's what makes it all the more rewarding.
We sit down with Alister Yoong to talk about his journey in auto racing so far, and what the future of the sport looks like in Malaysia.
What would you say is the attraction of racing for you?
Every driver will have a different one. For me, I see it as a way of escapism. When I'm driving at those speeds, there's a certain mindset that comes with it. It takes you away from everything else that's happening. When I'm driving, I'm just floating in the air with the machine around me, the noise and the speed. I don't think of anything else. I just get the job done.
Do you have any kind of personal conduct that you live by?
My dad said this great thing recently that I've been thinking about a lot: "Champions live for competition, not status." I thought that was pretty mega, because while it is great to be the best and have people adore you, it's pointless if you're in it just for that. It's important to know that you drive for yourself and not for anyone else. Even in my case, I don't do it for my dad. I do it for me. It might sound a bit selfish, but if I'm risking my life, I want to do the best that I can.
Who do you aspire to be in the racing world?
I don't really aspire to be anyone. I aspire to win. One thing about me is that I'll be known as Alex Yoong's son for a while, and rightly so, at least until I make something of myself. And that's what I'm trying to do: be my own person, and to be a great driver.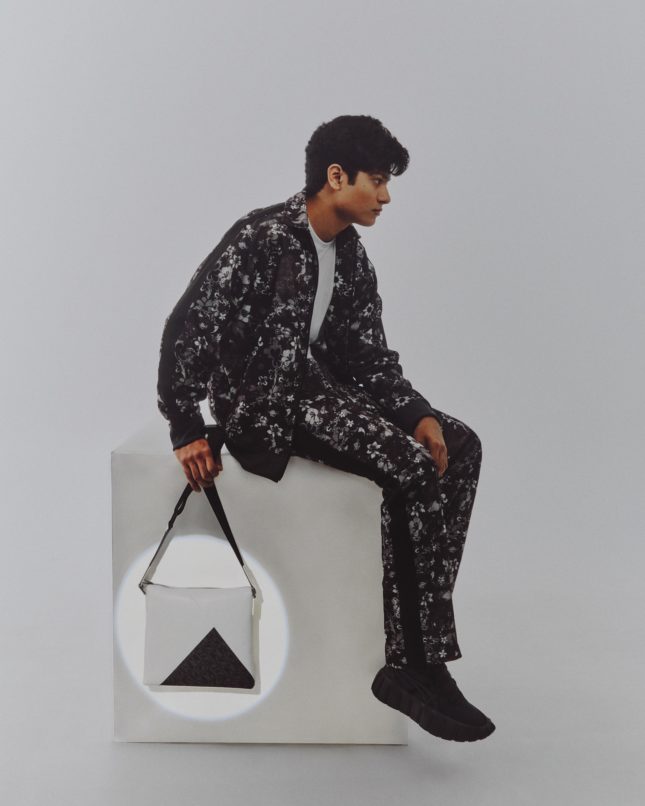 How was it for you, growing up with Alex Yoong as a dad? Is it different growing up with a parent who's already in the industry?
It's hard for me to compare, because I don't know what it's like to not grow up with Alex Yoong as a dad. Granted, I was very fortunate that I could travel with him to all the amazing places whenever he had his races. I had the privilege of meeting so many people and experiencing a lot of new things. But at the same time, both Mum and Dad were always overseas, so it forced me to grow up faster. I guess that's what it was like.
By 'grow up faster', do you mean you've had to be very mature for your age?
I think I've just had to be more independent at a younger age. I would usually go off and do my own thing; get food by myself, go and see my friends, take taxis to places — that sort of thing. But it was pretty good. I became a lot closer with my friends. I even lived with them for a bit when my parents went through their divorce, and I'll always be appreciative of their support. I don't have a lot of friends, so the ones I do, I know I'll have forever.
Did you get along well with your peers, then?
Not really. I didn't fit in so much with kids my age. My parents used to have all their friends around a lot, so I grew up around a much older crowd. The only thing I did with kids my age was play sports. I played basketball and football in school, and I also did athletics.
What do you like to do in your spare time when you're not racing?
I love to sleep. Probably a bit too much (laughs). I'm definitely not a morning person. I also like playing video games. I've been playing the new Assassin's Creed games at the moment. I know they're not very loved, but to me, they're pretty good. I've played Red Dead Redemption, which I really liked. I've also started playing on the PC more, like Ark: Survival Evolved and Valorant.
As someone who's done quite a bit in the racing game, what are your thoughts on being young and successful?
I don't think I've gotten that far or succeeded in anything yet. It's still a long road ahead. But if you ask me, I believe the only reason young people are seen as 'more successful' these days is because we grew up with social media. We get a lot more reach than some of the older crowd who don't use it.
What part of racing makes the work challenging for you?
Mentally, it's very draining. There's a lot of technical stuff you have to consider, and knowing you have to do the same thing lap after lap — I don't think people realise just how much of a challenge it is. We travel at these ridiculous speeds and we have to nail it at the millimetre, otherwise we'll find ourselves in the wall or off the track. And on top of that, you have twenty others just like you on the track. It's like, you've got to be a bit crazy to do this. Dad likes to say that we go out there to kill each other, and he's absolutely right. It's a brutal sport. You live for the competition, and one day you'll end by it.
Do you ever have any fears, then, being in this sport?
No. You can't get scared, it's just not an option. As soon as you're scared, you start making wrong decisions. You can't be influenced by your emotions while in the car, because at the speed you're driving, it's going to be bad. If you're making a decision, you need to be 100% confident about it. That's one thing I've had to learn because I used to get frustrated or annoyed in the car, and it would lead to bad things.
What's your favourite racing story to tell?
There was the time when I was deathly sick in India back in 2019. It was really bad. I had to drive in this insane heat for two weekends straight, and I got sick the day after the first race. But I did really well despite how mentally and physically tough it was for me. I'd lost 10kg by the end of it, but you know, I ended up winning the race and getting two podiums. I'll always be proud of myself for that.
What are some of the challenges of being a racer in Malaysia?
Malaysia's tough. The racing scene isn't so big here. We've got Sepang, but other than that there's not much else. You see these other countries — like China, they're doing really well. So is India. They've got a lot of tracks around their country.
So, what kind of changes do you think should take place to make the sport more popular in Malaysia?
Malaysia needs more tracks. They don't have to be Formula One graded. I think as long as we have smaller tracks that are easier to get into and are financially available, we'll definitely see drivers come along more. You know, like, motorbike racing here is great. We've got a lot of good riders, like Hafizh Syahrin who went to MotoGP. So, I think if we apply the same to auto racing, we'll be able to have a lot more Malaysian drivers.
Are you doing anything within your capabilities to make it more accessible?
Dad's company, Axle Sports has started eRacing. It's an online racing simulator, which means it's accessible to everyone. All you need is a pedal and wheels, or a keyboard. eRacing has proven to be a really good avenue through the pandemic situation. So, hopefully when everything opens up again and the normal racing resumes, we'll be seeing more new people.
Lastly, what's your advice for those who want to get into the sport?
Be committed. You've got to make sure that you love it. Racing is an expensive sport, so there's no point getting into it and spending all that money if you're not going to put your all into it. Another thing is to have fun. A lot of people who get into the sport tend to give way to the pressure, and then they don't enjoy it anymore so it becomes a waste. I believe that you always fall out of love with something a little bit, but if you really like it and you know it's for you, you'll come back.
creative direction MARTIN TEO | production NEW STORYBOARDS PHOTOGRAPHY | design ANDREW LOH | styling AZZA ARIF | makeup SHARMAN YEE | grooming ERANTHE LOO | assisted by ANSON TAN & PUTERI YASMIN SURAYA