Because we're all stuck indoors, enjoy these luxury home scents this holiday season.
As per the current Conditional Movement Control Order (CMCO), it's safe to say that we should be spending a lot more time indoors for the next month or so. And seeing as we're approaching the holiday season, you should expect plenty of specials to be coming your way.
We've already covered everything there is to do with beauty advent calendars for the year and now we're moving on to luxury home scents for the holidays. The CMCO couldn't have come at a better time; home scents like candles and diffusers make great gifts for friends, family, and loved ones. If you're not interested in gifting any, it also makes a perfect gift for oneself.
What's great is that every name on this list is highly reputable; the likes of Jo Malone, Goutal Paris, and Diptyque are just some of the more popular household names on the luxury home scents department. With the way things are looking, we'll probably be stuck indoors until the end of the year.
If you're a collector, this is great news as it gives you the chance to stock up on all your favourite luxury home scents. Be sure to scroll down to check out the full list.
Diptyque 2020 Holiday Collection – The Marvelous Beasts
This holiday season, Diptyque partners up with artist Ugo Gattoni to create its 2020 holiday collection, The Marvelous Beasts. It comes together much like a winter's fairy tale, which talks about three enchanted animals that have set out into the sleeping town. The three animals — a lion, a deer, and a swan — represent the three home scents that Diptyque has created. The lion represents Floral Majesty, a candle that features a bouquet of roses warmed in spices like cloves, nutmeg, and fiery cinnamon. The deer is recaptured in the Moonlit Fir candle, which is all about the invigorating beauty of a forest full of scents. The essence of fir trees acts as the base notes, sparkling under glacial notes of eucalyptus, rosemary, and peppermint. Lastly, the swan, which represents the Amber Feather candle that features citrus notes alongside luminous orange, cinnamon, and ginger. The Marvelous Beasts set of candles is available in two sizes — 70g or 190g at RM209 and RM359 respectively. Be sure to look for it at the Diptyque outlet in Pavilion KL or at any KENS Apothecary.
(Image credit: Diptyque)
Goutal Paris 2020 Holiday collection For Christmas this year, Goutal Paris introduces its 2020 Holiday box set. Known as the Legend of the Snow Butterflies, Goutal Paris brings the tale of butterflies that brought snow to a village in its latest scents. First off is the candle, richly decorated in snow-dusted pine branches, fresh oranges, and fragrant mandarins. There is also the universal body cream that utilises emblematic fragrances like Eau d'Hadrien, Petite Chérie, and Tenue de Soirée that goes well with Shea butter for a rich and nourishing texture. Lastly, the four iconic olfactory scents in a travel-size kit, which also uses the same scents found in the universal body cream. Be sure to look out for it at any KENS Apothecary outlet around the Klang Valley.
(Image credit: Goutal)
Jo Malone – A Festive Holiday Collection When it comes to luxury home scents, Jo Malone is on another level. The British luxury fragrance brand is bringing its festive holiday collection to the foray with plenty of seasonal products on display. Aside from a myriad of colognes, diffusers, and other Christmas accessories, The Jo Malone Decorated Candle Collection is definitely one for the books. It features a trio of festive home candles with fragrances like frosted cherry & clove, roasted chestnut, and sweet almonds & macaroon. What's great about this collection is that it is a limited-edition set, which also means the decoration of the candles are also exclusive. Be sure to get it now before it's too late.
(Image credit: Jo Malone)
Le Labo Limited Edition Discovery Sets Holiday 2020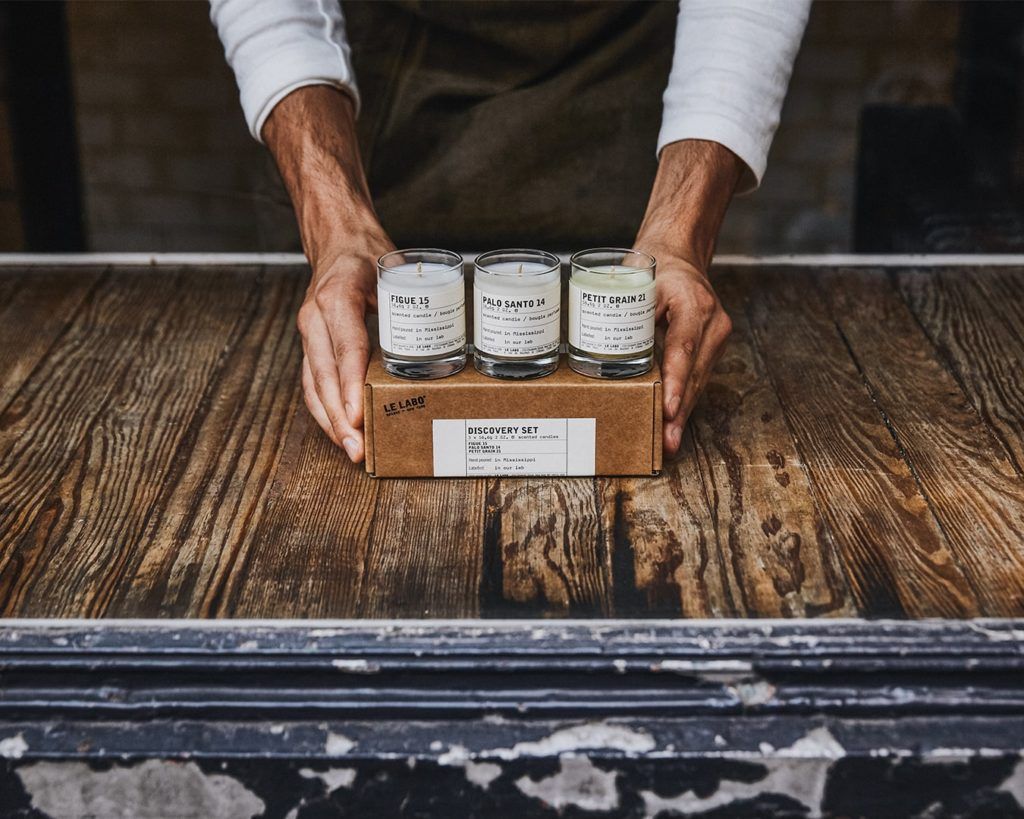 This gifting season, Le Labo wants you to check out its limited-edition Discovery Sets for the Holiday 2020 season. Available at its Suria KLCC boutique, Le Labo is bringing a new range of candles, this time in a set that features three different scents. These soy wax-based candles with pure cotton wicks were hand-poured in the United States with highly concentrated fragrance oils. The three scents are the Petit Grain 21, the Figue 15, and the Palo Santo 14.
(Image credit: Le Labo)
Loewe's new plant-based home scents
Drawing inspiration from the gardens and its plants, Loewe creates a new range of home fragrances and potted candles based on the raw essences of a vegetable garden. 11 plant essences were interpreted, studied, and expressed as its standalone scent within candles, wax candle holders, home fragrances, and rattan diffusers. The smells include honeysuckle, beetroot, juniper berry, tomato leaves, coriander, liquorice, luscious pea, oregano, cypress balls and ivy. Be sure to shop the home scents now at your nearest Loewe outlet.
(Image credit: Loewe)
For more holiday gift guides, check them out here.