Like a perfect union, the Lifestyle Asia KL team got to spend a week at a luxury coworking space: Colony Coworking Space. 
You're probably no stranger to coworking spaces. Like mushrooms after the rain, they've been popping up all over the city, challenging the notion of the traditional office space. As a team mostly made up of millennials, we welcomed it. Hence, you could imagine our excitement when we were invited over by the team behind Colony Coworking Space to review its newest outlet in Star Boulevard KLCC. 
Colony has come a long way since its first opening along Jalan Kia Peng. Soon after, the company branched out across the Klang Valley with spaces in KL Sentral, Damansara, Petaling Jaya, and more. Each one was better than the last and with it came different creative interiors. Colony is the first upscale coworking space that KL has seen – and remains the only one so far. 
The location
As digital nomads that frequent the city centre for meetings, the location of Colony @ Star Boulevard KLCC is the perfect base to begin our day. It's a short walk from the KLCC LRT station for those looking to lower their carbon footprint and perfectly situated in the Jalan Ampang part of the city, which is within walking distance to the Golden Triangle. 
The space
This branch is the brand's flagship, which also means that it is the largest Colony Coworking Space in Malaysia thus far. Spread out across two levels, it encompasses a regular coworking area and a rooftop area, which you now know as the glamping site,  Castra by Colony. 
We particularly love the British-style common area with its wooden bookcases and leather Chesterfield sofas – it oozes a certain kind of tasteful elegance only the Brits are capable of. Within the space is also a Define:Food cafe, which gives you an additional dining option just in case you don't want to head out.
Other usual amenities you'll find there include large meeting rooms, a working pantry, private phone booths, an expansive event space, and more. 
The little touches
Now, here's where we feel Colony @ Star Boulevard shines best – the little touches that really add value to our time here. This flagship outlet is – we feel – the best for working parents. For the kids, a play area and a nap room, which makes it the perfect spot to park them for a few unworried hours while you settle a work crisis.
Then, there are the little amenities in the women's bathroom that we – or myself, really – appreciated. You can rent a hairdryer, touch up your makeup with cotton buds and pads readily available, and more in the bathroom. After all, first impressions matter and you want to look presentable before an important meeting. 
Our experience
During our weeklong "workcation", we got to try out the luxe suites. These are essentially upgraded private offices that have an extra touch of service. Our first thoughts were how pretty the office was: the walls were swathed in a gorgeous tropical-print wallpaper and a welcoming emerald green couch awaited us in front of a smart TV.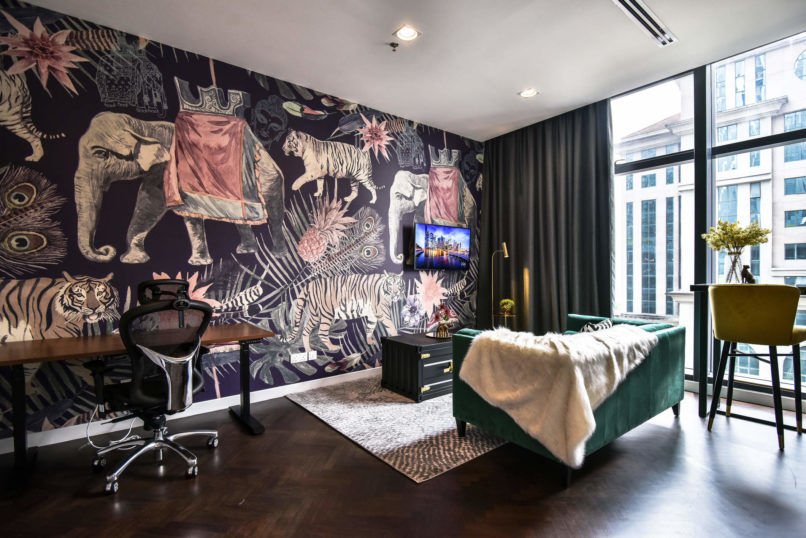 Don't get us started on how the TV had all the streaming platforms available (yes, even Apple TV and Amazon Prime) – we would probably never get any work done if we had zero restraint. 
Next were the thoughtful drinks and snacks that were refilled daily – we had juices and infused water to refresh ourselves and healthy snacks including nuts and power bars in case we got peckish. 
The work chairs were comfortable, but what really got us were the height-adjustable tables. That's right, you could adjust the tables according to your height or even make it taller if you wanted to work standing up straight. In fact, our senior writer Wi-Liam spent most of his time in our luxe suite standing while at the laptop, because – in his words – he, "felt more productive." 
The verdict
Did we enjoy ourselves while working during that one-week work-cation? Yes. Were we sad to hand back our access cards to the staff at Colony @ Star Boulevard KLCC? You bet. We couldn't sing enough praises about the concept of a flexible working space, especially one as beautiful as Colony @ Star Boulevard KLCC. You can be sure we'll be back. 
(All images: Colony Coworking Space)