There are many things you can do at the gym but there's one impermissible thing that you shouldn't be doing when working out — wearing the wrong shoes. When lifting weights, you need a pair that has a flat sole so keep your feet grounded for more stability. It helps with lessening the impact to your knees, soles and lower back too. If you're a cardio-freak, lightweight trainers are the best but make sure that you choose something with a good textured sole for better grip if you prefer running in the outdoors.
When it comes to HIIT training, there are equal parts functional and mobility. Whichever way your HIIT workouts swing, make sure you have the right shoes to allow optimum performance and minimum impact. Here are our tried and tested reviews on the shiniest new kicks for HIIT.
1
Puma LQD Cell Shatter
Women
Design: LQD Cell Shatter doubles up as your everyday white shoes and a stylish addition to your athleisure ensemble thanks to its dynamic trim-colour geometric sole design.
Performance: For girls who enjoy the adrenaline rush of high-intensity training, the LQD Cell Shatter takes your workout to the next level with its energy-returning foams that keep you steady while working out and provide extra flexibility for you to perform jumps, kicks and dynamic movements fluidly. The added grip and extra heel support also allows you to train both outdoors and indoors as well.
Best Workouts: High-intensity training or CrossFit workouts involving squat jumps, box jumps and power lifting.
2
Puma LQD Cell Tension
Men
Design: Featuring a flatter sole, the LQD Cell Tension has a dynamic design that emulates speed and waves. It is also great as casual shoes thanks to its simplistic design in three colourways. The light turquoise is also contemporary and easily matched with denim or any khakis.
Performance: The LQD Cell Tension is specially designed for high-intensity training thanks to its soft yet sturdy hexagonal cells compression that keeps you steady while enhancing wearability. Perform all sorts of exercises and experience greater stability and comfort — allowing you to go all out in every session. The rubber outsole also provides maximum traction and durability, maintaining low impact no matter what movement you're attempting to do.
Best Workouts: A wide variety of movements from landing box jumps to tire flips, as well as agility training like sprints and other metcons.
3
Nike Joyride
Men & Women
Design: The shoes come in a range of soft understated colours that are best if you're not into something too flashy. The knitted silhouette also allows breathability and is lightweight — a great pair to travel with.
Performance: The Nike Joyride cushioning system made of thousands of TPE beads offers great impact absorption especially when you are running or performing dynamic jumps. If your legs are usually sore after ten or twenty jump squats, the Joyride pushes you twofolds while keeping your feet fresh thanks to a personalised underfoot experience called multi-dimensional displacement.
Best Workouts: Outdoor bootcamp-style workouts
4
Under Armour Charged Bandit 5
Men & Women
Design: The two-toned mesh gives a contemporary look to the common monotone trainers. The Molded Comfort Collar locks in the heel with soft, plush comfort with a lightweight structure that makes it perfect for agility workout.
Performance: Charged Bandit 5 is great for runners for its flexibility and impact-absorbing qualities. The dual-layer Charged Cushioning is designed to support you during your workout — you'd be able to run faster with ease, land softer when you perform a tuck jump and balance easier when doing snatches. The shoes feel effortlessly lightweight, which makes it suitable for kettlebell, TRX and bar training.
Best Workouts: Fast-paced cardio sessions and equipment-based HIIT training.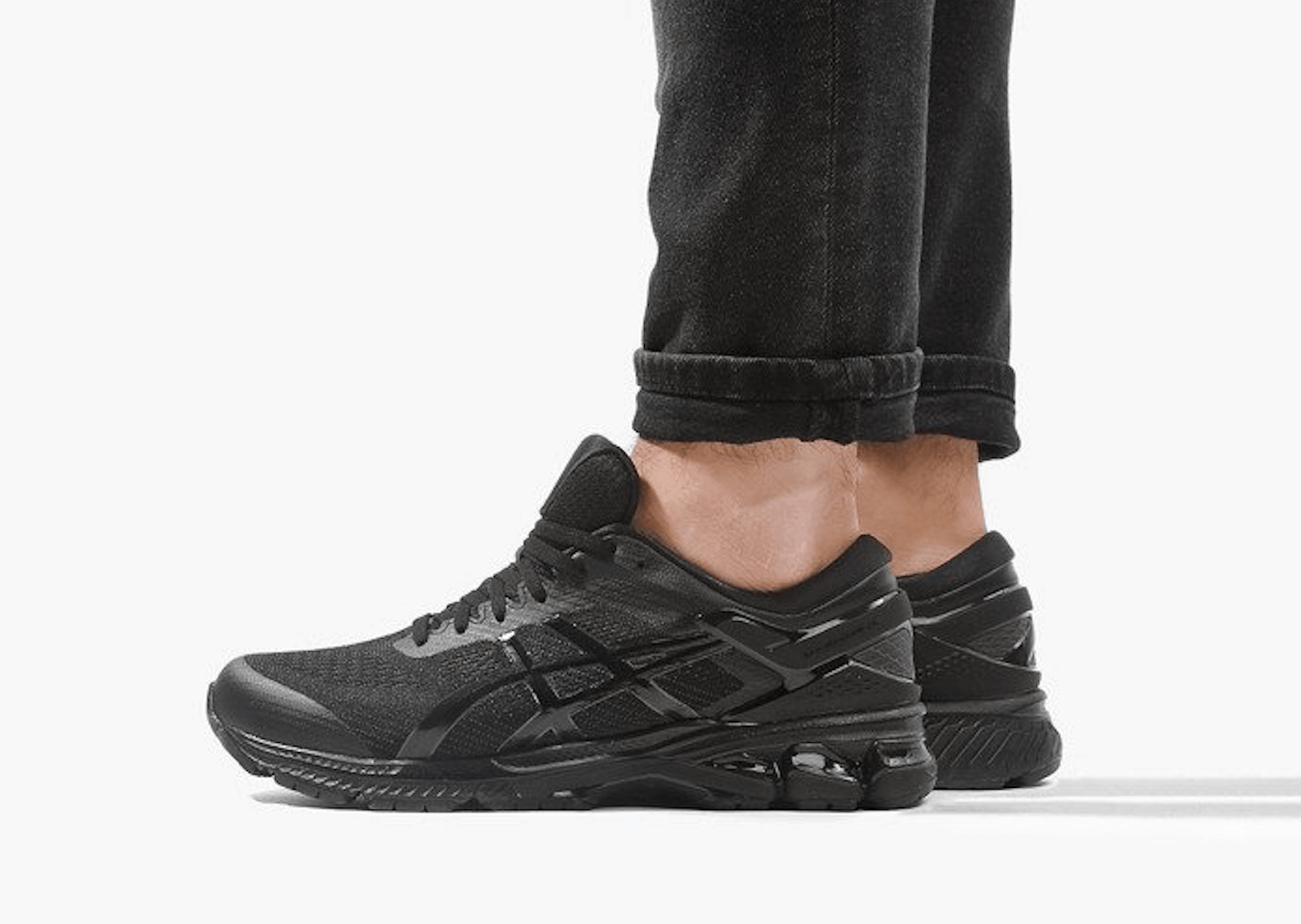 5
Asics GEL-Kayano 26
Men
Design: The signature emblem of Asics makes the shoes a dynamic addition to your collection. The GEL-Kayano 26 comes in a variety of colourways, but we'd suggest the all-black option as it's easy to match and can be worn for any casual outings. It is also a great pair for overpronators, or those with arched foot.
Performance: The GEL-Kayano 26 is a successful update of a solid running shoe series, that comes with improved midsole cushioning and stability mechanisms to offer proven responsiveness to your workouts. The highly textured sole gives a lot of grip, which makes it great for outdoor training and terrestrial runs. The springy and responsive feature thanks to the midsole technology also helps with better jumping and landing, as well as for clean-and-jerk movements. 
Best Workouts: High-intensity CrossFit training for both indoor and outdoors, including sprints, long-stride jumps and field training.