Two weeks after having the All Clean Virus Fit Air Purifier installed in my home, it provides more than just clean purified air but a sense of relief and peace of mind.
Have you ever considered investing in an air purifier for the home to keep you and your loved ones safe and protected? What if we tell you that we've found one that truly rings with current times and looks absolutely sleek as well?
Let us introduce you to SK magic's All Clean Virus Fit Air Purifier.
Having an air purifier at home is now more of a necessity than luxury. It is assuring when you know you're breathing in clean air at home — enabling you to have peace of mind when you find respite at home.
As someone with occasional OCD, having a clear indicator of the quality of air in the space I'm constantly offers great relief and calms me down significantly. The pandemic has tremendously shattered any form of trust we have on the environment we are in — so having an air purifier that cleans the air around you from all angles at 360° is all music to my ears.
All Clean Virus Fit Air Purifier
For starters, SK magic's All Clean Virus Fit Air Purifier is unlike other air purifiers in the market. Powered by an advanced technology, the product in question is proven to eliminate up to 99.99% of mould, bacteria as well as Covid-19 viruses and the Delta variant. The advanced air purifier is also effective against common air pollutants such as dust and harmful gases that aren't visible to the naked eye.
At the heart of the All Clean Virus Fit Air Purifier is an eight-step All-in-One Filtration system and UV Arc Core sterilising function that enable more than just pristine cleaning. Equipped with a Copper Fiber Ultrafine Dust Filter that ensures the elimination of harmful viruses including Covid-19 and the Delta variant, it is also effective against Human Coronavirus, EV71 as well as H1N1 viruses.
Hazardous substances and harmful nasties are eliminated through the Antibacterial Pre-filter and All-in-One Care Filter while airborne bacteria and viruses are sterilised through the UV Arc Core Sterilisation System. UV light is radiated onto the titanium dioxide, releasing electrons which interact with water molecules in the air.
What's more interesting is the 360° All Directional cleaning — the All Clean Virus Fit Air purifies and filters polluted air from all directions from where it is placed in the room. It also comes with floor suction, and together, the air purifier is able to provide coverage of up to 710 sq.ft. (66.0 m.sq.) — which is pretty much an entire studio unit.
The air purifier can also neutralise all kinds 'invisible' danger in the air we breathe such as dust, gas, mould bacteria and airborne viruses. It is also the first device in the industry to be PA certified as an Air Steriliser by the Korea Ozone UV Association — recognised as a health equipment and medical device by the U.S. Food and Drug Administration (USFDA).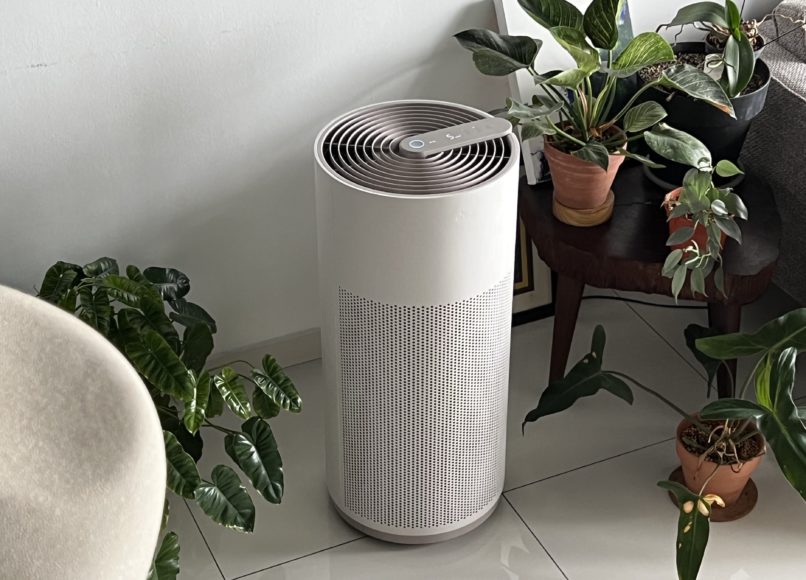 More than a device, it's a lifestyle
It is important to know that SK magic's All Clean Virus Fit Air Purifier is quite sizeable, especially if it's able to purify and clean the air in a 700-square-foot space — that's like the living and dining room (or kitchen space) combined.
While the size is something to be considered, it makes up with its sleek and modern aesthetics. The air purifier can easily fit into any interior space thanks to its cylindrical shape in cream beige grainy finish. It is also equipped with wheels, making it convenient to move around from one space to another — I enjoy moving the air purifier from the living room into my bedroom, a few hours before bedtime.
Putting things to perspective, I live in a high-rise condominium with my balcony door constantly open (to provide humidity for my indoor plants). The balcony faces DUKE highway, and it is obviously not fresh clean air you'd expect. One of the features that I especially like is the light indicator that tells the quality of the air around me.
The light changes from red, orange, green and light blue — light blue reads the cleanest air index. It takes a while to understand, but some obvious scenarios include having the coloured indicator changing from light blue to orange when I am cooking, or when light blue become green when I walk into the house after a long day out.
The All Clean Virus Fit Air Purifier signals nasties and hazards that are 'brought back' — cleaning it upon contact with the filtration and sterilisation system. Now you can come home to clean fresh and purified air without having to worry about what you are 'bringing home'.
Verdict
There is a calming sense of relief — a feel-good factor — that comes with the All Clean Virus Fit Air Purifier. While it is refreshing and reassuring to know the quality of air in the space you're in is checked, it is double the satisfaction to have the air purifier detect dust and deliver purified air farther and faster. 
Furthermore, what I truly appreciate is how SK magic continues to care for the environment and the people with every new product released. The All Clean Virus Air Purifier is the first air purifier made using recycled materials, comprising 50% eco-friendly recycled plastic known as Post-Consumer Recycled-ABS (PCR). The production of one All Clean Virus Air Purifier is equivalent to a 1.4kg reduction in plastic waste and 14% reduction in greenhouse gases.
While I hope for a mini portable version of the All Clean Virus Fit Air Purifier (fingers crossed), I can continue to find relief and assurance through SK magic's All Clean Virus Fit Air Purifier as time spent at home becomes more precious than ever.
SK magic's All Clean Virus Fit Air Purifier is priced at RM4,200 or at a rental price of RM99 per month. Find out more on SK magic's official website, Facebook, Instagram and YouTube.