Having the LG Styler™ at home is like having a personal assistant who gets your clothes sanitised, refreshed and ready for you to own the day.
Dry cleaning has been a habit of mine especially when I used to travel a lot to seasonal countries. It is almost impossible to wash those trench coats, wool sweaters, and even my Ermenegildo Zegna suit — and the most convenient way is to send it to the dry cleaners.
What if I tell you that you can have your very own dry cleaner at home — and more impressively, it cleans with only water!
Introducing the LG Styler™, the one-of-a-kind smart wardrobe with the promise of 'Hygiene in Style' that offers consumers cutting-edge technology to keep clothes hygienic and fresh for families, while caring for its longevity. The LG Styler™ relies on the effectiveness of steam technology — the result of years of research and development by LG — for hygiene and clothing care.
With hygiene and safety being the buzzwords in the thick of the pandemic, there is no better time than now for you to invest in a product that guarantees peace of mind and ultimate protection from viruses, bacteria and more.
First impressions
What I truly appreciate about the LG Styler™ is its sleek and slim design. As a product that's designed to last, the LG Styler™ is certainly sturdy and has an air of luxury to it thanks to its height.
It has a pristine interior that's easy to understand and navigate — simple instructions are also available inside to help first-time users like me work my way through the product. As a new user, I appreciate the fine details and small touches like these to help consumers — especially one who doesn't really reach for the user guide manual first — figure it out through mere 'gut feel'. 
The LG Styler™ comes in two colour models, White and Essence Mirrored Finish. While the LG Styler™ in White is an omnipresent colour to match contemporary and modern spaces, the LG Styler™ in Essence Mirrored Finish takes it to the next level. The absolute chrome-like finish offers a sense of luxury with a highly reflective front. This is perfect for rooms with a darker theme or even quasi-industrial style spaces.
What makes the LG Styler™ special?
The LG Styler™ is fitted with innovative yet practical features that are designed specially for hassle-free home dry-cleaning sessions. One main feature that stands out for is the Pants Press function that helps 'iron' my favourite pants while 'dry-cleaning' it at the same time. When it comes to expensive garments, there is a sense of uneasiness when it comes to washing them the primitive way — so the LG Styler™ provides assurance and a sense of calm to this qualm.
With the Pants Press function, it is a quick and easy care for suit pants that are often difficult to hang while maintaining perfect crease as well. When you have decided on the full suit you're going to wear the next day, simply have it in the LG Styler™ the night before and have refreshed, wrinkle-free outfits to start your day.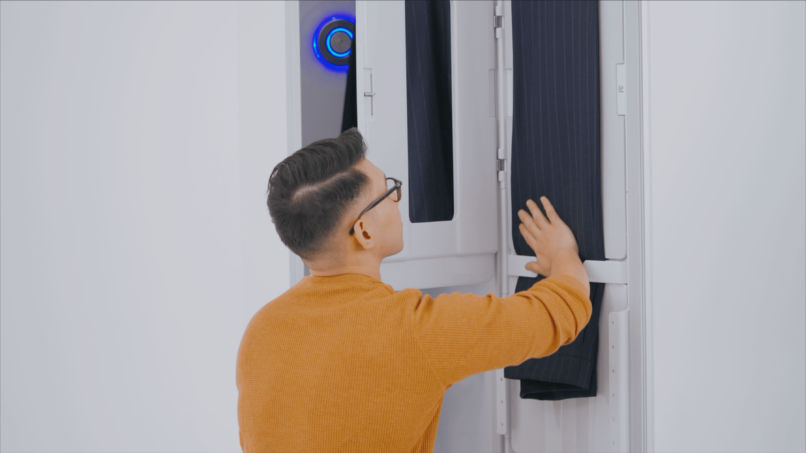 The lockdown has also changed the way I dress up. With longer days at home, most of my clothes are left hanging in the wardrobe. The LG Styler™ provides the perfect solution by sanitising and refreshing your clothes without having to 'wash again' (if you get what I mean). With LG's advanced TrueSteam™ technology, the LG Styler™ effectively reduces 99.9% viruses, bacteria, and allergens with the just of water — no chemical additives. It easily sanitises fabrics and items that are difficult and impossible to wash too.
The patented Moving Hanger helps to shake off fine dusts, allergens and wrinkles as well as removes odours in clothes with low noise operation at 41dB and 200 vibrations per minute — leaving clothes fresh as daisies. Think of the oily and smoky smell that you want to rid after each visit to the satay shop or Chinese restaurants. The LG Styler™ can do just that and more.
Talking about a holistic all-rounded experience, it also dehumidifies closets and indoor spaces to keep the surrounding atmosphere refreshed.
Users will also find the Gentle Dry feature interesting as well. With the heat pump system, its low-temperature drying system dries clothes faster than air drying. This function perfectly cares for clothes that are tricky to wash including wool cardigans, embroidered jacquards, silk scarves and other delicate articles. With its gentle drying feature, I don't have to worry about shrinkage and damage caused by heat — which is what I am most afraid of when it comes to my clothes.
Speaking from a personal experience, I've ruined enough knitwear to confidently say that the LG Styler™ is a true life saver in this department.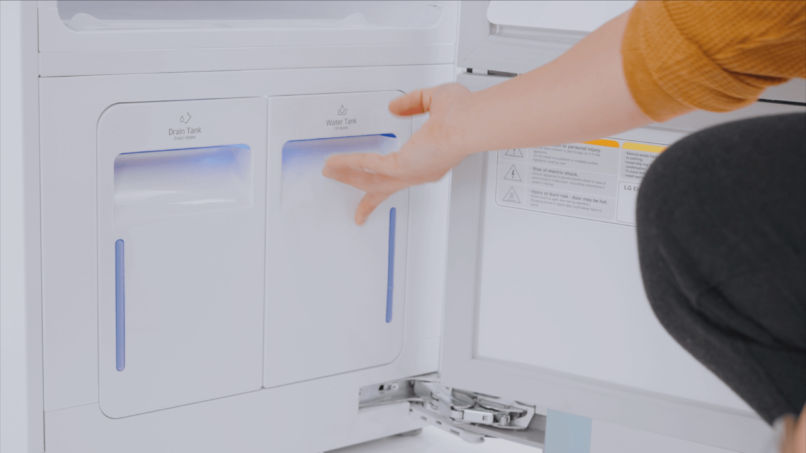 It is an Eco-friendly Smart Wardrobe
On top of being functional for the urban dweller, the LG Styler™ is also equipped with smart and eco-friendly functions that enable you to contribute to environmental awareness and sustainability.
The impressive TrueSteam™ technology is a huge plus point — it gets rid of up to 99.9% bacteria, viruses and allergens with purely water, no chemicals. On top of that, the heat pump system consumes less energy to dry your clothes. It helps save energy and cost, while keeping undesirable nasties at bay.
Those who like to have a seamless connectivity throughout all different devices at home would also find the LG ThinQ™ technology music to their ears. It allows you to operate and monitor your precious garments from anywhere, anytime with just one click of a button on your smartphone. Simply connect the LG Styler™ to the LG ThinQ™ app using Wi-Fi and you can control, track energy consumption, or use Cycle Download to add newly developed care cycles.
While some functions would take longer to complete, the app will be able to alert you when your garment are refreshed and ready to wear. I love how I can simply mind my own business and let the LG Styler™ do its thing.
And best of all, it is not only limited to clothing care and sanitisation. You can also have your favourite things including handbags (suitable for steam cleaning), belts, pouches, tote bags, sneakers and even soft toys cleaned and sanitised in the LG Styler™.
Verdict
The LG Styler™ is made for everyone, no matter your lifestyle and personality. It is also not just made for the home, but also for the office or workplace. A friend who is a fashion designer also agrees, saying that the LG Styler™ would fit perfectly in the studio and is perfect for cleaning couture pieces, as well as sample garments — especially for the safety of customers.
The LG Styler™ is priced at RM8,499, available in two colour models — LG Styler™ in White and LG Styler™ in Essence Mirrored Finish.
Find out more about the new LG Styler™ here