A laptop should be as flexible as you are, like how the Lenovo Yoga C940 is.
Working from home (WFH) could either be a blessing or a disadvantage. Many find themselves more productive at home compared to the office, while others struggle to find a balance between work and personal life. Rest assured — either way, your WFH situation will be a better one with the right tech companion.
The Lenovo Yoga C940 takes on the standard laptop form but features convertible features. It can be laid flat or swivelled up to 360 degrees. Lenovo described the device as a 2-in-1 hybrid — a laptop and a tablet. Its flexibility may be familiar as this device is an upgrade from its previous sibling, the Yoga C930. Upgrades include power, system, visual and sound.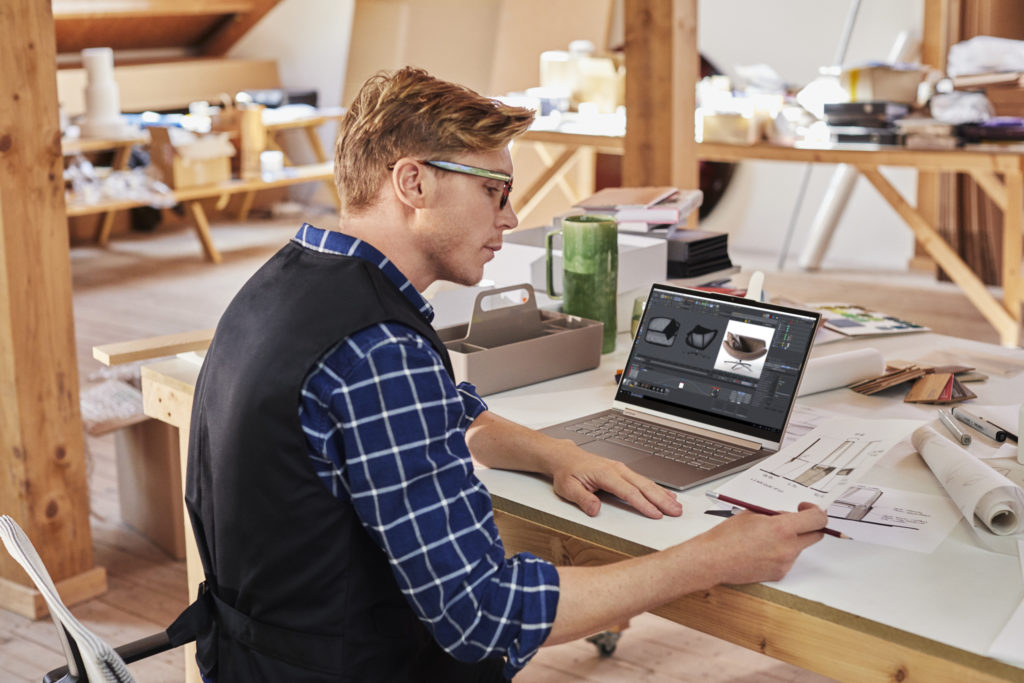 But what makes it the perfect companion, whether you are doing work or getting some personal stuff done? Read on to find out why.
Powered by the 10th Generation Intel® Core™ i7
A laptop that is able to go from work to entertainment seamlessly is highly preferred in situations such as this and the Lenovo Yoga C940 allows you to do just that. You'll be able to switch from work to play or vice versa instantly, in just mere seconds — thanks to the 10th Generation Intel® Core™ i7 processor.
As soon as you lift the lid, the Yoga C940 immediately wakes from its sleep with the WiFi connected and ready. Unlock your laptop with the fingerprint reader as fast as you unlock your mobile phone. Taking a 10-minute time off watching an episode of your favourite series but suddenly got called into a meeting? Just exit and there you are in your Zoom meeting in just a few seconds. Don't worry, we won't tell your boss.
Apps are performing better, video editing and graphic designer is now faster with less waiting time and streaming 4K entertainment is a breeze.
Convertible and convenient
Flexible is an understatement for the convertible Lenovo Yoga C940. Adjust it to however you please to suit your work (or play) situation. Its exterior is crafted from premium aluminium, blending world-class craftsmanship with purposeful design. Well thought-out details are implemented in the laptop, such as a webcam privacy shutter and a raised bump to ensure better grip when opening the device. The Yoga C940 only weighs 1.4kg, which is reasonable for a hybrid.
The device also comes with a Garaged Pen with charging that requires no battery. It's located at the back of the laptop, ready to write or draw as soon as you pulled it out.
Optimized for entertainment
While you take a break from work, take a dive into the entertainment world seamlessly. Whether it is streaming your favourite K-drama on Netflix or drowning in the black hole that is YouTube up until late at night — it's all in 4K Display, to be specific 4K VESA DisplayHDR™ 400 14″ screen edged with razor-thin bezels. Every colour and texture is displayed in its full glory, so you won't be missing out any detail. It's optimized with up to 500 nits of brightness and Dolby Vision™.
360 degree Rotating Sound Bar with Dolby Atmos® is installed in the Yoga C940. Giving you an all-rounder entertainment no matter which mode or laptop angle that you're working on. 3-dimensional audio is promised to be on par with its 4K Display. It's not just entertainment that you watch on your desk but also feel.
The Lenovo Yoga C940's starting price is at RM6,199. Click here to discover more or visit here to find out where to make a purchase.
Images: Lenovo