Take the VTL to Singapore and enjoy a much-awaited vacation with Resorts World Sentosa Singapore, as you indulge in a luxury hotel stay and explore the island's entertainment scene and culinary delights.
We've all missed the pains and pleasures of travelling. Interstate travel has recently opened up, but of course nothing can truly match the excitement of a change of scenery. With the VTL linkage between Malaysia and Singapore now open, why not head down to the Lion City for a long-awaited vacation away from home?
Resorts World Sentosa is here to plan your itinerary for you so you won't have to stress about the planning. From the best places to stay; exciting island attractions for you to visit; and where you can indulge in the best dining experience, we've got you covered!
Make the most of a luxurious getaway
Resorts World Sentosa offers six hotels with six unique themes, and more than 1,500 rooms to suit every personality. With a vibrant entertainment culture such as Singapore's, you'll want to know the best place to spend your vacation in. Whether you're looking for someplace discrete or somewhere closer to nature, Resorts World Sentosa has the perfect spot for you.
On the western tip of Resorts World Sentosa is its  idyllic retreat, the Beach Villas. A series of secluded tropical sanctuaries, the Beach Villas offers breathtaking views and the best of comforts away from home, ideal for a well-earned getaway or romantic escapade. The Beach Villas are also just a stroll away from the Adventure Cove Waterpark for those who are looking for some splashing good fun, and S.E.A. Aquarium, home to more than 100,000 marine creatures, as well as Dolphin Island where you can interact with dolphins face-to-face.
For a fully immersive experience with island life, we recommend Ocean Suites, offering the best of both land and sea. Tucked away at one of the world's largest aquariums, you'll be treated to five-star comfort while you take in unparalleled views of the underwater reserve of over 40,000 marine fishes, all in the comfort and privacy of your own suite. The upper level also consists of an open living area that leads to an outdoor patio and jacuzzi. A simple buggy's ride takes you straight to S.E.A. Aquarium and Adventure Cove Waterpark if you'd like to complete your marine experience.
Nature lovers, rejoice! If you're someone who prefers to dig your feet into the dirt land as opposed to swimming alongside the fishes, then Equarius Hotel is the ideal spot for you. Located along the fringe of a tropical rainforest in Sentosa, Equarius Hotel is a haven for the regular outdoorsman, and is just a stone's throw away from nature hikes and the island's numerous attractions. The spacious and breezy suites of the Equarius Hotel also boast balconies with stunning panoramic views of the forest and the sea for you to take in.
Get red carpet treatment at Singapore's finest attractions
A VIP experience is just the cherry on top to enjoying a perfect vacation. All of Resorts World Sentosa's hotels are located within walking distance to the island's top attractions, so you won't have to stress one bit about the journey.
Treat yourself to a VIP tour of Universal Studios Singapore. Just like a visiting celebrity, you'll be treated to a personally escorted tour through the theme park for the entire day, as well as priority access to the rides, exclusive meet-and-greet and photo sessions with characters, and other benefits.
On top of that, thalassophiles can treat themselves to the unique VIP experience of S.E.A. Aquarium. The best way to enjoy your visit is certainly in the company of a guide, who will fill you in on all the fascinating facts of the marine world and its many inhabitants. What's more, you'll have priority access to S.E.A. Aquarium and privileged access to back-of-house areas.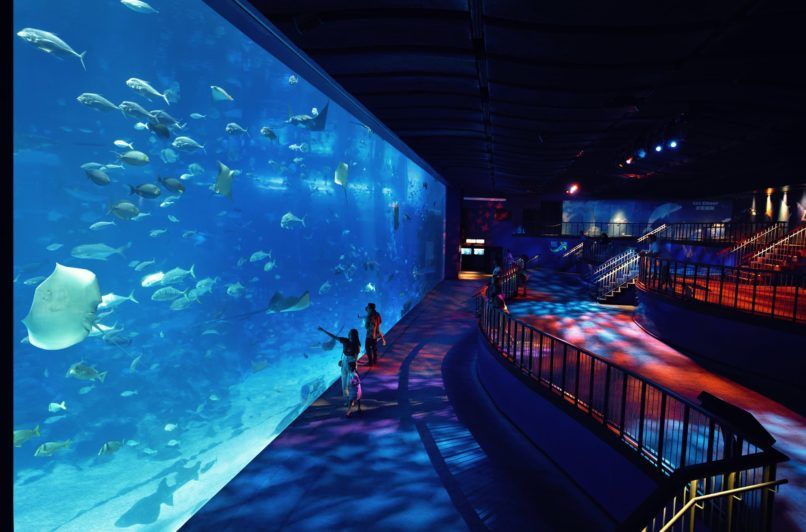 To get even more up close and personal with marine life, Adventure Cove Waterpark offers a splashing fun adventure where you can drift on the river or snorkel with over 20,000 tropical fishes from over a colourful reef.
Treat yourself to a satisfying dining experience
When the fun has been had and you've had your fill of entertainment, it's time to refresh with the best dining experience the island can offer. From local cuisines to tantalising international delights, Resorts World Sentosa has an array of restaurants to cater to all taste buds.
At Osia Steak and Seafood Grill, you'll be treated to prime beef and top-quality seafood straight from Australia, which you can savour along with a remarkable selection of Antipodean wines in a relaxed and convivial atmosphere — perfect for unwinding after a long day.
table65 offers a fun, 'fine-casual' dining experience outside the uptight formality of typical fine-dining restaurants. Winner of the prestigious Michelin star, table65 breaks boundaries with both its food and experience — sit at the open kitchen and chat with the chefs in a relaxed atmosphere while you indulge in local delights and delectable desserts.
To learn more about Resorts World Sentosa and view the full list of offerings, visit the official website.
Universal elements and all related indicia TM & © 2021 Universal Studios. All Rights Reserved.