Setia Sky Seputeh is the definition of luxury resort living in the heart of Kuala Lumpur.
Inspired by the chic heritage of the quaint neighbourhood of Taman Seputeh, Setia Sky Seputeh is the epitome of freehold luxury resort living located right in the heart of Kuala Lumpur. Promising a lifestyle beyond bespoke, Setia Sky Seputeh prides itself as a modern legacy for generations to come. And with a surge in demands for luxury freehold properties within the city centre, especially amongst urban dwellers, Setia Sky Seputeh offers more than just resort living but a place one would be proud to call home.
The property, developed on 4.4 acres of prime land in Taman Seputeh, is a well-facilitated low-density development features two towers of residences comprising only 290 units, four to six units on each floor. A private lift lobby also adds on to its luxurious and exclusive charm of the condominium.
The attractions and landmarks surrounding Taman Seputeh also make it one of Kuala Lumpur's most sought-after addresses for residential living. Connected through a direct pedestrian link bridge, Setia Sky Seputeh is only 500-metre away to Mid Valley Megamall and The Gardens Mall — one can literally walk there in minutes.
Defying odds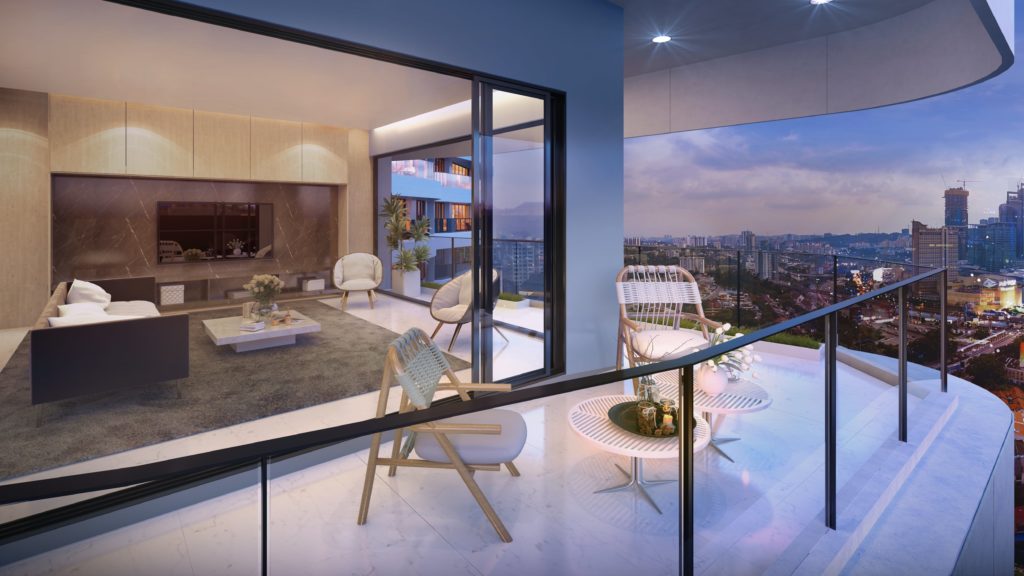 Imagine coming home to the calming scenery of the surrounding forest amidst the bustling vibes of the city. The orchestra of chirping birds, almost masking the rumbling sounds of engines down below, offering you a playlist of constant serenity while being at home.
And with the home being more important than ever, it is important to choose a space that fits your lifestyle — a happy place that you can work, play, live and love.
Setia Sky Seputeh calls it the Sky Mansion, the condominium units that are designed to be luxuriously spaces and significantly larger than most high-rise condominiums in the city. These units range from 2,303 to 3,025 sqft, comprising three different layouts — Sky Suites (3 unit types from 2,303 – 2,379 sqft), Sky Bungalows (2,616 – 2,885 sqft) and Sky Mansions (2,971 – 3,025 sqft) — for new homeowners to choose from.
With a strong understanding that condo layouts measuring more than 2,000 sqft are generally rather difficult to find, especially those around KLCC area, Setia Sky Seputeh develops desirably larger spaces to cater to the market.
Security and privacy
When it comes to living in a condominium, it is instantly linked to the idea of privacy and quietude that you look forward to when returning home. But one of the key upsides of high-rise living is efficacy in security. Here in Setia Sky Seputeh, its vigilant security systems are constantly and closely monitored to ensure the safety of all its residents.
Compared to a landed property, high-rise living also offers peace and quiet as you isolate yourself when privacy is needed most. Create a private sanctuary within your home, as you can creatively utilise the large layout space to its best potential.
And if you're a living with a large family, you'd find this music to your ears. Setia Sky Seputeh provides residents with three to four side-by-side carparks to facilitate families with multiple vehicles — so you need not worry about insufficient parking spaces, especially in a high-rise setting.
5-star facilities
Setia Sky Seputeh is also equipped with state-of-the-art facilities aimed to foster healthier lifestyles. While some landed residential projects have clubhouses and more, residents may have limited access to the facilities provided. Here at Setia Sky Seputeh, there are two very different facilities podium that are available for its residents — a Beach Podium on Level 7 and the Sky Rooftop Podium on Level 36.
The Beach Podium on Level 7 comes with 1.5-acre resort-themed facilities, as well as a cocktail bar, virtual gold area and other creature comforts you'd find at a resort. It is also home to Malaysia's longest man-made podium beach with 700m2 sandy beach.
On Level 36 lies the Sky Rooftop Podium that offers a different experience altogether. The interiors are elevated with beautifully designed spaces with entertainment lounges, gourmet dining facility, heated aqua gym and plenty of Instagram-worthy corners to feed your social media game.
Both facilities podiums also offer sweeping views of the adjacent forest and the cosmopolitan skyline — enabling residents to enjoy the best of both worlds from every vantage point. There is also a central park featuring a dedicated walkway for residents to take morning strolls or evening walks at their convenience.
So sit back and relax, as you marvel at the fine balance of urbanism and tranquility Setia Sky Seputeh has to offer.