From traditional games to the digital realm of Hennessy's Malaysia's InnerClub, the globe-trotting Saw siblings — Melanie and King — reflect on the ways they keep themselves entertained during Chinese New Year.
The tradition of Chinese New Year celebrations are ever-changing, especially so when it comes to entertainment. Food and drinks are enduring, but with the constant development of the digital world, the ways in which we keep ourselves entertained has experienced quite a shift.
Travel influencers Melanie and King Saw reflect on their experiences of celebrating Chinese New Year growing up. From classic mahjong games to indulging in bak kwa with friends and now keeping up with the latest TikTok trends, the Saw siblings note the significant changes that come not just with growing up, but also with the ways modern entertainment has altered.
Hennessy follows suit with its InnerClub website, where you can play the Golden Tiger Game and stand a chance to win attractive prizes. Embodying the essence of exclusivity, the InnerClub presents itself as an inner circle; Malaysia's luxury cognac club that lets its members enjoy exclusive offerings such as limited edition bottles, prestigious experiences such as one-of-a-kind dining experiences and tickets to special events happening across the region. Hennessy Malaysia's InnerClub truly is the pinnacle of cognac at your fingertips.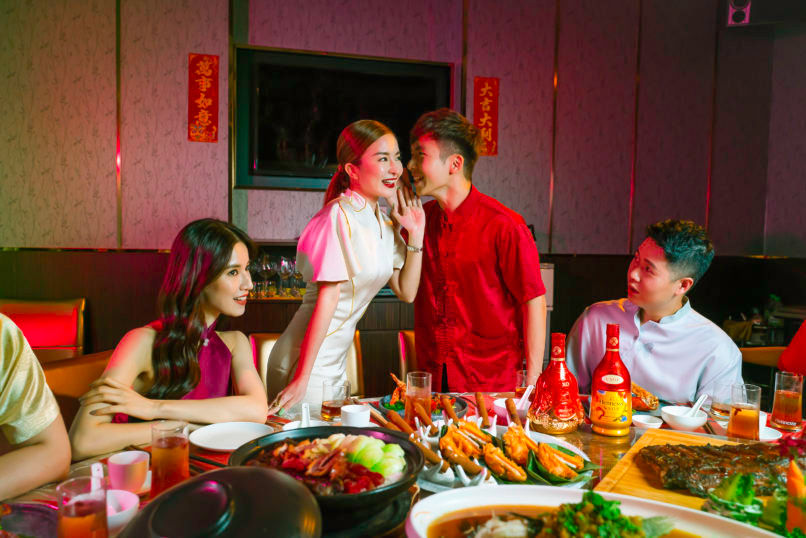 "Since our parents are from either side of Semenanjung, most of our fondest Chinese New Year memories are of travelling," Melanie recounts of her and King's first experiences of travelling. "Our dad's hometown is in Perlis, and our mum is from Johor — so, after the first day of Chinese New Year, we would take the trip from the north to the south. It was like that for us every year growing up."
Beyond travelling, the Saw siblings also engaged in the classic forms of entertainment during Chinese New Year, such as gambling, and mahjong. Shopping for clothes is another tradition for Melanie and King; they would already start buying their Chinese New Year clothes during Christmastime.
"Now that we're much older, we only go back to our hometown in Penang where our parents are, and catch up with our old friends there," Melanie reflects. "Today our entertainment 'tradition' mostly involves partying and of course, drinking — Hennessy is usually a good complement to our Chinese New Year celebration, for bak kwa — dried meat. It goes perfectly with Hennessy cognac."
Hennessy has also partnered with Grand Imperial Group to offer a complimentary bottle of its signature cognac Hennessy V.S.O.P that comes alongside the Chinese New Year menu. The exclusive set menus that cater up to 10 people, feature a range of exquisite culinary creations from the Iberico Spare Ribs to Boston Lobster. You will not only indulge in the distinctive tastes of the signature dishes but also the artistic touches of its presentation and ambience.
As traditions continuously evolve, certain things remain and even get better with age. Hennessy's flair for adapting to these changes can be seen in its development of InnerClub, expanding beyond the products that it is traditionally known for and providing a holistic addition to the Chinese New Year celebrations.
To learn more about Hennessy and its signature cognacs, visit its official website.
Credits:
creative direction MARTIN TEO | assisted by PUTERI YASMIN SURAYA | stylist NIGEL LEE | production DREAMBITIOUS | hair BIBIAN LEONG | makeup CAT YONG | talent MELANIE SAW | outfit BRIAN KHOO | location GRAND IMPERIAL @ THE CLUB