Unlock The Bars by Martell Noblige is back for a whole new season with audacious new ingredients and unique yet easy to make home cocktail recipes that will be unveiled for you to try at home at the end of each video. The second episode of Season 3 features Penang's Backdoor Bodega with the featured ingredient, soy sauce.
One thing about soy sauce is that it's among the oldest condiments around. It is a quintessential flavour in every Asian household thanks to its umami taste that is profound in local cooking, from marinades and sauces to stews and wok-fried dishes. In this episode, we venture up north to mainland Penang to discover about this exceptional ingredient. And then, we travel into Penang island to check out Backdoor Bodega, named the best bar in Penang and the first in the state to be placed on the Asia's 50 Best Bars 2022 list.
Founded by Koh Yung Shen, the much-acclaimed bar is strategically located at the heart of George Town, Penang, adjacent to Hin Bus Depot, a vibrant cultural hub in the island. And in case you're wondering, it is a quasi-hidden bar tucked at the back of The Swagger Salon — so don't be fooled by its facade. Unassuming to many, stepping into one of the island's most exciting cocktail spots always bring out reactions of utter amazement or surprise, especially for first timers (us included).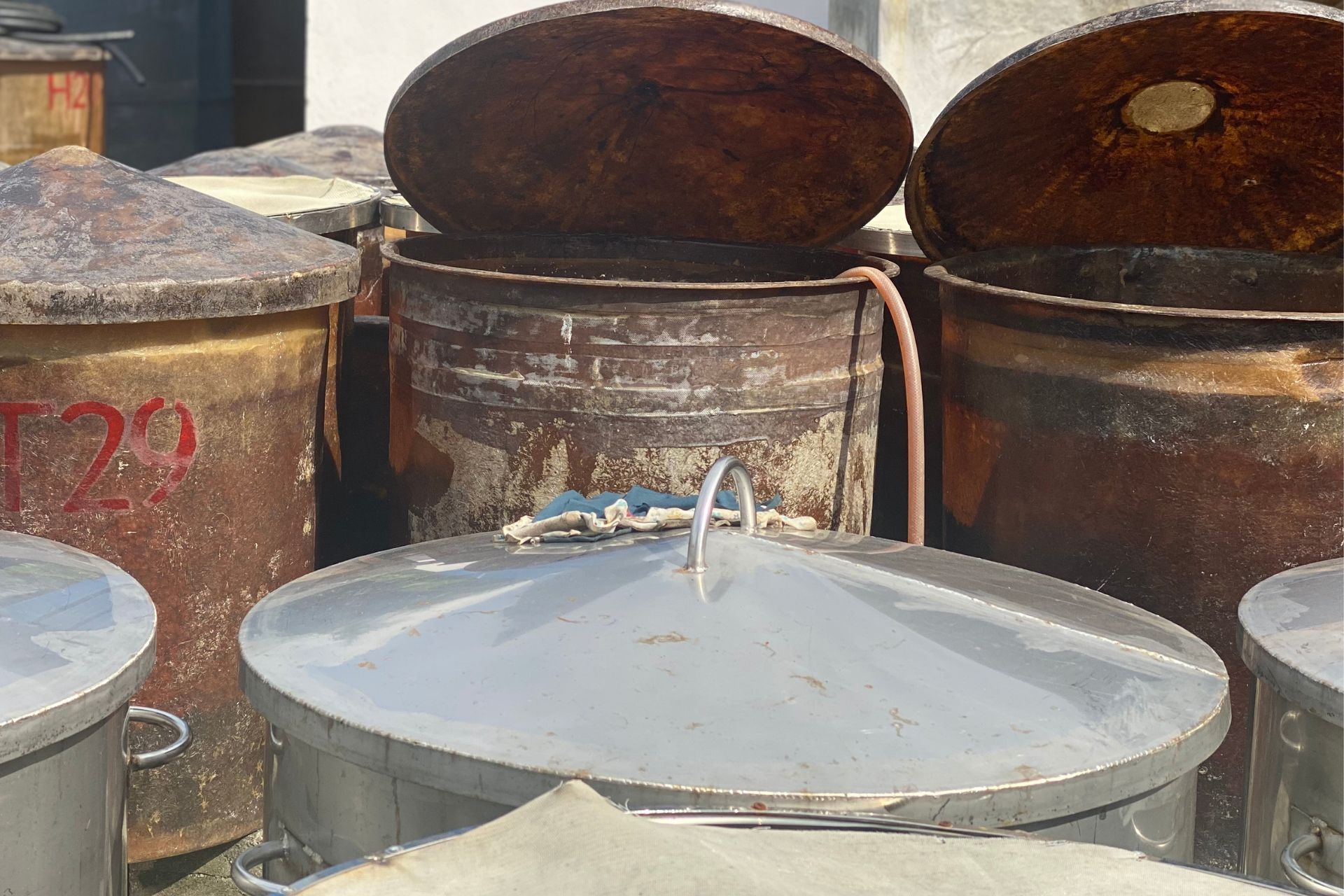 In this episode, host Anjoe Koh heads to Simpang Ampat in mainland Penang to meet Ng, the Operations Manager of Choon Fatt Sauce Factory. Ng is the fourth generation representative of the multi-generational long-standing family business, and he couldn't be a better person to explain about the making of soy sauce.
Soy sauce is widely used throughout the world but many might not understand the seasoning as much. In Malaysia, it is an undeniably ubiquitous flavour bomb for all kinds of cooking — Malay, Chinese, Indian, Peranakan, Kristang and many more. But in the context of cocktail-making, it is almost unheard of to include such a prominent flavour profile like soy into a cocktail. Can it be done?
To answer this question, Anjoe is joined by Zach, a fellow bartender at Backdoor Bodega who will be creating the soy-inspired cocktail while having the umami profile of soy sauce accenting the expressions of Martell Noblige. Curious to learn about the making of soy sauce, both Anjoe and Zach are taken on a tour into the plant where the precious liquid is produced naturally.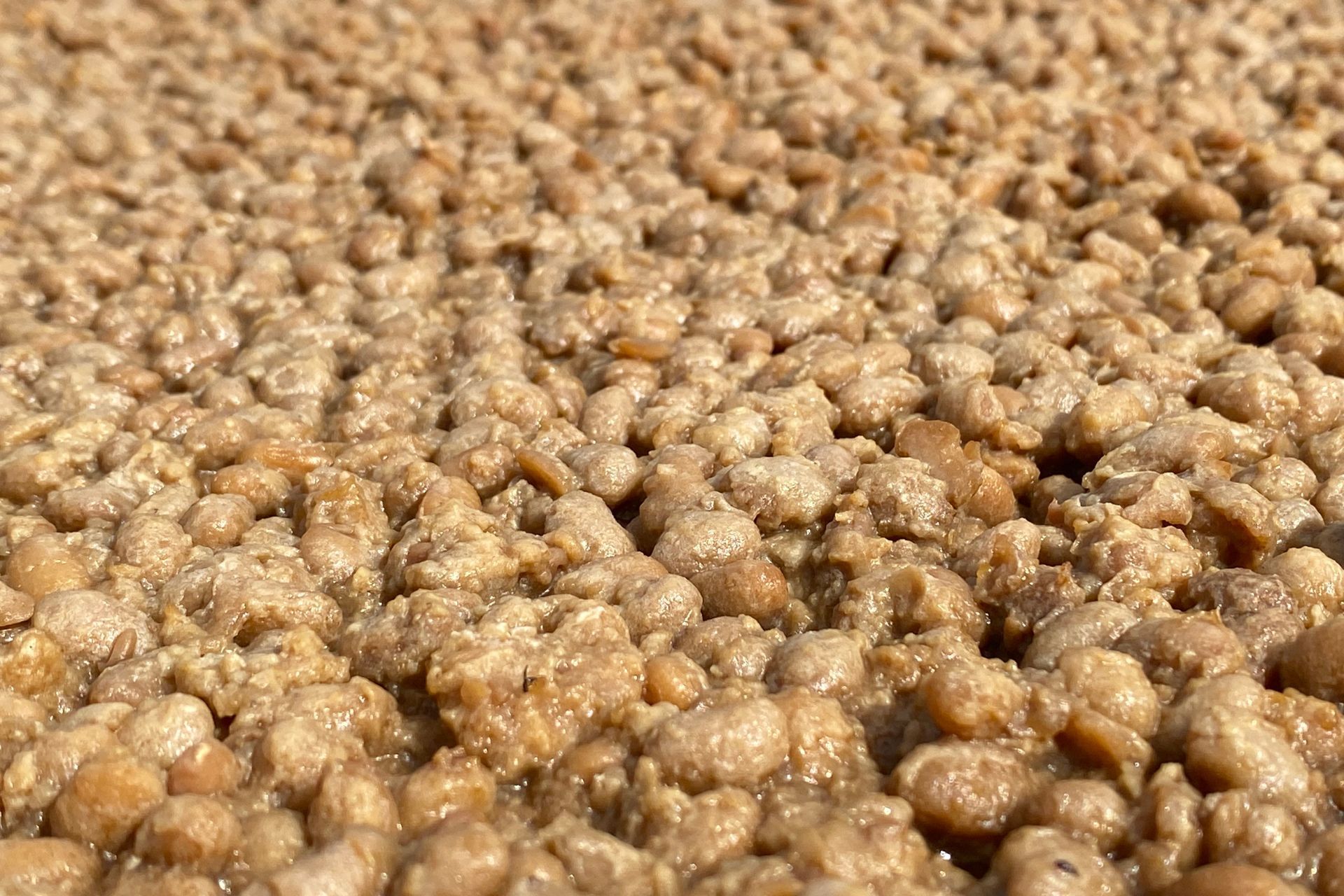 Choon Fatt Sauce Factory — established in 1960 — specialises in sauce making. One of its specialty product is first draw soy sauce. High quality soy beans are first basked under the sun in dedicated fermentation tanks for at least eight to twelve months, allowing the beans to ferment naturally. Ng explains that throughout the process, it involves meticulous observations and care — from discarding the top blackened layer of the soy beans to monitoring the change of colour in each vessel. It is a two-step fermentation process called koji or solid-state fermentation, where the complex microbial interactions create and develop the deep rich flavour that gives soy sauce its umami quality.
The team ensures when the fermented liquid is ready to be drawn after almost a year of fermentation and proceeds to extract the byproduct — known as the 'first draw'. Then, the factory further ferments the 'first draw' juice for another four months to enhance the final flavours of the soy sauce. Ng assures that the first extract results in the best quality of soy sauce — using the purest byproduct of the fermentation process to create the artisanal first draw soy sauce.
Backed by over six decades of manufacturing experience, the factory only produces naturally fermented soy sauce with the most authentic ingredients according to Ng. Curiosity sure is all about to get soy good as Anjoe and Zach get to try the special brewed soy sauce right from the source. Anjoe describes the soy sauce as intensely umami with a mellow sweetness while Zach complements with words like natural fragrance and a beautiful balance.
Known for its strong and dynamic fermented fragrance, the Tasty Dip Special Brewed Aged Soy Sauce expresses a mellow light brown colour with it a robust yet soothing umami taste. There's also a hint of sweetness that truly encapsulates what the soy sauce can bring to cocktail-making and the possibilities are endless. Of course, it's not a common bartending ingredient but here's where virtuosity and finesse come into play.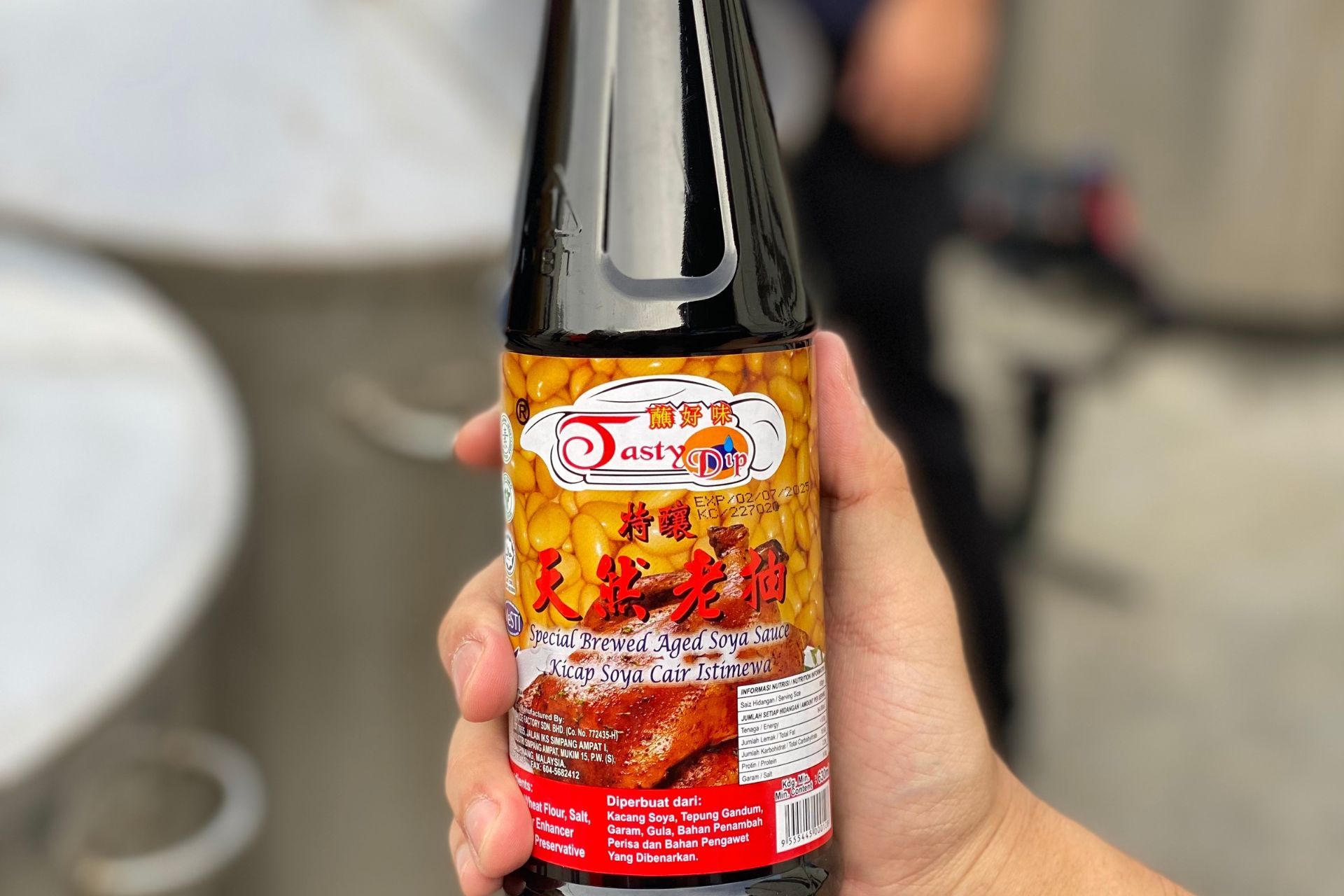 After an eye-opening experience getting to know soy sauce up-close, host Anjoe heads to Backdoor Bodega where she reunites with Martell Brand Ambassador, Bastien Michaud. This time, the French cognac virtuoso introduces something of immense beauty — the all-new Martell Noblige bottle design. Not seen in Episode 1, Bastien describes the decision to re-design the latest Martell Noblige bottle, now with an elegant swift at the front, as one that speaks to the zeitgeist. Ultimately, this is the first time Martell has altered the cognac bottle's artful conception after a very long time.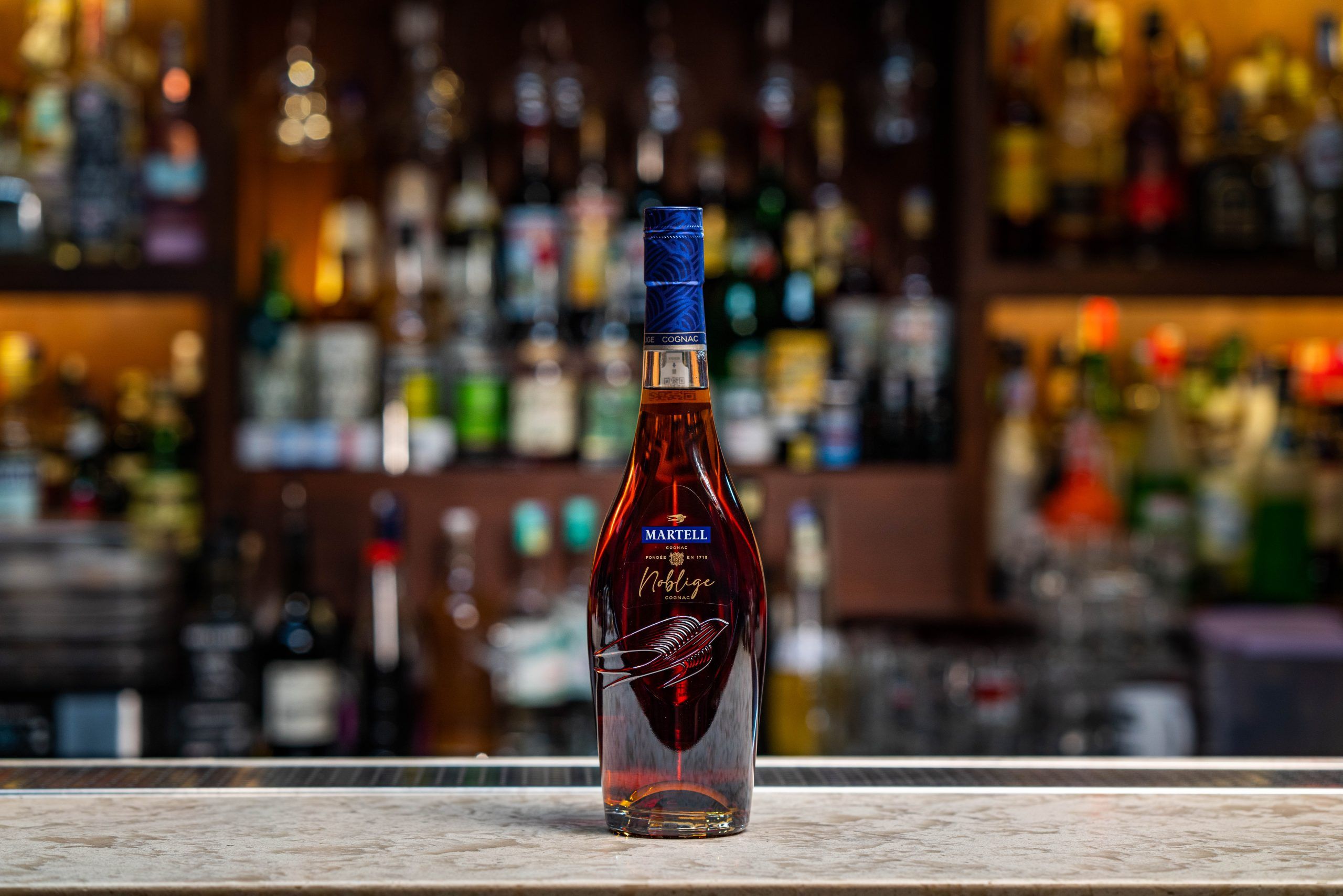 The Spellbind-ing Experience
Unlock The Bars takes pride in discovering how unique local ingredients can inspire one-of-a-kind cocktail concoctions. Zach demonstrates how he incorporates soy sauce into his novelty cocktail, "Spellbinder". The fizzy and well-integrated cocktail with an inviting mahogany complexion might seem uncomplicated, but it's one of otherworldly proportions.
Inspired by Zach's childhood memory when he would snack on green apples dipped in soy sauce, Spellbinder is one of sweet nostalgia. He uses viscous cane molasses to add a tinge of sweetness, opting to balance out the brackish elements of the soy sauce. For the cocktail, Zach drew from his experience at Choon Fatt Sauce Factory as he adds the Tasty Dip Special Brewed Aged Soy Sauce (which they've tried earlier) into the mixture. While any soy sauce can be used but the aforementioned product yields the best result.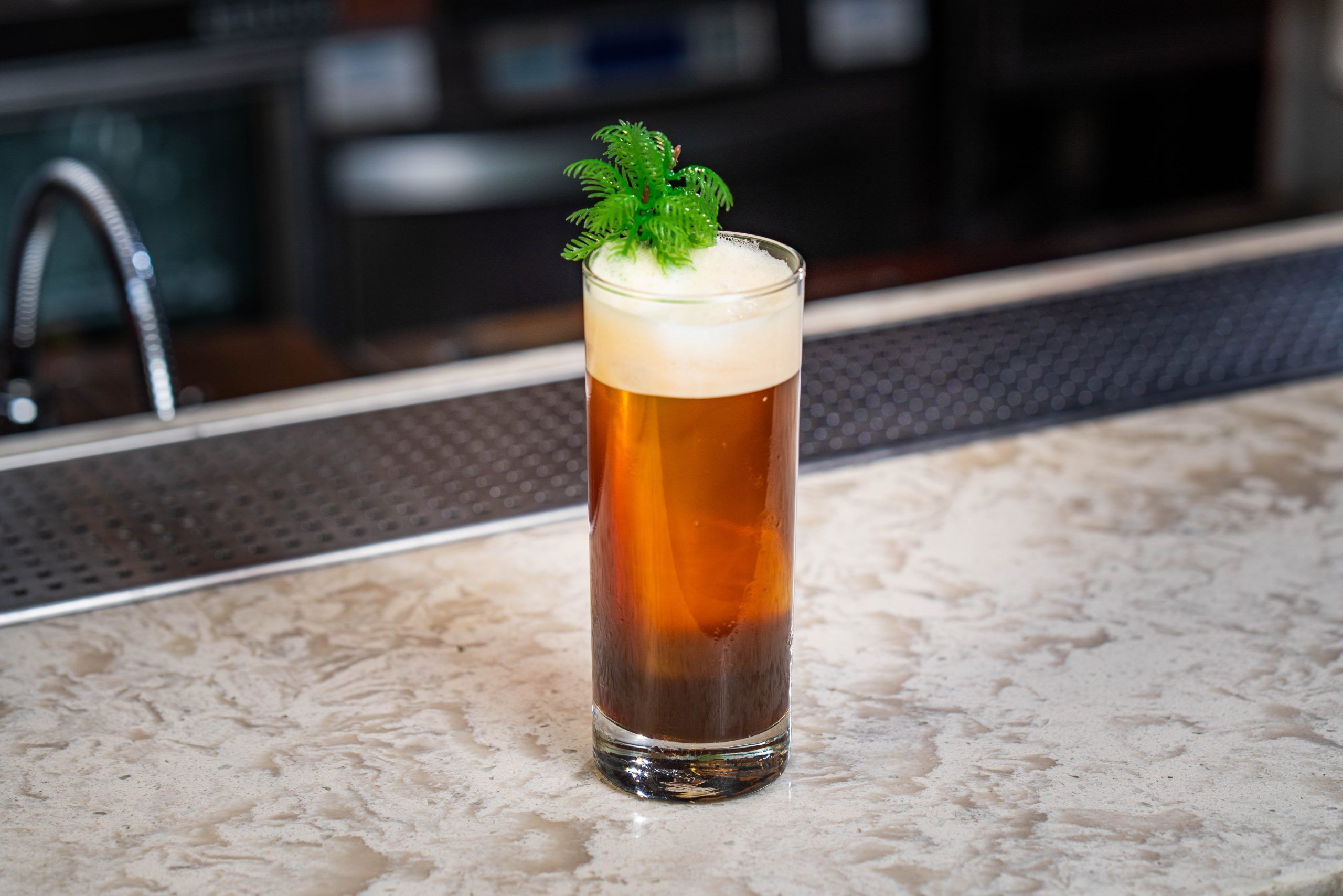 Combined with the dark gold and amber appearance of Martell Noblige cognac, the cocktail has a rather fascinating appearance; pulling in those eager to take a refreshing sip. Of course, Zach isn't done. Using a house-made soda maker, he juices Granny Smith apples before turning them into a fizzy green goodness. All these ingredients are combined to build a complex flavour that is both balanced and refreshing. To serve, he garnishes the cocktail with the neon-green Pinang tree, a symbol of both Backdoor Bodega and the island state.
Zach suggests taking small sips to let your palate accustom to the flavour profile. What you can expect is a concoction that gives off a flavourful punch. The complexity and umami from the soy sauce elevates the warm, smooth, and exotic notes of Martell Noblige. It's a spectacular drink that's bubbly and bright, thanks to the zesty tang from the green apples. The refined expressions of cognac complement the flavours as a whole, accented by the rich notes of the soy sauce — just the right amount. Zach exclaims that the measurements have to be precise to not throw the balance off his creation.
One might be forgiven for thinking Zach has ample experience using soy sauce in mixology but the matter of fact is, this is his first time; alluding to this skill and know-how. As Anjoe says, the cocktail — Spellbinder — really brings her on a captivating journey through the different layers of Martell Noblige and soy sauce. Here's a clear success story about how two individual entities can come together to create a tipple that's in a class by itself.
Are you ready to be put on a spell? If it's the Spellbinder, we say yes. Let host Anjoe and Zach from Backdoor Bodega take you on a saucy adventure. Thinking of trying it at home? Zach shares the recipe of this cocktail.
45ml Martell Noblige
15ml Cane Molasses
5ml Tasty Dip Special Brewed Aged Soy Sauce (we insist)
Top up with Granny Smith Apple Soda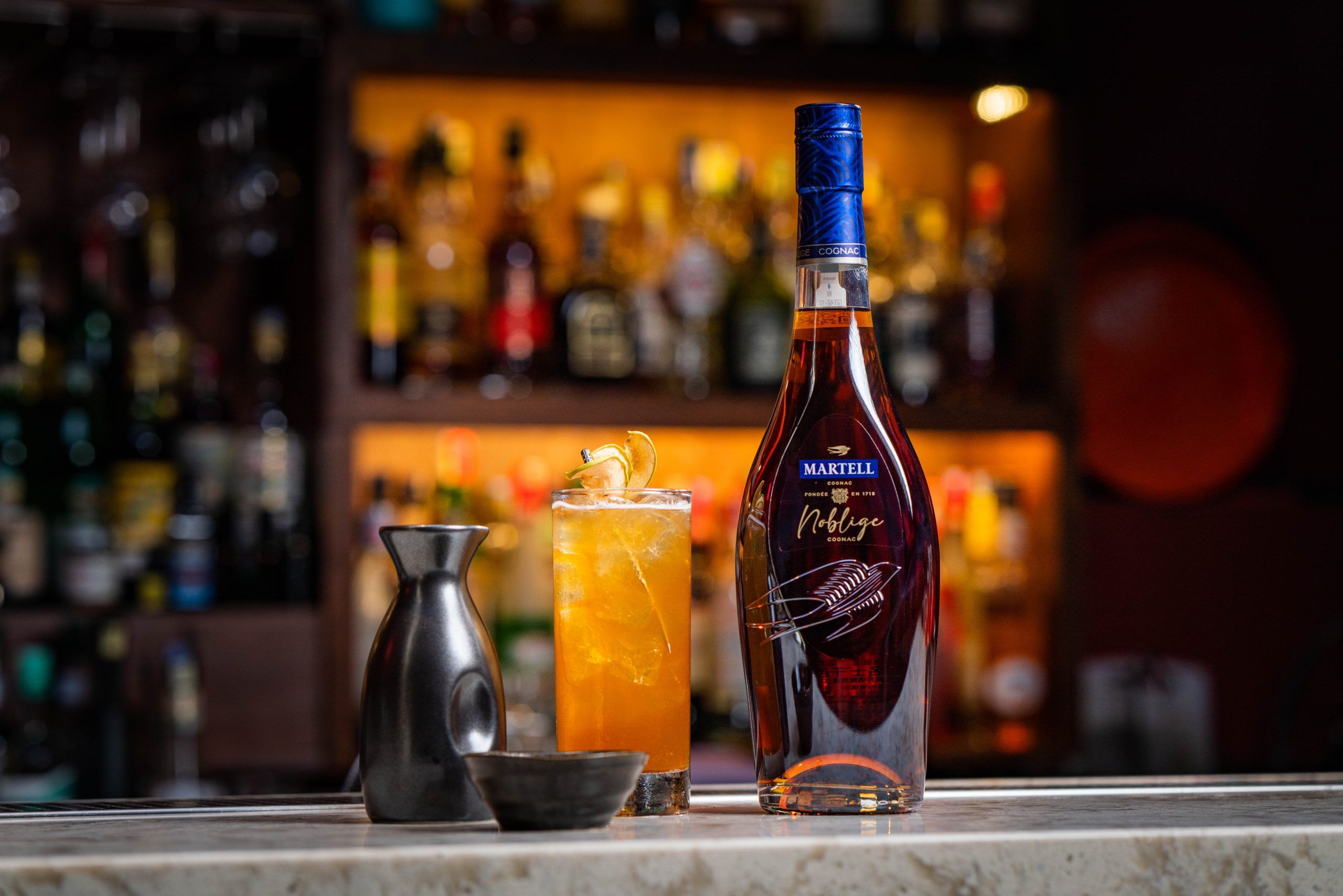 Try making the Home DIY cocktail — Sorry Not Soy-ry — with easily available home ingredients.
45ml Martell Noblige
45ml Apple Juice (either home-made or off the shelf)
15ml-50ml Syrup (or less to your preference for lesser sweetness)
10ml Lime Juice
5ml Tasty Dip Special Brewed Aged Soy Sauce (replaceable with any soy sauce)
Garnish: Apple Slices
Otherwise, head over to Backdoor Bodega in George Town to enjoy the cocktail and taste the unique expression of soy sauce together with Martell Noblige. The Spellbinder (RM48 nett) offers a refreshing twist and will be made available at Backdoor Bodega, Penang from 1 November 2022 until 31 December 2022. You don't want to miss this.
Unlock the Bars is a collaborative initiative between Martell and Lifestyle Asia Kuala Lumpur to explore the possibilities of blending Martell Noblige cognac with locally-inspired elements. Unlock the Bars travels to different cities in Malaysia to unearth new talents in the country's vibrant bar scene and invites you to taste the unique creations of Martell Noblige.
Special thanks | Choon Fatt Sauce Factory & Cycle & Carriage Malaysia