Tabby is the multifaceted darling of DOLLA — singer-dancer, social media sweetheart, and Gen Z hustler. Equipped with the Samsung Galaxy Z Flip4, the device transforms from a phone to a tool for Tabby's everyday creative expression.
By now, Samsung's new release — the chic and multifunctional Galaxy Z Flip4 — has got everyone in its grip. Even beyond hashtag #TechTok (the technology side of TikTok, for non-'Gen Z'ers out there) you can find fashion icons, Instagram models and bellwethers of the Gen Z lifestyle flaunt Samsung's latest addition to its Galaxy Z series.
It's cute. We won't deny it. Its 'curved' square shape is aesthetically-pleasing; it comes in three pastel shades besides classic Black — Bora Purple, Pink Gold and a dusty Blue — and the fact that its predecessors have been featured in just about every K-drama hit makes the Galaxy Z Flip4 a very strong contender for this year's 'It Phone'. And for 'It Girl' Tabby from new-gen pop group sensation DOLLA, the phone's practicality plays a big part in convincing her to gift herself one.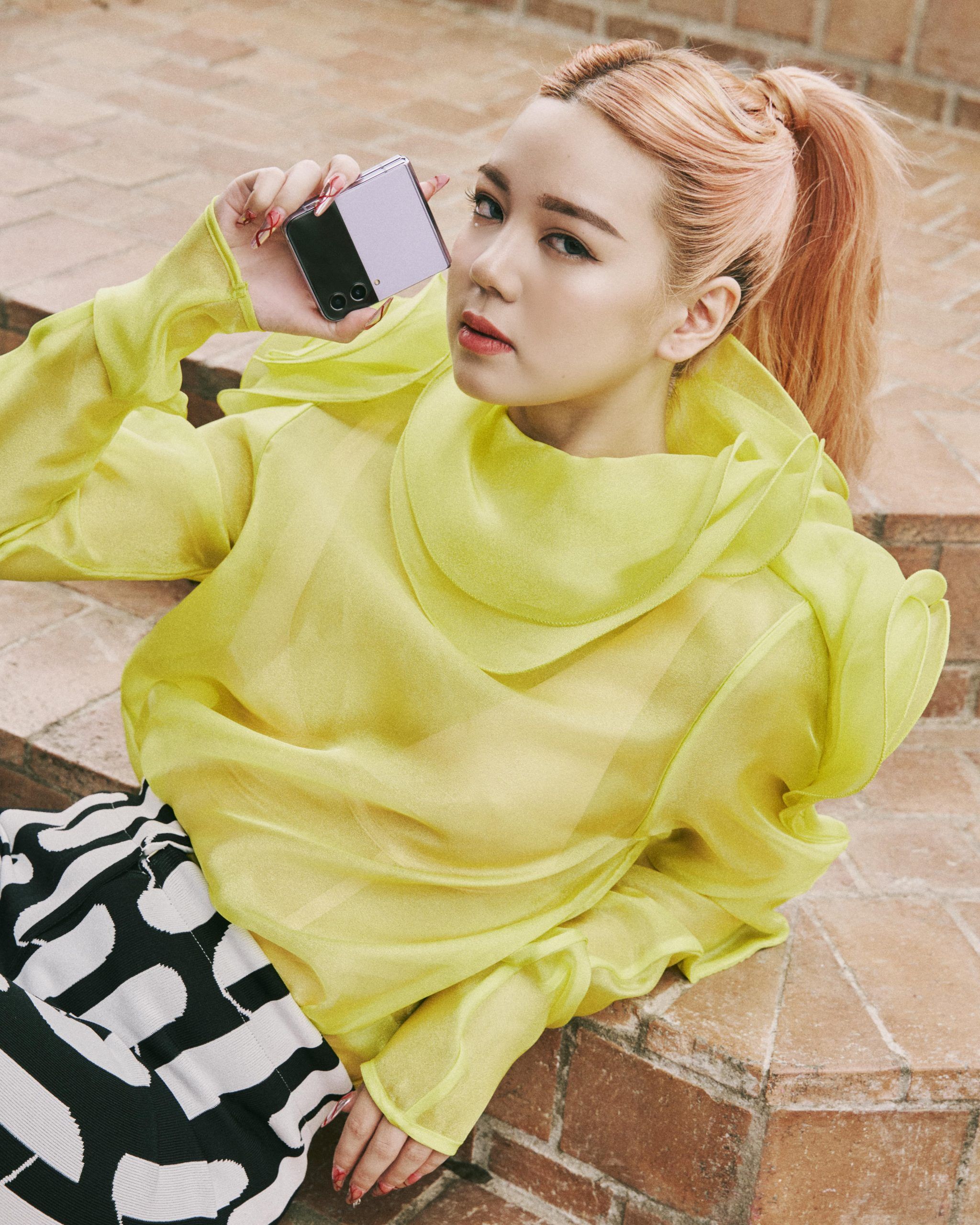 "It's like a whole new improved version of the Galaxy Z Flip3," gushes Tabby, having been well acquainted with the earlier model in Samsung's Galaxy Z Flip series. (During our video shoot, Tabby spends the day with the Galaxy Z Flip4 as her shiny new toy.) "To me, it feels super 'solid' — as in, it just feels really good to hold, and it's compact. That's mostly why I've been considering it for myself as well."
Tabby's content creation goes beyond just music and work with DOLLA — between brand support, checking out cute cafés to filming and even her first foray into cosplaying, the designated 'cutest one' of the group is bound to produce content routinely for her fans, known as 'iDollas'. And as a long-time user of Samsung Galaxy, Tabby knows when the brand's tech has upped its game.
The device delivers more than what meets the eye: it introduces with it the FlexCam. And yes, it is exactly as it sounds — it's a flexible camera. You can take photos and videos hands-free, prop it up on a surface and also move it around. It's a camera and a tripod all in one, which means no more awkwardly holding your phone up to take overhead selfies or getting random strangers to snap photos for you!
"Most of the time when we're at photo or video shoots, we don't always have a phone stand or ring light available for us, because we shoot in all kinds of areas," Tabby says right after flexing all five fingers for a quick selfie of herself smiling. A big part of her social media life consists of creating videos and other types of content on-the-go. "But with the FlexCam, all you need is a small surface and you can actually have your phone placed there and do its thing for you, you know? And it can take photos from a lot of different angles, too. So, even for your OOTDs, you can pretty much leave your phone on the floor and let it snap your photos. Plus, it just takes super cute selfies!"
Here is the question Samsung presents itself with, and does its best to answer: with a foldable phone, why not take advantage of the hinge? Whether you want to take a photo from the ground up (an absolute must for the best 'outfit check' type of content, according to Tabby!) or even a group photo with your friends, the Samsung Galaxy Z Flip4 makes full use of its hinge design. Now, the naysayers and critics of the 'undesirable foldable phone crease' can't find fault in that. Plus, the added benefit of having a foldable phone is getting to utilise the rear camera when it's closed. The Cover Screen gives you a real-time preview before you click it, and you can even check yourself with a full-screen viewfinder or to make sure everyone is in frame.
Despite being a huge artist with DOLLA, Tabby regards herself as a very reserved person and enjoys recording short, casual song covers in the comfort of her own home. The beauty of FlexCam is that it helps to broaden your 'directorial' POV, letting you film yourself from fresh new angles.
"Oh, one more thing — there's a huge trend for small shoulder bags and tiny bags these days," Tabby cuts in after fiddling with the phone's settings. At my somewhat puzzled expression, she snaps the Galaxy Z Flip4 shut, and it fits snugly in her palm. "…very small micro bags. They're getting smaller and smaller — especially the trending Jacquemus bag. At this point, this is all you can fit in here! It's literally the size of this phone, so in a way it's kind of perfect."
Besides its superb functionality, the Galaxy Z Flip4 has won the hearts of Gen Z folk simply with its adorable size and appealing colour — scroll through the many 'aesthetic' TikTok videos showcasing the phone and you'll find a stream of comments about just how cute it is. We get it, and so does Tabby, who, even after raving about how it can help her create better content, can't resist asking her manager to take photos of her posing with the phone.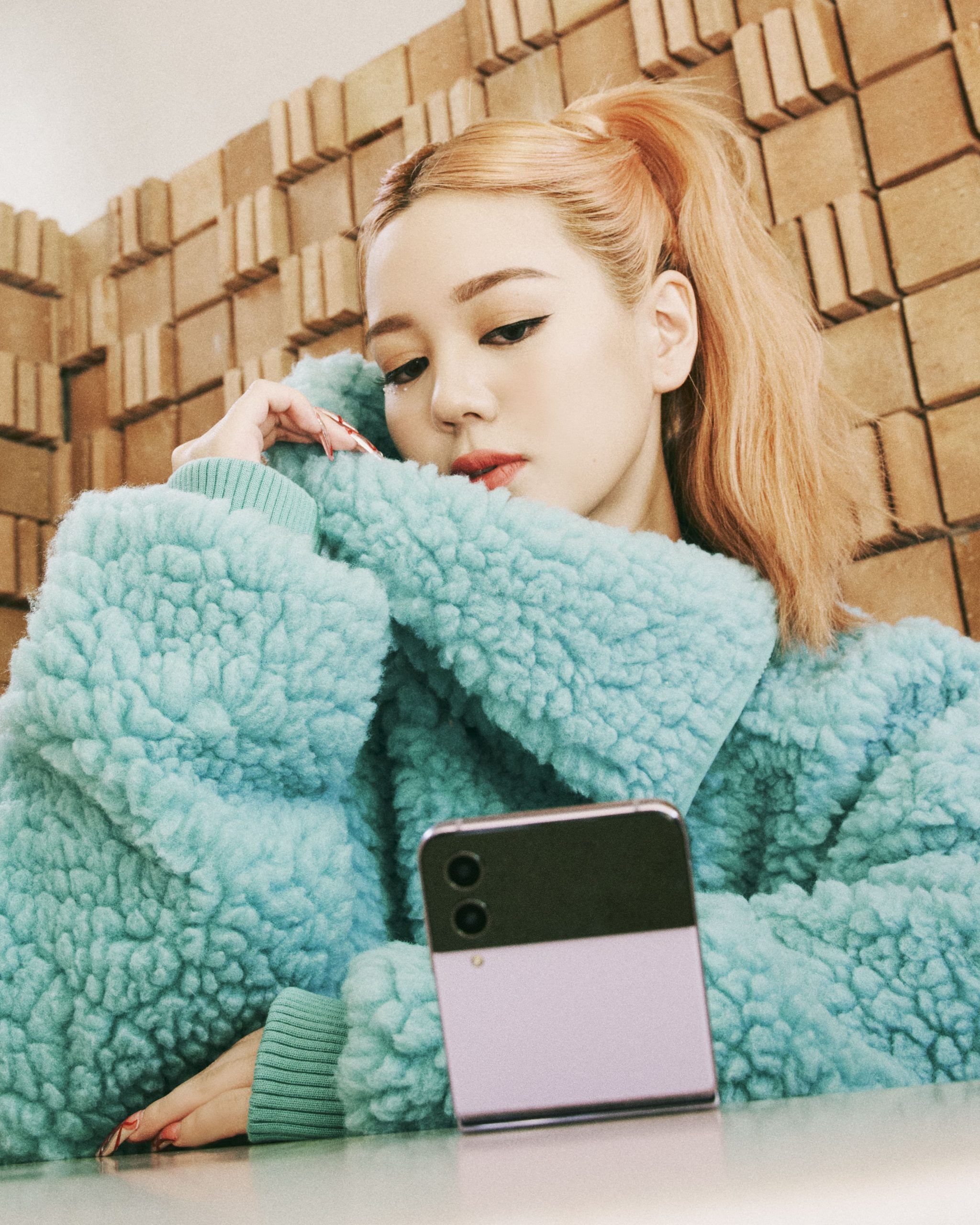 And with that, we bear you good news. Together with Tabby, we are giving away a brand new Galaxy Z Flip4 to one lucky winner! All you have to do is check out how Tabby Flip and Flex with the Samsung Galaxy Z Flip4 on Instagram and in the post, complete the sentence below:
"I want the Samsung Galaxy Z Flip4 because ________________"
The most creative answer will walk away with a brand-new Samsung Galaxy Z Flip4 phone! Details about the contest can be found HERE.
To learn more about the Samsung Galaxy Z Flip4, head to its official website HERE.
editor & creative direction MARTIN TEO | interview PUTERI YASMIN SURAYA | production NEW STORYBOARDS PHOTOGRAPHY | makeup SUESTHER C MAKEUP | hair ERANTHE LOO | wardrobe H&M | location ELSE HOTEL