Maria Grazia Chiuri, Artistic Director of Dior haute couture, women's ready-to-wear and accessories collections says of her debut SS17 collection, "I strive to be attentive and open to the world and to create fashion that resembles the women of today… Fashion that corresponds to their changing needs, freed from the stereotypical categories of 'masculine/feminine', 'young/not so young', 'reason/emotion', which nonetheless also happen to be complementary aspects."
Colours were plentiful within the collection, and pieces were unveiled in shades of blue, white, black, grey, and pink. Christian Dior's beloved red while tulle, silk chiffon, and georgette were cut into maxi skirts of varying lengths, to reflect a woman's varying desires.
Chiuri is the maison's first female designer in 70 years, after spending close to 10 years at Valentino.
Take a look at our 10 favourite ensembles from the collection.
1
Looking for an easy, elegant evening look? Try on this beautiful navy wool crêpe long dress for a definite yes dress.
2
How fun is this white crochet cotton knit dress? It's the perfect overlay for pool parties.
3
The soft and pretty pink chiffon coupled with a sexy plunge neckline on this sheer dress hits all our soft spots for romantic elegance.
4
Wear this embroidered nude tulle long dress for a day out to a garden party for a gentle spring look.
5
For a more modern get-up, we dig this ensemble of a white cotton "We should all be feminists" print T-shirt with a long embroidered navy skirt. Who says tulle can't join the street wear club?
6
Ethereal and magical, we predict that this nude Le Monde embroidered tulle dress will turn heads wherever it's worn to.
7
The rouge of Dior that we love so much is seen in this red leather biker jacket with a black crêpe georgette tank and red pleated floaty skirt.
8
Take a walk on the dark side with the subtle details found on this black Le Diable bustier dress.
9
Classic cut and beautifully structured, this black wool vest dress is for all you #girlbosses out there.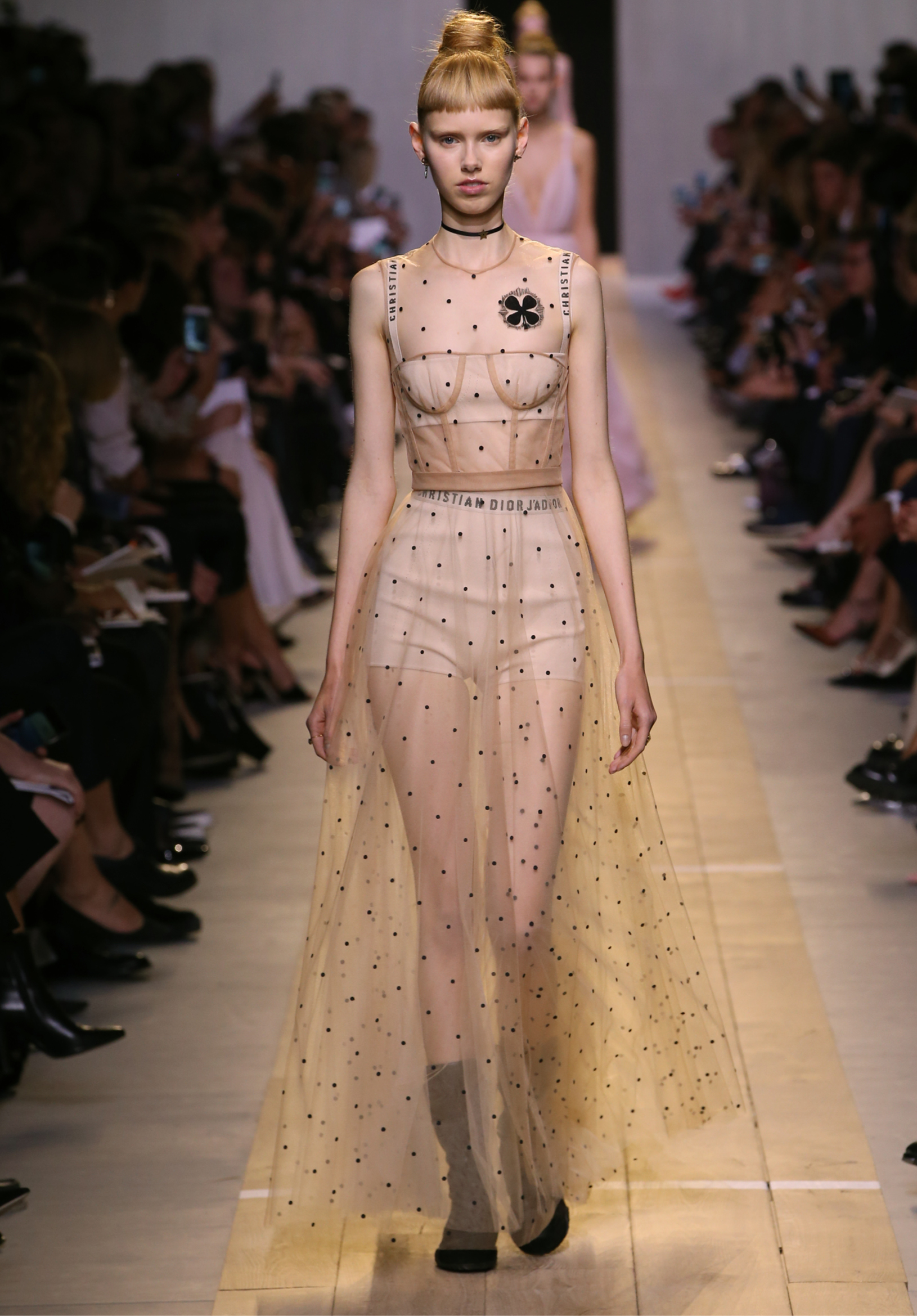 10
Fun and sexy, this nude tulle dress will take you effortlessly from brunch to the bedroom.