When other labels are taking time off from the cruise season's line-up — Proenza Schouler and Jason Wu, to name a few — luxury fashion's big names are applying the "go big or go home" maxim to its fullest. Far-flung destinations and elaborate showmanship are becoming a continuous trend, all in the hopes of generating massive amounts of media coverage.
Kickstarting the globetrotting season was Chanel. Its show may have been held on its home ground of Paris, but don't let the Grand Palais' unassuming facade fool you. With Chanel, a whole new world is always waiting behind its Palais doors. And for Cruise 2018, it was a grand ancient Greece set based on the Parthenon temple in Athens.
Gucci, too, aspired for the Parthenon. The actual Parthenon. "We couldn't have Athens," Gucci headman Alessandro Michele admitted to Vogue. "So we came here to Florence, the fascinating metropolis of the past, the place which had the power of big money." Thus, 'settling' for the next best thing: The Pitti Palace.
If Chanel and Gucci looked towards the resplendence of bygone eras, Louis Vuitton and Dior embraced the great wilderness. Of the luxurious sort, of course. Louis Vuitton's Cruise collection was displayed outdoors, along Miho Museum's architectural bridge surrounded by views of lush Kyoto treetops. And Dior's had Santa Monica's mountain range and the setting sun playing as backdrop.
On the flip side, Valentino and Prada opted for pared-down locations: New York's Bond Street and Prada's very own Osservatorio in Milan. Sure, they weren't as exotically glitzy, yet they were equally spellbinding.
This whole Cruise affair does get us wondering: How far can these competitive Cruise trips go? What's next? Are sustainability concerns that dismissive? But critical curiosity aside, they do make quite terrific travel guides for glamorous globetrotting.
1
Gucci Cruise 2018, Florence
Venue: Pitti Palace
If Alessandro Michele didn't openly admit it, no one would've known that Pitti Palace was merely Gucci's plan B after Athens' The Parthenon backfired. Aptly so, the Italian house's Cruise 2018 collection seamlessly blended with the regality of the Renaissance edifice built more than five centuries ago.
(Photo: Gucci)
2
Valentino Cruise 2018, New York City
Venue: 0 Bond Street
Valentino's game plan was slightly different than its mega-brand peers. Despite showing at an off-piste location, its front row list wasn't filled with names spelling out millions of social media followers. Exhibited at a sunlit loft with exposed brick walls in SoHo, the collection was Pierpaolo Piccioli's powerful ode to New York's Downtown scene.
(Photo: Valentino)
3
Louis Vuitton Cruise 2018, Kyoto
Venue: Miho Museum
Located 9,628 kilometres away from its Paris headquarters, the Miho Museum was Nicolas Ghesquière's port of call. An hour's drive away from Kyoto in the outskirts of the Shiga Prefecture, the sleek, modern museum seemed an extraterrestrial sight amidst the green valleys. Architect IM Pei, who also masterminded the Louvre, designed the Miho to evoke Shangri-la — paradise on earth. And when the Louis Vuitton girls — actresses Rila Fukushima opened, while Doona Bae closed — marched down the floating bridge, it was apparent that the Miho and Ghesquière's designs were a match made in heaven.
(Photo: Louis Vuitton)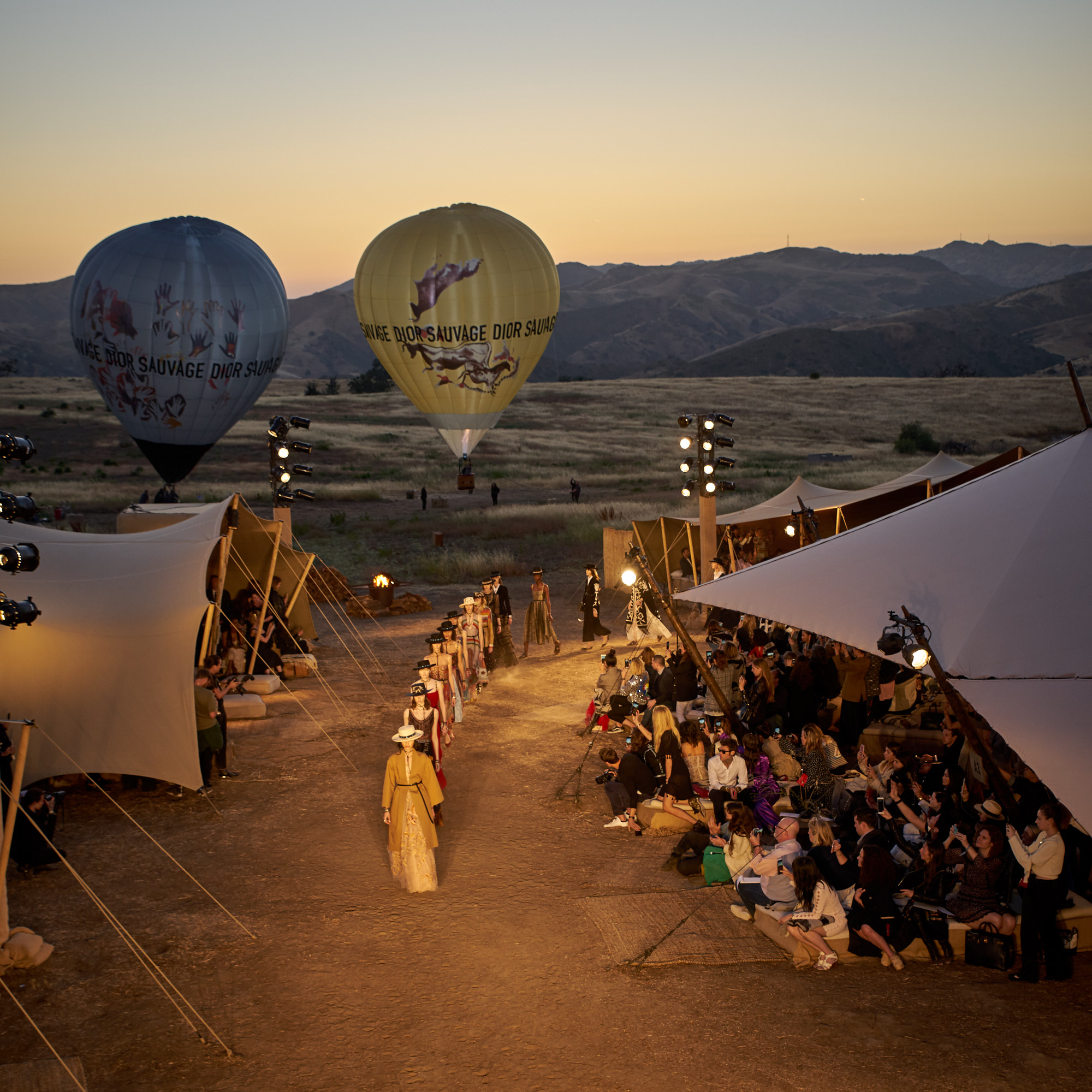 4
Dior Cruise 2018, Santa Monica
Venue: Upper Las Virgenes Canyon Open Space Preserve
Guests were whisked away in ATVs up the Santa Monica mountains before welcomed into a snug space made up of tents, pillows and stones. Not far from view were the unmissable Dior Sauvage hot air balloons, circulating thousands of Instagram "regrams". Nestled in the wide open desert of Los Angeles, artistic director Maria Grazia Chiuri's journey to the West took its cue from her favourite read, Clarissa Pinklo Estés' Women Who Run with the Wolves. It certainly got us lusting for a rustic safari getaway.
(Photo: Dior)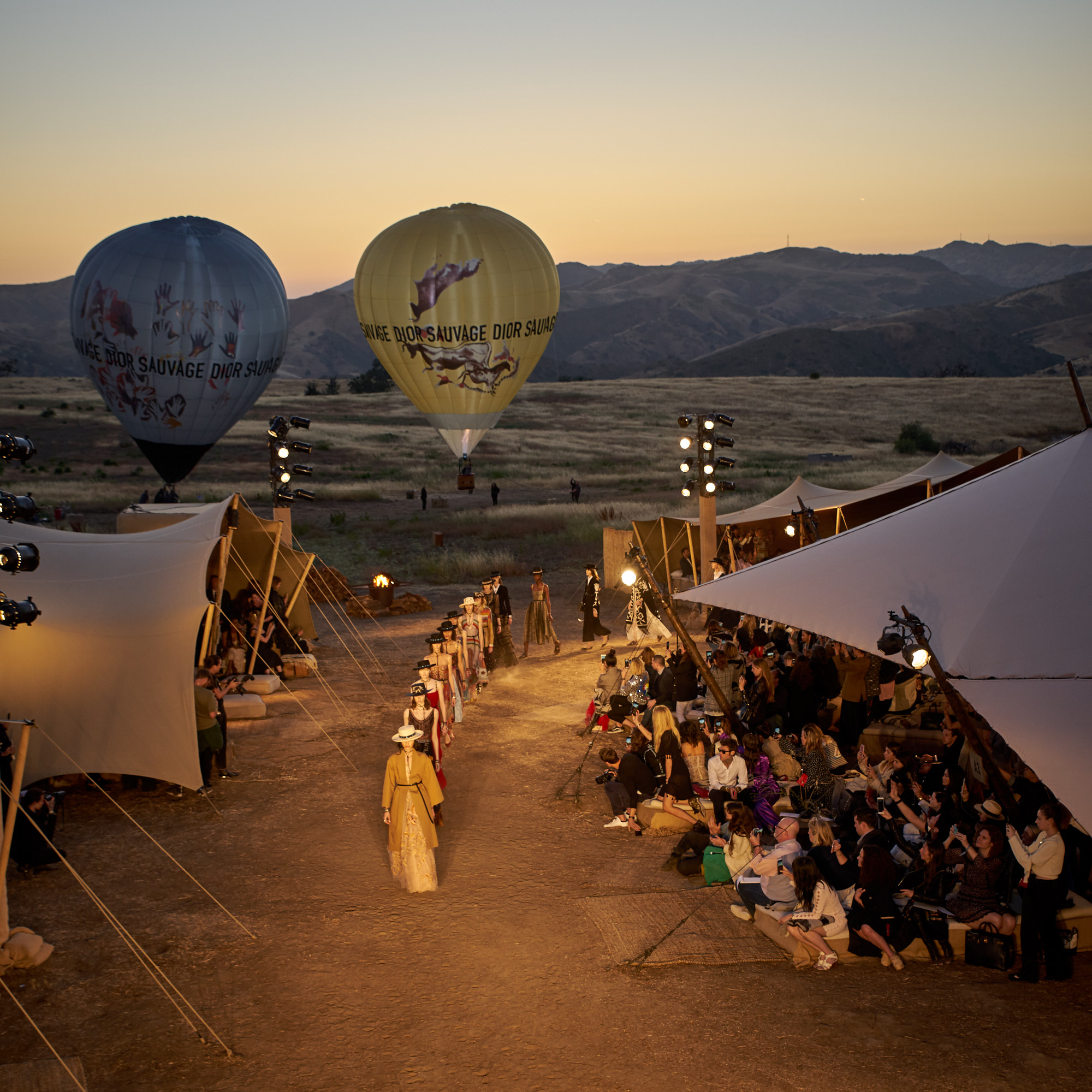 5
Prada Cruise 2018, Milan
Venue: Osservatorio, Fondazione Prada at the Galleria Vittorio Emanuele II
The Osservatorio is Fondazione Prada's latest gallery addition dedicated to exclusively present photographs. Fun fact: Located atop the original 1913 Prada boutique built by Miuccia Prada's grandfather, the Osservatorio didn't just play venue to Prada's debut cruise collection — it became a part of Miuccia's inspiration for the candy-store pastel looks of the Cruise 2018 collection. Definitely worth the visit if you happen to find yourself in town.
(Photo: Prada)
6
Chanel Cruise 2018, Paris
Venue: Grand Palais
The transformative power Chanel holds is almost baffling. The Grand Palais went through numerous revamps to accommodate the latest realms Karl Lagerfeld had in mind. Bringing Grecian ruins to Paris was the maison's latest venture. With columns lining the pebbled runway, gladiator-obsessed Chanel goddesses strutted the runway in billowing dresses and flower crowns. If this doesn't incite your desire for a Mediterranean summer vacay, we don't know what will.
(Photo: Chanel)