Summer is here: Staud x New Balance collection is made to be in your closet this season.
Current plans for July: Lounging with a super-sized glass of chilled lemonade in a head-to-toe wardrobe of Staud x New Balance. Feeling especially cool. Looking incredibly cute.
Summers in the city can be intolerable.The pavements steam up. Air is stifled. Humidity at an all time high. So unless you've hand-selected those designated June-to-August fabrics and got your summer speed-walk down to a well-timed stride; it's a dip out to the countryside for a lil' fresh-air solace. An escape to open fields and the seaside. A bit of healthy competition on manicured courts at an exclusive club, even. Anywhere where temps drop slightly cooler than sweltering hot peak 30s.
It's a predicament entirely set up for the Staud x New Balance third collection. Inspired by the uniforms of boxing and tennis, it brings together sport — for those still going strong-and-steady on hitting a 12,000 step count daily — and style — for the other half of us whose summer sport includes searching for the best sun spot on the beach. Whatever counts as your chosen summer pastime.
Smashing a couple rounds before strolling by the pool? A white stretchy tennis dress with fun rainbow piping. Racing though HIIT circuits before an alfresco lunch? Satin boxing shorts and the matching sports bra top will do the trick. Bike shorts and jersey tops that'll look casually cool on treadmills and high-street trails too. You get the idea.
If we had to pick: It'll be a pair of those pretty 57/40 sneakers in lemon yellow and sea-foam green. Then, with gushing excitement, Staud's signature Tommy bag that's been refashioned as a glitzy, glamorous tennis ball, in theme with the collection. Threaded with beads in zingy neon yellow, it's the depiction of the joining of both brand's ethos: athleisure with a dose of flashing runway-lights drama. One for cocktail evenings-out, then as an apt accessory for toting tiny sporting essentials — a whistle, a timer and some mini cone markers.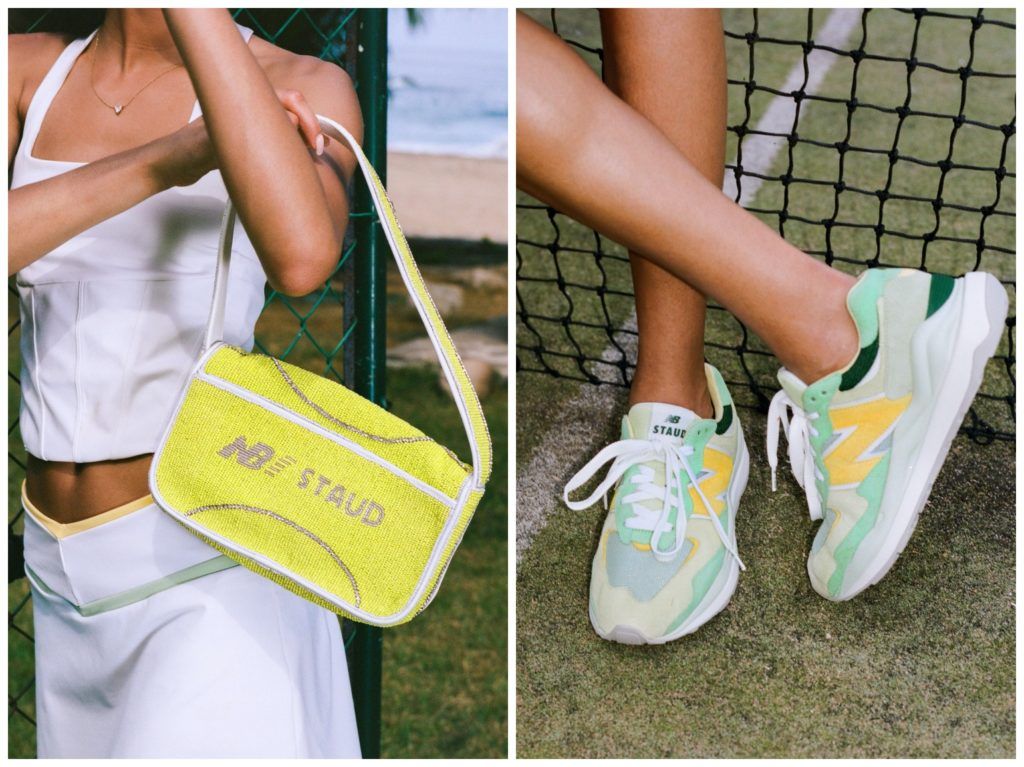 "For the summer collection, we reimagined some of my favorite outdoor sports to reflect the STAUD DNA. Traditional elements from tennis, running, and boxing are updated in sun-bleached pastels with feminine details and fabrics that include, satin, mesh and corseting," Sarah Staudinger, co-founder of Staud, shares. "All of the pieces work together to create a collection versatile enough to take you from boxing to brunch or anywhere in between."
The Staud x New Balance collection is set to release on 24 June (PST). Sign up for updates here.
Images courtesy of New Balance x Staud.
This story first appeared on Lifestyle Asia Hong Kong