In case you missed it, Bonia recently went through a brand new revamp and even debuted a fresh new logo.
When Bonia recently debuted its 'Neu B' logo, it was a sign of renaissance in the Malaysian brand. Since its inception in 1974, the brand has always been known for its classic leather handbags for women and men. With an unmistakable European flair and elegance embedded in its design, it's not uncommon to find some of these bags in our parents' wardrobes. Yet, as it is with any heritage brand, the need to move forward with the times is important to stay relevant.
Thus, a new concept was conceived. Not only did Bonia debut a new logo, but the brand also engaged creative consultant Jonathan Liang – also a successful fashion designer in his own right – to steer the brand in a new and younger direction. But while looking forward, both Liang and executive director Dato' Sri Daniel Chiang never forgot about the past and the brand's heritage. Bringing back archival pieces like the iconic Venice bag showed that vintage still had a place in today's trends. We speak to the two on Bonia's new path and how they plan to bring it further and appeal to the Gen-Z youths.
What's your vision for the new Bonia?
Dato' Sri Daniel Chiang (DS): Our long term goal is to create a universally recognisable lifestyle. The image we portray to the world is incredibly important. Bonia represents quality, craftsmanship and, above all, a spirit of adventure. By this adventurous spirit, I mean that our storytelling and designs will continue to push the boundaries and seek out new territory. While maintaining an identifiable aesthetic, we will continue to surprise our customers.
Jonathan Liang (JL): Every aspect of the brand is evolving – from the campaigns to the collaborators. This all serves a larger vision for Bonia. In the future, we aim to be synonymous with not only quality and luxury but a distinctly Malaysian identity. As a Malaysian brand, we bring a totally unique perspective to the market.
How will you balance that vision with Bonia's signature aesthetic?
DS: No matter how adventurous or innovative our designs become, we will always maintain the same standard of quality. Our trademark features, from the logo to the quality of the leather to our signature monograms, will remain consistent markers of our aesthetic.
JL: It's about finding a balance between consistency and fluidity. As a lifestyle brand, you never want customers to become complacent but you also never want them to lose sight of the brand. As Daniel said, we'll keep changing things up while maintaining those key characteristics that make Bonia what it is.
How will you steer Bonia towards a younger generation, including millennials and perhaps Gen-Z consumers?
DS: We're already seeing a noticeable shift in our demographic. It all comes down to how we present ourselves. The latest campaign placed emphasis on newness and boldness by featuring a diverse cast of local talent. We wanted to bring fresh faces to the forefront and we're already seeing the results.
JL: It's also a matter of understanding the latest trends and having that reflect in the campaign and the designs. We introduced an element of playfulness and surrealism to the new campaign – a sense that we were entering another world. We didn't want our latest collection to be set against a backdrop from another era.
The latest collection, Neu Romantic, brought back an archival item from Bonia's past – the Venice bag. How does a vintage design like that fit in with the vision of the brand?
DS: For the latest collection, we not only wanted to look to the future, we also wanted to pay homage to our long heritage. Bonia has a rich history of storytelling —  the Venice and the romantic TV commercial we ran in the 90s marks a special moment in our history and we wanted to express that. So, it made sense to revive the icon for the modern-day.
JL: The new design is timeless but there are little touches of modernity. For example, the playful locket detail. That balance of old and new was a big theme for this collection.
What are your favourite pieces from the current collection?
DS: I personally love the Samothrace collection. It was inspired by a famous statue called the Winged Victory of Samothrace. Classical art has inspired our designs since the very beginning, so this bag is truly a representation of Bonia.
JL: The Venice revival is definitely one of my favourites. It's always important to look back to where we come from, and remember how we got to where we are today. The Venice bag celebrates the past, present and future of the brand.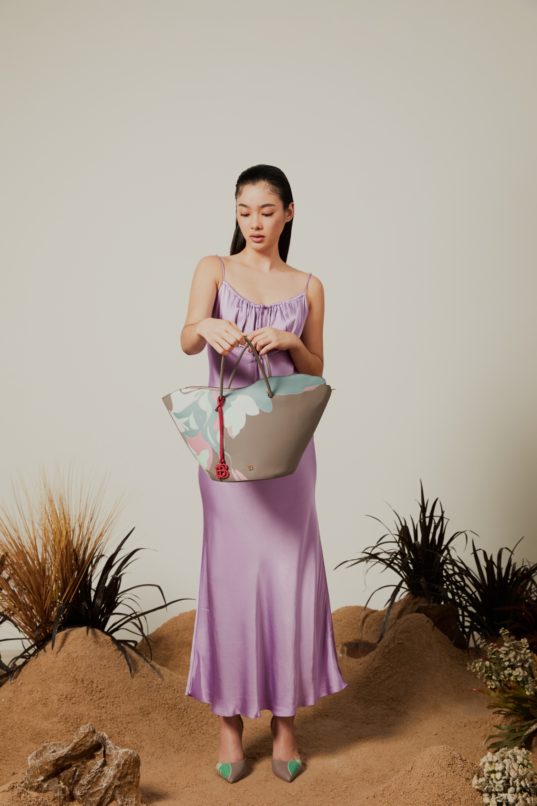 Can you tell us anything about the next collection?
JL: For the next collection, we are focusing on what matters to us as a society most during very trying times. We believe that a brand has a duty to discuss social happenings in the world and to provide a happy escape, or an opinion, or a point of view, and that is what we are doing. It's very abstract for now, but it's good to keep people guessing always.
DS: We've also chosen a specific "decadent" time period to focus on for the next collection. There's been a lot of room for the designers and ourselves to be bold with the designs.
What are you most looking forward to with the "neu" Bonia?
DS: I look forward to collaborating with more local talents, whether it's designers, musicians or influencers, to keep bringing exciting new perspectives to the brand. There's infinite potential to be unlocked and I hope to bring as many creative minds together as possible to achieve it.
JL: Establishing a stronger foundation for the brand to also allow it to evolve and expand into international waters. The neu Bonia is a love letter to our heritage as Malaysians and also a picket sign to the world that we, as a brand, have a lot to offer.