You're one click away from discovering the wondrous world of the finest South-East Asian labels with Dia.
When an incredible opportunity for a quick chat with the brains behind Dia fell on our lap, we knew we had to dig deeper. As a platform that houses over 20 Southeast Asian labels, the demand for artisanal products and slow fashion has seen an exceptional surge over the past decade. Founded by Aisha Hassan, Alia Farouk and Kylie Francis, their mission was simple – introduce Southeast Asian crafts and labels to the world; a recognition these artisanal labels deserved.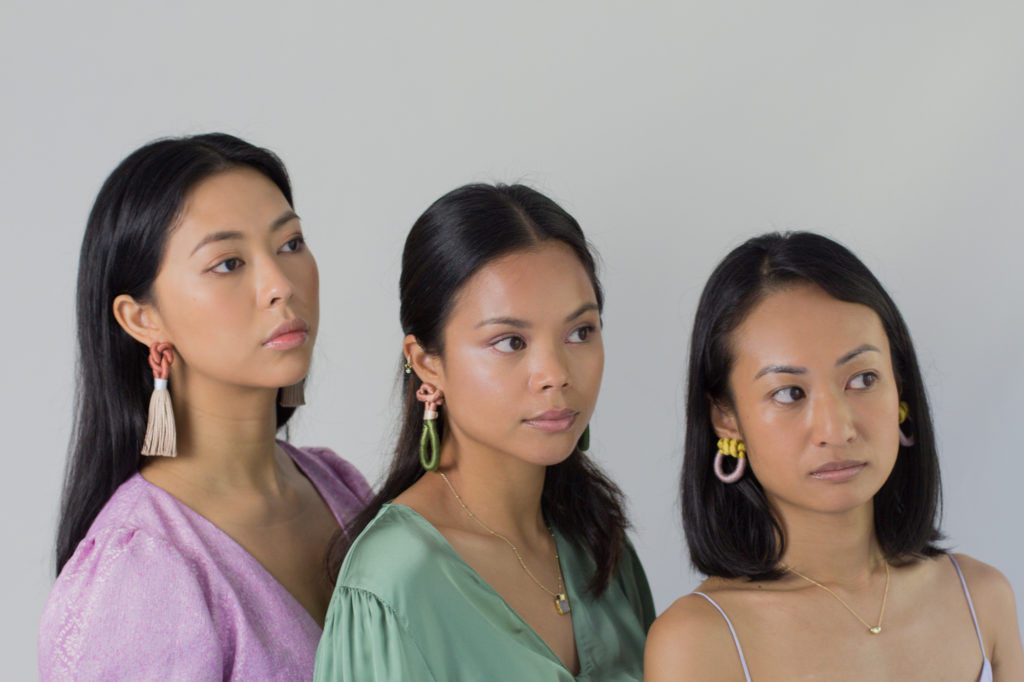 With online shopping given an extra boost by this pandemic, the launch of Dia arrived at perfect timing. As lovers and supporters of heritage fashion, Dia is a e-commerce platform that spreads joy on how you can celebrate and bring light to heritage with a modern twist. Moreover, these labels offer a level of craftsmanship and design that doesn't exist in fast fashion. It's time to open up our minds to ethical practices, the longevity of a product and where we're spending our money.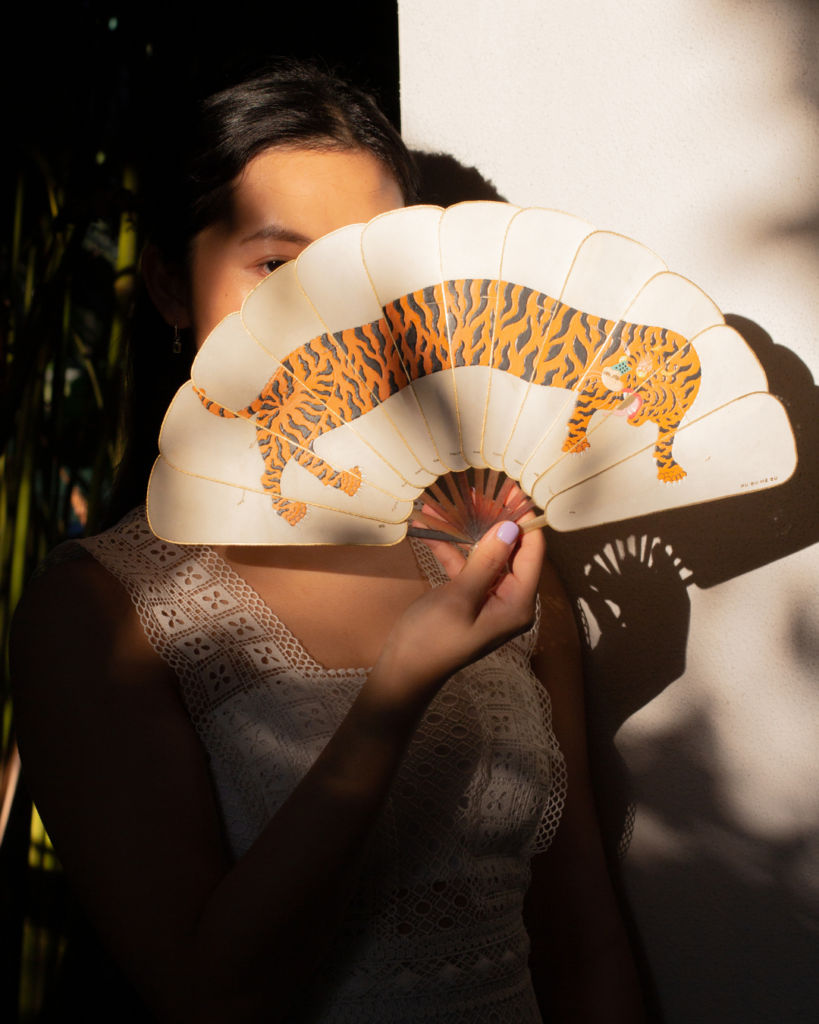 Head over to their site, and you'll spot a plethora of meaningful RTW, accessories and homeware pieces to flaunt and adore – from tasteful minaudières by Neil Felipp – which made an appearance on Crazy Rich Asians – and handmade knot danglers by Talee Studio, to mind-blowing batik creations, and beyond. In the meantime, scroll down to discover the co-founders. Trust us, you're going to love the hard work these ladies have done to showcase the talented creatives of the region.
All images credit: Dia Guild
Tell us more about yourself.
All: We are Kylie Francis, Alia Farouk, and Aisha Hassan, the three co-founders behind Dia Guild. All three of us were born in Malaysia and have spent most of our lives there. Alia and Aisha are currently based in Kuala Lumpur, and Kylie is currently based in New York. Alia and Aisha have been best friends for over 20 years, while Kylie and Aisha became close in 2015 when they met at work. We've been lucky to live abroad and are proud of our mixed ethnic heritages rooted firmly across Southeast Asia. Malaysia is our shared home.
How did the idea to build and launch Dia arise?
Kylie: The idea for Dia was born out of a desire to bring niche, heritage fashion to a global platform while simultaneously breaking stereotypes of Southeast Asia. Aisha, Alia and I have always been supporters of local brands and whenever we'd travel throughout Southeast Asia, we were highly impressed by the level of craftsmanship and design that exists in the region. Yet many people associate Southeast Asia with having cheap, poor quality products. The rise of fast fashion, whose clothes are mass manufactured by factories in Southeast Asia, has unfortunately contributed to the negative perception of products in the region. So we wanted to reverse that stigma by curating a collection of incredible Southeast Asian brands and products for customers while building a bridge for Southeast Asian brands to reach the rest of the world.
What was the process like to curate these amazing brands from South East Asia and what was the first brand that you reached out to?
Kylie: We first launched in November with seven brands (we now have over 20). Many of the brands that we initially reached out to, such as FERN and Pink Jambu, were local brands that we had already been shopping from for years and knew first-hand the quality of the products. Others were personal connections, such as Angie of ALT whom I met at a dinner party, and Neil Felipp, who makes the exquisite minaudieres featured in Crazy Rich Asians. But we've also found a number of brands on social media platforms.
The first brand that we reached out to was Rosa Supra, whom I found on Instagram and whose Thai silk-printed tube tops immediately caught my attention. We collectively speak to each and every brand to make sure that our values align and their products resonate. Aisha then interviews each brand to really understand their story, which you can read on our website — every brand has a brand profile and every product has a section called "Artisan's Notes" where you can learn more about its craftsmanship.
From incredible minaudieres featured in Crazy Rich Asians to rings made up of upcycled bullets from the Vietnam War, what is it about the uniqueness of these brands that draws you?
Aisha: These artisanal brands' unique creations draw us in as they force us to slow down and remember what human hands, with a lot of heart, can create. The digital age can be overwhelming at times, with its relentless stream of information and rapid access to a seemingly endless amount of things. But these designers and artisans remind us that when you take the time, draw from inner experiences, and celebrate your heritage, intangible acts can add up to a thing of beauty that you can share and even wear.
Their work, which isn't the result of mass production has that special quality while exploring a new place, a testament to the vibrancy and diversity of the people behind them. We choose unique brands for Dia because it helps add that element of discovery. Exploring our curation is akin to journeying across Southeast Asia and unearthing things you want to take home along the way — we want that experience to be accessible to the whole world.
What do you look for in a brand before featuring them on your website?
Alia: First and foremost, we look for brands we would genuinely purchase from. We put a lot of thought and effort into Dia's curation, so we only retail products we honestly love and would wear. Since our customer base ranges in demographic, we do try to showcase a variety of products so that there is a little something for everyone.
Secondly, we aim to onboard slow fashion or artisanal brands, with an emphasis on craft and care. Ideally, we do prefer if products are partly or fully handmade since our platform champions artisanship. Moreover, we look for brands that are aligned with our values, one of which is ensuring that artisans and employees are fairly compensated for the level of craftsmanship they produce. We're also interested in the personal stories of the artisans and designers, which often influence their work.
Every brand featured on Dia is incredible, but if you were to pick one item to have and wear right now, what would it be, and how would you style it?
Alia: We love all our products, so this is going to be a tough question to answer. Seeing as we are currently in another lockdown, I would pick something simple and easy to wear. The Fari Batik Dress by FERN is the perfect outfit for a day of Zoom calls at home. With its adjustable waist and flowy silhouette, this dress is incredibly comfortable and cooling in a climate like ours. I would pair it with the Peridot Hug Earrings by Ruang along with their Eye Ring in Matte and Serpent Ring in Agate.
I am all about stacking my rings, so I would slip on some silver pieces from ALT, like the Andreas Short Ring and the Justice Short Ring. Because the Fari Batik Dress has a low-cut neckline, I'd complete the outfit with the Innate Carving Silver Pendant by Garden of Desire for a little elegant touch. Seeing as there is nowhere else to go, I would probably use grocery shopping as an excuse to show off the Natural MONY Bag by MANAVA too.
What inspired you to make slow ethical fashion as part of your mission?
Aisha: Our first priority was to champion artisanal brands, and a happy by-product of artisanship and small business is that, with limited amounts of precious resources and skills, they tend to be more environmentally friendly and mindful about the people they employ. This helped affirm to us that we could champion two things at once: Independent Southeast Asian creators and a retail culture that was conscious about how it operated.
Working with brands that produce in small batches and who prioritise ethical labour practices, or who are mindful about each stage of their supply chain is how we do it. Consumers are more discerning than ever before because of increased accessibility to information. They demand accountability from brands because even we as individuals understand that one's purchasing choices can have a real impact on an industry.
What are your thoughts on today's fashion cycle in Malaysia?
Aisha: While fast fashion and e-commerce platforms that focus on scale still hold sway in Malaysia, we feel optimistic that consumers are slowly shifting towards a different fashion cycle — that is, one where you buy less but buy better, and are more thoughtful about the product and its creator. We see this in the popularity of craft events and marketplaces, the small businesses cropping up on Instagram, the renewed interest in heritage craft, and the audience of conscious consumers supporting it all. Fast fashion cycles result in homogenized style trends that people can jump on rapidly thanks to social media. However, the Malaysian fashion culture we're trying to promote is one in which you take the time to find something special, made with care, and end up discovering something that stands out and will last a lifetime.
Since your launch last year, how has it been so far for Dia?
Alia: We have been through a whirlwind of emotions since launch, from jumping in excitement with every new partner brand we onboard to consoling each other when we feel on the verge of burnout. Every little moment we have shared as a team has been an incredible learning curve, and something that will hopefully aid in our growth as a business. Our team remains very small, with the addition of two extremely helpful and enthusiastic interns, Su Fey and Megan, so far.
We have recently reached our sixth-month milestone and are surprised at how much we have accomplished since launch, especially in a COVID-restricted world. As Kylie mentioned earlier, we started with only seven partner brands on the platform. Pitching to these wonderful brands that we have admired for years before our launch was extremely unnerving, and we weren't sure if they'd be interested in joining our mission. Now, it is amazing to think we have brands from around the region pitching to us. We know there is still a very long road ahead for Dia but we are extremely excited for what's to come.
Lastly, what are your goals and plans for Dia?
Kylie: We hope to continue to grow our community of partner brands and customers, and to evolve as a lifestyle brand championing design and creativity in Southeast Asia that will span generations. In the near term, we are planning to expand our product line into art, and to host pop-up events globally, which will allow us to meet our customers, and allow our customers to see our products first-hand. Be sure to follow us on Instagram @diaguild for updates.