The rumours were true – Gucci celebrated its 100th anniversary with an extraordinary collab with none other than Demna Gvasalia of Balenciaga.
A hundred years seems like a celebration worth drinking a toast to, and Gucci has commemorated it the right way with a stellar collection. We're sure you've heard the buzz by now as the Italian fashion house Gucci has collaborated with Balenciaga, calling it the Gucci Aria (translated to Gucci Air) collection. When we first heard the rumours circulating, we thought it was impossible to have two powerhouses in the industry to come together – glad we were proved wrong.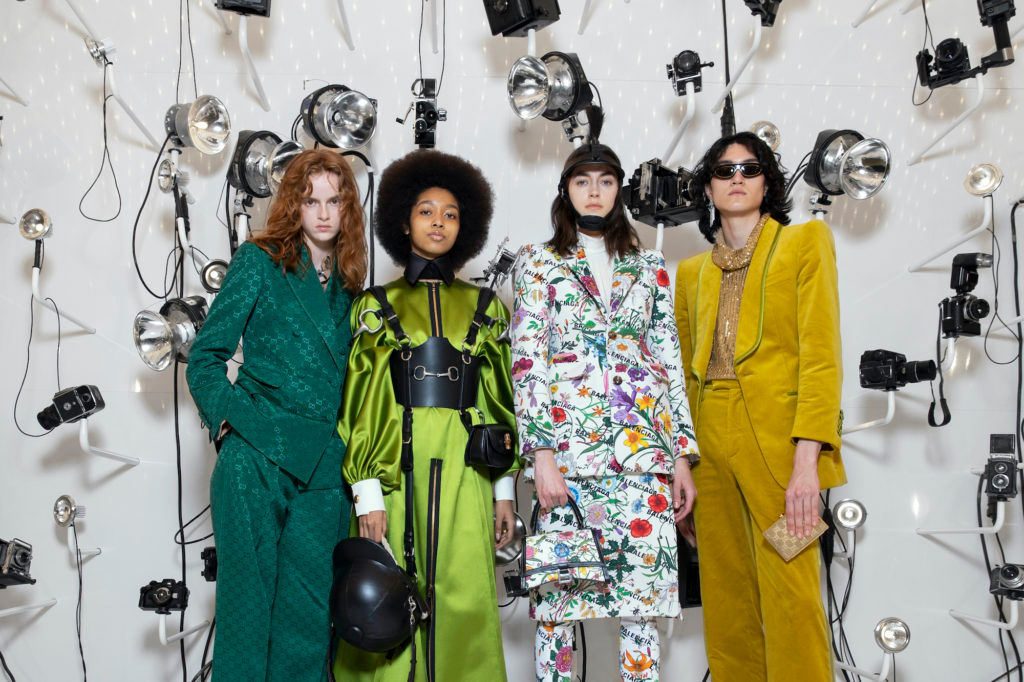 Last Thursday, Gucci debuted its 94-piece Aria collection with a banging soundtrack, killer silhouettes equipped with a rockstar attitude. Alessandro Michele describes this opportunity as a hacking lab of the collaboration by incorporating signature silhouettes from both fashion houses with an Aria vision. Let's say we were not disappointed at all.
"Celebrating this birthday means to pay homage to the mother's womb then, but also to the becoming other"

Alessandro Michele
An equal blend of Gucci and Balenciaga's creative vision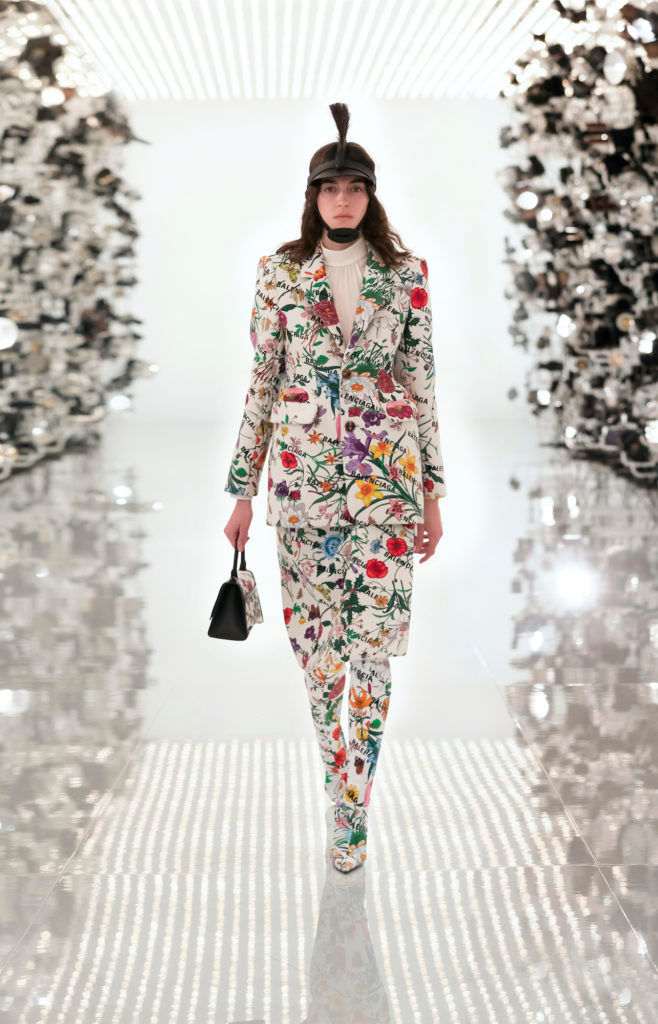 Take one look at the collection, and you'll notice a perfect union of these two masterminds: Alessandro Michele and Demnsa Gvasali. You'll find signature Balenciaga silhouettes spotted from the iconic legging boots, ruched textures, spandex peplum and splashes of the BALENCIAGA logo on an array of designs. Spot the throwback reference from Tom Ford's Gucci era with the blood-red velvet pantsuit moment on the runway – we love it. Our favourite? The OTT frills, the subtle nods to sultriness with the harnesses and the romantic gala-ready silhouettes.
Giddy up!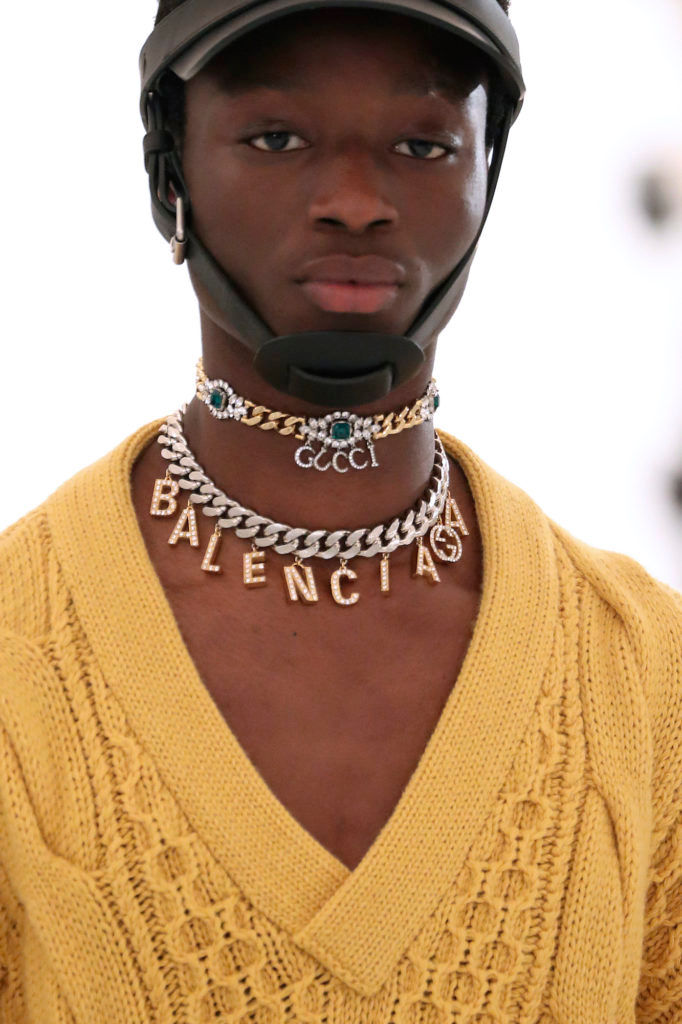 Did you notice a theme going on? If you answered equestrian, then you're right. Back in the day, Gucci created gear for horseback riders, which was why these essences were included in the Aria collection. You'll find the riding boots in plain leather, or covered in the Gucci emblem, an elevated version to a jodhpurs silhouette (filled with dramatic shoulders and structured suits) and not forgetting, the riding helmet. Scroll through to see how the riding crop (whip) brings life to the outfits on the runway. 
Accessories not to be missed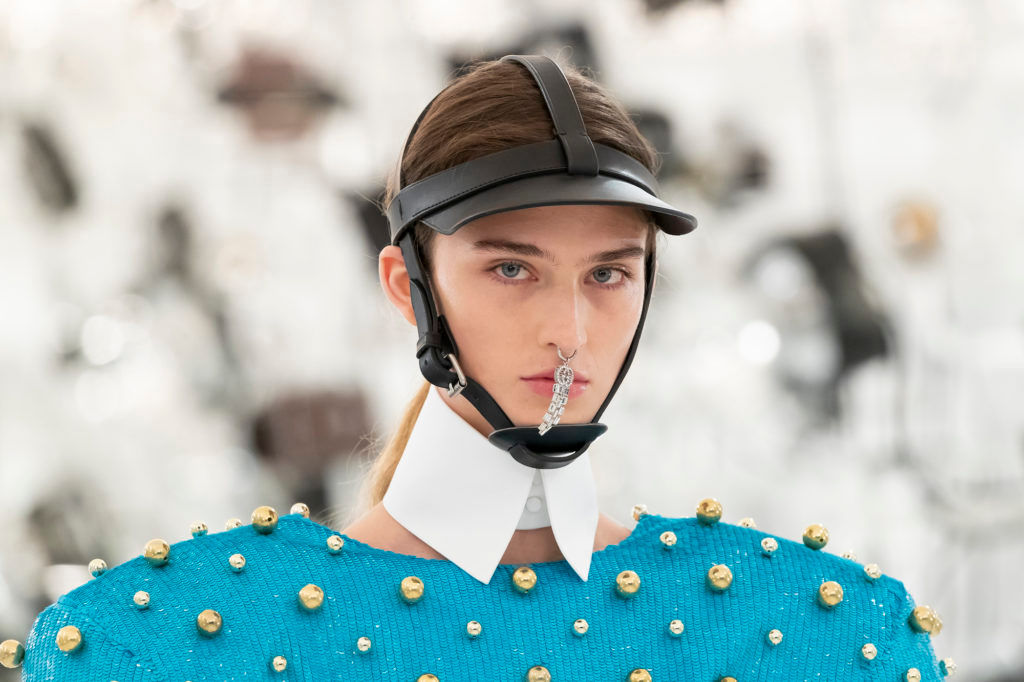 Besides the remarkable silhouettes on the runway, it's hard to turn your gaze away from the accessories this time. You've got the dazzling chain choker necklaces, signature handbags from the brands injected with each other's logos, heart-organ sparkling minaudières, leather harnesses, futuristic eyewear, rhinestone-encrusted pointy heels and sandals, diamante jewels, and so much more. We wish we could list it all, but we'd have to say that there are more hits than misses, for sure.
"Gucci gang, Gucci gang"
What's a Gucci show without a remarkable soundtrack to set the mood? As a tribute to the fiery tracks that have featured the word "Gucci" in their songs, Alessandro has decided to include these popular songs by Lil Pump, Die Antwood, Rick Ross and more by flaunting what it means to be a part this generation's pop culture era. Check it out below and be prepared to be Gucci-fied.
Savoy Club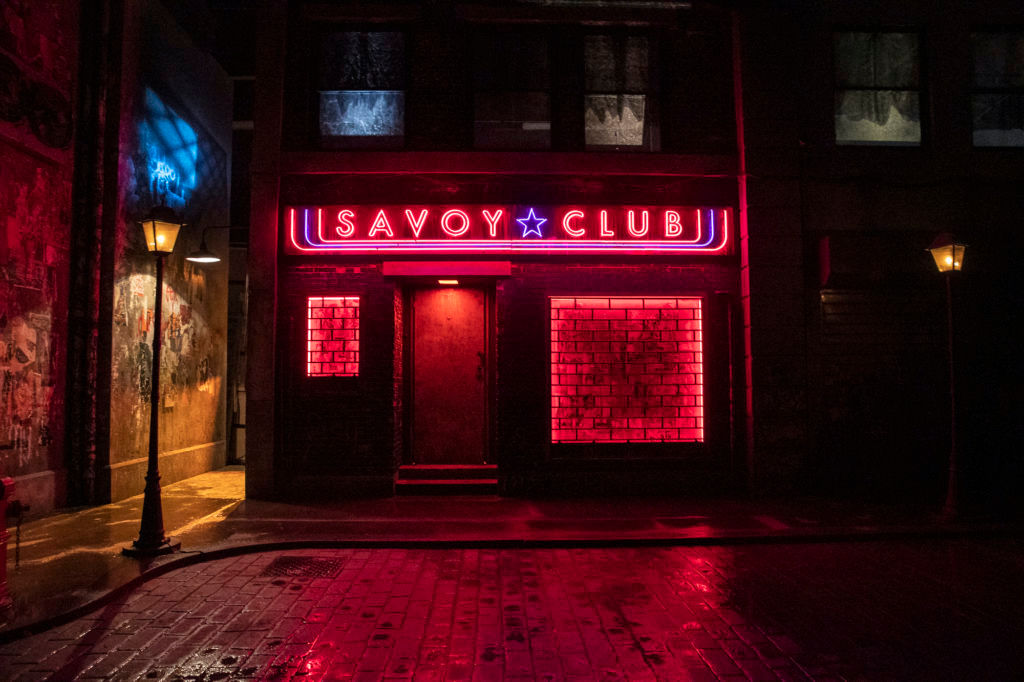 Remember the name, because you're going to see a lot of it. You'll spot taglines and references to the London-based hotel where founder, Guccio Gucci worked as a lift boy before starting his fashion label. Press play on the video below and watch how it unfolds, starting by where it all started, at the Savoy Club.
The looks and feel of the virtual presentation
We can't get enough of the 15-minute presentation. Not only does it make us feel FOMO and excluded from the party, but it easily transports us to a place we wish we could run to forever, especially in this pandemic.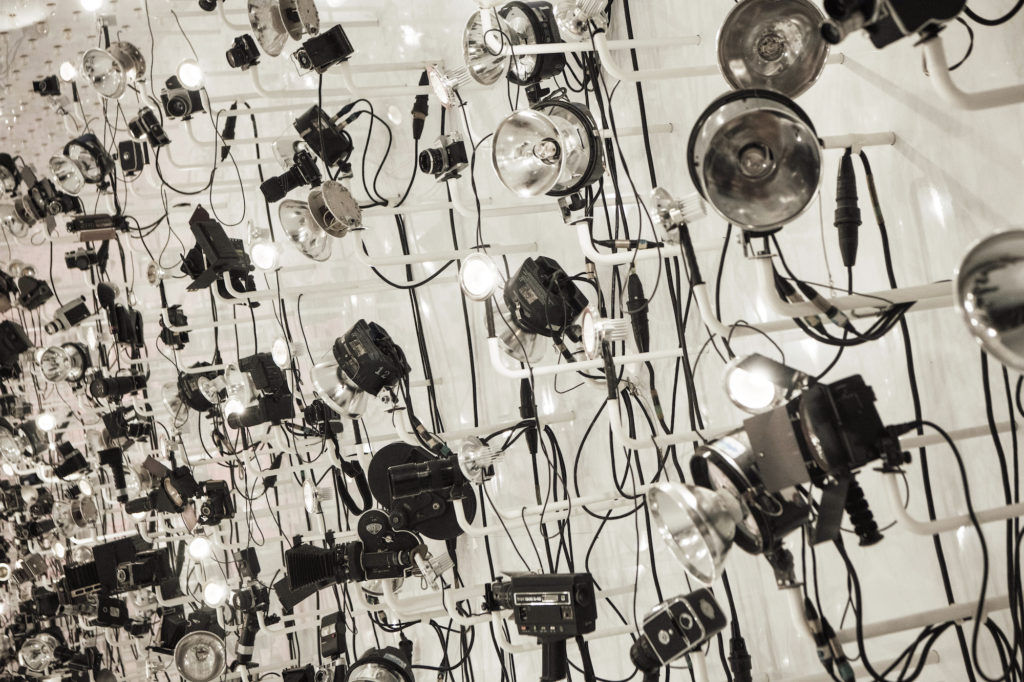 The film starts with a starry premiere of the collaboration, filled with flashing lights along the runway and finishing off with a whimsical fairytale world, where all you do is embrace nature and freedom with your friends, decked out in Gucci head-to-toe – that sure does sound like a good escape. The feel of the collection is an ode to a post-pandemic feeling that we'll hopefully get to enjoy someday.
"We get into a club, neon lights and cameras, but we find out that the party we deserve doesn't happen in the lobby of a London hotel of the 20s. It's rather like deep and ecstatic diving in everything we yearningly miss today: a feast of air. A jubilee of breath. So the idea of the party glorifies in the generating power of nature and in the breath of life that pervades it."

Alessandro Michele
All images credit: Gucci