The city of Kuala Lumpur has seen its fair share of sudden downpours of late. While we're mostly within the confines of our ridiculously cold air-conditioned offices, certain occasions may need us to venture outside and be at risk of getting rained on. It's time for us to stop getting caught off-guard by these rains and invest in one or several waterproof coats.
While we know that the tropical Malaysian weather isn't exactly conducive to wearing a coat without getting a heat stroke, hear us out. We've picked out fabrics that are made for our humid weather, and some raincoats are made solely for its namesake purpose — to be worn in the rain only. That said, we've also picked out coats that will withstand the elements, so think of it as an investment piece to wear during the monsoon season in Kuala Lumpur, and then to harsher elements beyond the country.
Waterproof coats and raincoats are synonymous, but not the same — there are also functional coats that are made of waterproof material, such as the Burberry tropical gabardine trench coat.
A lighter, newer twist to the iconic gabardine material, the woven material ensures breathability in higher temperatures, and is as durable as the original gabardine. Or you could have something that does double duty, like Calvin Klein's plaid coat from the Fall/Winter 2017 collection by Raf Simons. Our hearts stopped when we saw the grey plaid, double-breasted long coat debut itself on the runway. Not only is the grey plaid a nod to extreme power dressing, it also comes with a detachable plastic overlay because you want to walk in the rain and still look good without damaging your extremely expensive coat.
Then you have the latest street style favourite, Sacai's collaboration with The North Face for a high fashion twist on durable weatherproof clothes. Technically they're for men, but who's to say you can't wear oversized menswear and still look chic? From designer streetwear to evergreen classics, here are five waterproof coats for you to don this rainy season.
1
Calvin Klein Fall/Winter 2017 plaid coat
Raf Simons definitely wowed with his first Calvin Klein collection this Fall/Winter 2017, but did we honestly expect any less? This double-breasted plaid coat in particular caught our eyes, and not just because it comes in grey plaid, one of the season's trendy pieces. It has two functions: a regular power coat, and a waterproof coat once you affix the detachable plastic overlay. You'll be the chicest person under the rain with this new Fall/Winter 2017 drop.
2
Burberry Tropical Gabardine Trench Coat in Antique Rose
The Burberry trench coat is a classic, but pull your eyes away from the traditional camel and light beige colours and instead, try on this delightful antique rose hue. Crafted out of tropical gabardine, the newest and lightest fabric made for our humid weather, you'll look super chic in this trench coat and still stay dry. Pick a long coat, because you wouldn't want your legs to get soaked too.
3
Sacai x The North Face Men's Long Coat in Off White
Ever since the Sacai x The North Face collaboration debuted on the Fall/Winter 2017 runway early this year, hype boys have been eagerly waiting for the collection to drop in stores, and it's finally out. In fact, most of the items in the collection have already been sold out on Dover Street Market, but we're pretty sure you can find a way to cop one. We have our eyes on this particular long coat, which looks like it'll not only protect us from the rain, but also from some harsh winds.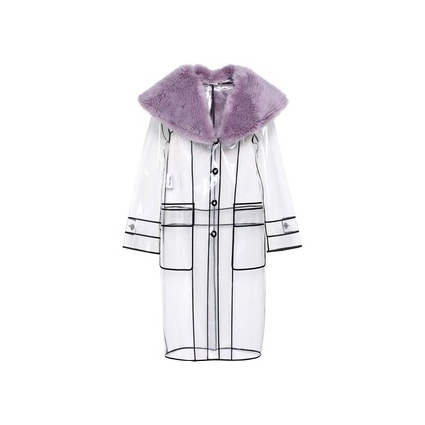 4
Miu Miu Faux Fur-Trimmed Raincoat
When Miu Miu first debuted the transparent black trim raincoat, we thought it was a genius work of art: a chic ensemble that looks like a structured coat with solid lines, yet see-through so you don't have to hide that cute outfit. Then this season, the brand showcased a luxe update with a faux fur-trimmed collar. We don't have a need for faux fur in our climate, but consider it a stylish addition to your vacation wardrobe.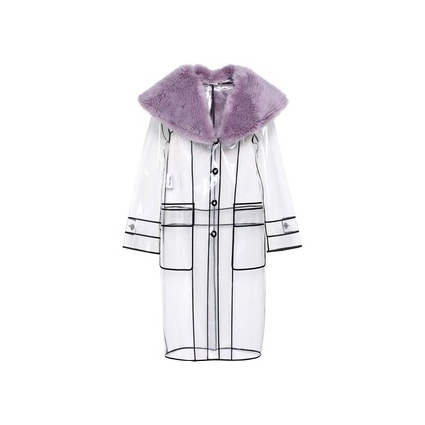 5
Moncler Navet Raincoat
There's no reason why a perfectly durable raincoat can't come in a pretty colour, like this light pink Moncler Navet Raincoat. Made of lacquered cotton, Moncler constructued the Navet raincoat with sailors in mind: the design is reminiscent of the waxed waterproof coats sailors would wear, except this looks more contemporary (and stylish in millennial pink). We love it — it's a fuss-free minimal design that does its job well.