At an exclusive preview for the ASICS Autumn/Winter 2022 Regional Brand Day, the sportswear label launched exciting new collections across all product categories, from its apparel to SPORTSTYLE gear. We speak with Yogesh Gandhi, the brand's Managing Director of Asia-Pacific, about his thoughts on the collection.
Looking to cop the latest sports garb? Look no further. ASICS' latest Autumn/Winter 2022 collection, which recently had its exclusive preview in Bangkok, is all-encompassing. The brand announced new collections across all product categories: Performance Running, Core Performance Sports, SPORTSTYLE and fitness apparel. To put it simply, there is something for everybody.
The ASICS Autumn/Winter 2022 show took place at art gallery noble PLAY, where carefully the curated collections centred around the brand's ongoing campaign, #LiveUplifted. Introduced earlier this year, the #LiveUplifted campaign reinforces the brand's continued commitment to moving the body and uplifting the mind. Among the attendees were ASICS' very own brand ambassadors from Thailand, Inn-Sarin Ronnakiat, Neng-Sarun Naraprasertkul and Toey-Pongsakorn Mettarikanon; brand ambassadors from Singapore including actors Zong Zijie and Richie Koh; as well as our The Z List alumnus Christian Didier Chin.
With the brand's latest apparel line, ASICS presents ACTIBREEZE™ technology, which controls and reduces humidity as you don the clothing, all while giving you ultimate comfort. Of course, we can't forget ASICS' signature collection, SPORTSTYLE — a marriage of innovative fashion and superb functionality. For its Autumn/Winter 2022 collection, ASICS SPORTSTYLE puts up a new range curated and co-developed by the esteemed Kiko Kostadinov Studio. The GEL-QUANTUM takes you up into space; the GEL- SONOMA 15-50 gives you the rugged nature vibes of a camping atmosphere; while the new JOGGER X81 combines 1980s jogging shoes with a modern-day twist.
In celebration of the launch, we sit with Yogesh Gandhi, Managing Director of ASICS Asia-Pacific, as he shares more of his thoughts about the latest collection — and what the brand has in store moving forward.
How would you describe ASICS' latest Autumn/Winter 2022 offerings this year?
In one word, innovative. Our Autumn/Winter 2022 collection is not only equipped with the latest innovations and technologies, but it also features unique in-trend features never seen before. This exciting new line-up is truly designed to enhance performance across sports, sneakers and fitness apparel. Ultimately, it brings movement to the next level.
What are some of the standout pieces for you from the collection?
Every single one of the pieces have their own specialties, so it really depends on what you're going for. Our Performance Running models that feature our cutting-edge ASICS BLAST™ technology are designed to improve running performance for running shoe models including METASPEED+, NOVABLAST, and GEL-KAYANO. This technology helps runners with softer landings and reactive bounces from foot strike through toe-off.
The VENTILATE ACTIBREEZE™ TANK — specially engineered by our running apparel team — are great for training in warmer conditions. The top's body-mapped fabric gives advanced ventilation in key heat zones, plus it's lightweight and quick drying. With our ASICS SPORTSTYLE collection, our aim has always been to elevate self-expression and encourage personal style. The GEL-QUANTUM, GEL-SONOMA 15-50 and the JOGGER X81TM from this collection make active lifestyle accessible to everyone while being tech-credible.
What's your take on the Gen Z-ers, and how is ASICS catering to this market segment?
We've done our own findings on this and according to our 2022 Regional Consumer Brand Research, Gen Z consumers are some of the most highly discerning and influential people we've come across. They are always quick to hop on new trends, more digitally-savvy, and concerned with brand cause, personality, and authenticity. And so, understanding and engaging with them is important to us. We try to drive stronger relevance towards them. Our campaigns are aligned and tied to bigger causes that we know Gen Z consumers are able to connect with — for example, our 15.09 Uplift Challenge.
Our ASICS SPORTSTYLE collections are also very popular amongst the youth, most likely because of its 'athleisure' concept. Through collaborations with renowned designers from Kiko Kostadinov Studio, JJJJound, Andersson Bell, GBMH, BAPE and more, we hope to gain more traction among the younger generations.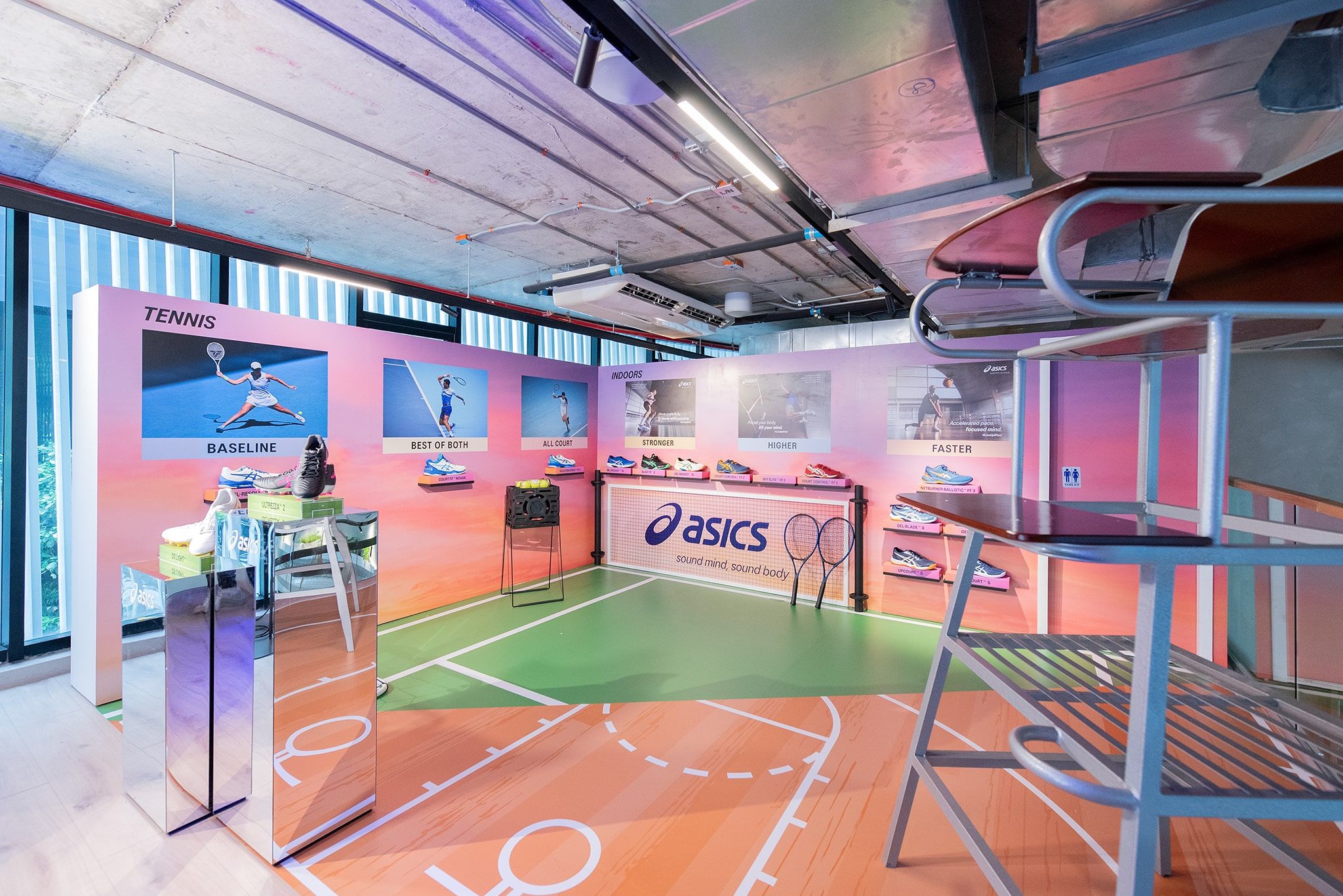 We've also started to notice that the youths are increasingly prioritising the transparency and sustainability levels of the brands they use or be involved in. With this, ASICS stays committed to creating positive impacts on people and our earth for the next generation. Communicating very clearly to Gen Z consumers about our business models, sustainable achievements, environmentally friendly partnerships and supply chain and so on is important. 90% of ASICS new running shoes in 2021 and 2022 contain recycled material, to give an example of our commitment towards sustainability.
ASICS has practically covered all aspects of sports and lifestyle so far. What's next in the pipeline for the brand?
Moving forward, we are planning to showcase even more about the benefits of movement, unveil our latest innovations and inspire customers to embrace exercise and a healthy mind.
To shop the latest products from the ASICS Autumn/Winter 2022 collection, head to ASICS stores, department stores, leading stores nationwide or visit its official website HERE.