It's impossible to walk the streets of Rome without being uninspired. Just ask Bulgari's creative director Lucia Silvestri, whose new high jewellery collection, "Barocko", is an ode to the city.
Specifically, its Baroque era, which was ripe with art and architecture by the masters themselves. Think Gian Lorenzo Bernini, Andrea del Pozzo and Francesco Borromini, some of the Italian artists that Silvestri looked to when designing the opulent pieces of the Barocko collection.
As with a Baroque painting, one of the first things you'll notice about the collection are the colours. Its palette is supplied by a myriad of sapphires, rubies, emeralds, amethysts, diamonds and more, with each gemstone carefully unearthed from around the world and forged by Bulgari's artisans.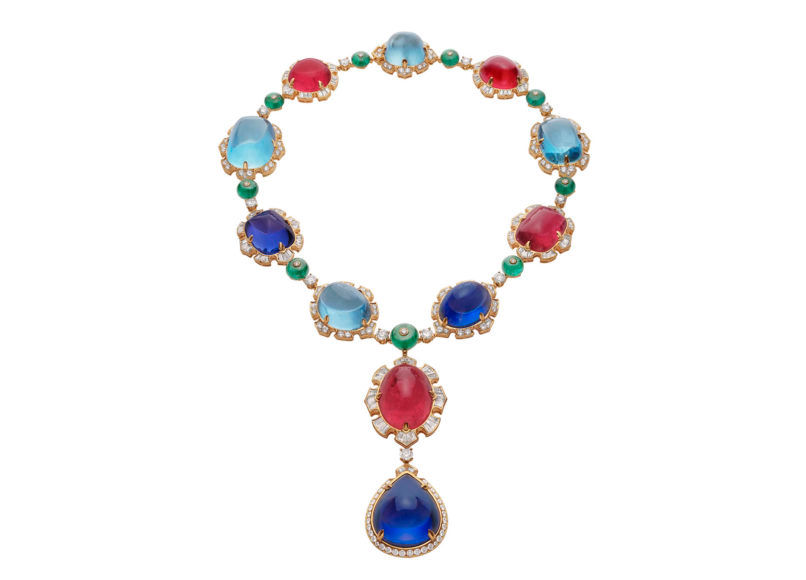 The best example of this is the "Cabochon Exuberance" necklace, which boldly features tanzanites, rubellites, emeralds and aquamarines set on yellow gold. The piece was inspired by the Farnese Gardens of Rome, and took all of 700 hours to make.
The distinctive lines and shapes of Baroque art also figure into the collection. There's the "Lady Arabesque" necklace, whose pink and violet sapphires from Sri Lanka, as well as tourmalines, emeralds and diamonds are all framed within Baroque curls.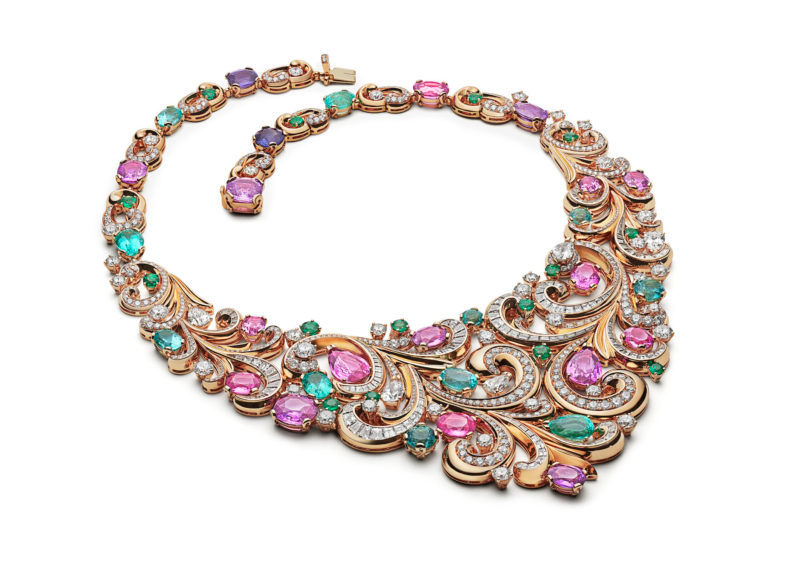 Feathers, a popular element in Baroque iconography, are featured in the designs like the "Precious Feathers" platinum necklace. It's marked by a drop-shaped emerald pendant, which can be detached to transform the piece into a discreet choker.
A similar piece is the "Sapphire Bow" necklace, whose pendant is a 14-carat oval Burma sapphire. It trades feathers for diamond-embellished bows, another beloved ornament of the era. Even pearls are used in the collection, such as on the "Lady Rubellite" sautoir.
What really set Baroque art apart, though, was its play on light and shadows. You'll find as much in the "Raggio di Luce" ring, whose rare yellow diamond, sourced from Hong Kong, mimics the light effects of Bernini's famous "Ecstasy of Saint Teresa" sculpture.
Even more impressive is the "Rosso Caravaggio", named and inspired by the Italian painter. The necklace is adorned by a rare 10-carat cushion ruby from Mozambique, whose brilliance is juxtaposed with smaller, subtle diamonds. Just like many of the other designs from the collection, the piece is versatile and can be transformed into two detachable necklaces. Little wonder, then, that the marvel took 1,500 hours to make.
Just like Rome itself, Bulgari's Barocko collection invites exploration and a deep dive into the details. And, likewise, you'll be left in awe. That's certainly how Silvestri felt after a walk around the city where Bulgari is based. Bulgari's past haute joaillerie collections were similarly inspired by Silvestri's travels. The most recent example is the Jannah collection, for which the jewellery designer drew inspiration from the Abu Dhabi Grand Mosque.
Discover more at Bulgari's website.
(Header and featured photo credit: Bulgari)
This article first appeared on Lifestyle Asia Singapore.