As crystals become more popular for decorative pieces, reconsider them as jewellery too.
"I know they're not working, that's why there's hundreds on me right now," fumed Spencer Pratt during an infamous meltdown on The Hills.
He was talking about his crystals, which dangled from the necklaces and bracelets that he wore. That episode aired 10 years ago, but Pratt's choice of jewellery would speak to anyone who has lived through the chaos of 2020.
Crystals, after all, are believed to have healing properties. Quartz, the most abundant mineral on Earth, promises to balance your energies. Its violet variant known as the amethyst is said to calm the mind, while the rose quartz opens up your heart chakra to let love in.
You may not drink the crystal Kool-Aid (yet), but plenty of celebrities sure do. The Olsen twins once handed out clear quartz and black tourmaline to guests at their fashion show. The latter crystal, which apparently wards off negative energies, is a favourite of Victoria Beckham. Miranda Kerr prefers the rose quartz, keeping a heart-shaped one in her bra.
Bella Hadid and Kylie Jenner both collect the healing rocks too, but neither has spent US$1 million on them like Spencer Pratt. (He now sells them to compete with the "tumbled rocks" offered by Gwyneth Paltrow's Goop.)
The crystal craze itself is nothing new; ancient cultures have long turned to the hypnotic rocks for comfort during turbulent times. But their supposed powers have been especially inviting in the midst of a pandemic, a recession, climate change and all the other ills that plague the world today.
In fact, the demand for these "near gemstones" has only grown during the COVID-19 crisis. They're steadily building a billion-dollar industry, even as the diamond market sees a fall in sales. Not surprising, then, that many jewellers are now embracing them in their designs.
Alighieri is one example. The London-based label established itself with its talismanic pieces, handcrafted from gold-plated bronze. Designer Rosh Mahtani often imbues her jewellery with mythology and mysticism (see the brand's Zodiac pieces), so it was only a matter of time before she got around to using crystals.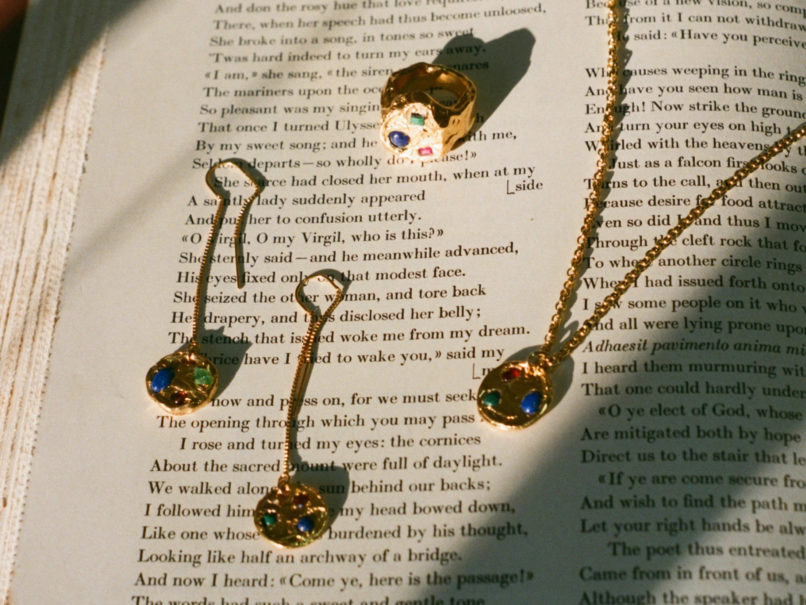 She picked three of them for Alighieri's Stones of Light collection: green malachite, lapis lazuli and red garnet. Fragments of the colourful stones appear to grow out of Alighieri's signature gold medallions, representing what Mahtani describes as "the idea of quiet, inner strength." The pieces, which include a ring, earrings and necklaces, are meant to be worn "as an emblem of courage," as Alighieri's website notes.
That sort of spiritual symbolism lies at the heart of Jia Jia's crystal offerings. The fine jewellery brand, launched just this year, is the brainchild of designer Jia-Jia Zhu, whose plethora of New Age interests such as yoga, meditation and Reiki heavily influences her designs.
Crystals like moonstone, amethyst, labradorite and variants of quartz form the pendants and charms of Jia Jia's gold bracelets and necklaces, which are handcrafted in New York. Each one is specially picked for their unique energies and characteristics. They're also left uncut and untreated, except for the "ancient purification process" that the brand puts them through to rid them of unwanted energies.
The fascination with crystals has crossed over into fashion jewellery, too. Case in point: Les Cristaux Celine, a limited-edition, unisex jewellery collection by Hedi Slimane that was unveiled at Celine's Fall/Winter 2020 show in February.
The line features nine crystals in all: tiger's eye, amethyst, smoky quartz, pyrite, shungite, hematite, star mica, barite and rock crystal. The stones, which were fashioned into pendants for necklaces, bracelets, rings and pins, were chosen by Slimane himself for their beauty and symbolism.
Stephen Webster, on the other hand, wasn't being too philosophical when he introduced quartz into his Crystal Haze collection. Like Tiffany & Co. designer Elsa Peretti, Webster saw the creative potential of crystals. The British jewellery designer used the rock crystal to magnify the colours of the gemstone layered under it, creating what is referred to as a "doublet".
It's an old jewellery technique that's incredibly complex, but clearly captivating; Webster's Crystal Haze collection soon found fans in the likes of Kate Moss and Madonna after it was launched 25 years ago. Now that crystals are seeing a revival, the designer has brought back his iconic designs for his newly launched "CH2" collection.
The rebirth of Webster's Crystal Haze collection makes one thing crystal clear: crystals will never really go out of style. And as long as the world stays connected to its primitive spiritual practices, you can count on the appeal of the healing rocks to last as long as the rocks themselves.
Header photo credit: Getty Images
This article first appeared on Lifestyle Asia Singapore.