From adding a luxurious twist to starlets' outfits, to being used as a crucial plot device, jewellery has had a long-standing relationship with the silver screen. In fact, there are several iconic jewels that will forever remain synonymous with the movies they appeared in. Take for instance, the lavish Heart of the Ocean blue diamond necklace from the 1997 seminal film Titanic. The jewel was the only item worn by Kate Winslet's character in her famous (or infamous, rather) nude scene, where she asked Leonardo DiCaprio's Jack Dawson to draw a portrait of her. The necklace's elegant design remains popular even today, with many replicas available online.
For other films, jewellery has been essential in creating the perfect setting. The Great Gatsby (2013), for example, wouldn't have been complete without its display of Tiffany & Co diamonds, pearls and Art Deco jewels, which beautifully encapsulated the story's themes of extravagance and excess. And who can forget just how splendid actresses Carey Mulligan and Elizabeth Debicki looked in all their glittering finery?
If you, like us, find yourself easily captivated by anything shiny or sparkly when watching a film, check out this list of the most iconic jewels in cinematic history. You won't be disappointed.
(Main photo credit: Stefano Canturi; Featured photo credit: Tiffany & Co)
1
Heart of the Ocean necklace in Titanic
As one of the most recognisable baubles to hit the silver screen, the fictional Heart of the Ocean necklace ranks high on our list. In the 1997 classic film Titanic, it was meant to be composed of a 56-carat blue heart-shaped diamond — which was once owned by Louis XVI — and many smaller white sparklers.
The actual prop necklace was, in reality, crafted with cubic zirconia and white gold by London jewellers Asprey & Garrard (now known as Garrard & Co Limited). Several jewellers also created their own versions of it. One example is Harry Winston, which produced a similar design using a 15-carat blue diamond. The necklace was worn by actress Gloria Stuart (who played the elderly Rose in the movie) at the 1998 Academy Awards.
(Photo credit: The Diamond Authority)
2
Ribbon Rosette necklace in Breakfast at Tiffany's
This stunning yellow diamond necklace from Tiffany & Co's Jean Schlumberger jewellery collection never actually starred in Breakfast At Tiffany's, but it was worn by lead actress Audrey Hepburn in the publicity photos for the 1961 film. It was composed of diamond-encrusted swirling ribbons that culminated in the Tiffany Diamond, which is one of the largest fancy yellow diamonds in the world.
Hepburn is one of two women who have ever worn the Tiffany Diamond. The following years saw the yellow sparkler being reset in several other jewellery designs, and it is now kept in Tiffany's Fifth Avenue store in New York City.
(Photo credit: Pinterest)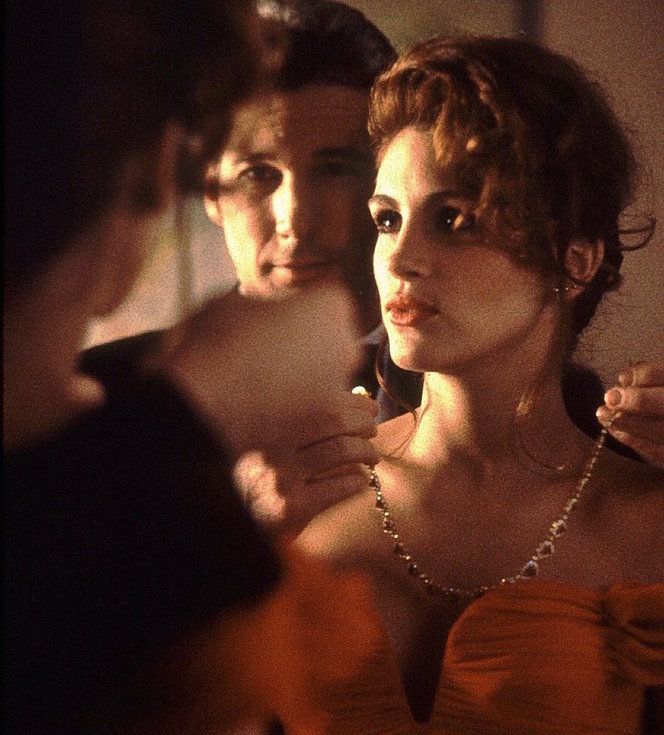 3
Ruby and diamond necklace in Pretty Woman
One of the most memorable scenes in Pretty Woman (1990) is when Edward (played by Richard Gere) presents Vivian (Julia Roberts) with a jewellery box and playfully snaps it shut when she reaches for it. The contents of the box are then revealed: A stunning 18k white gold necklace bedecked with 23 heart-shaped rubies, which are interspersed with glittering diamonds.
Valued at around US$250,000 (S$355,650), the beautiful necklace was created by French jeweller Fred Joaillier (now known as Fred), which has produced jewels for other movies such as Casino Royale.
(Photo credit: Vogue/ Buena Vista Pictures/ Photofest)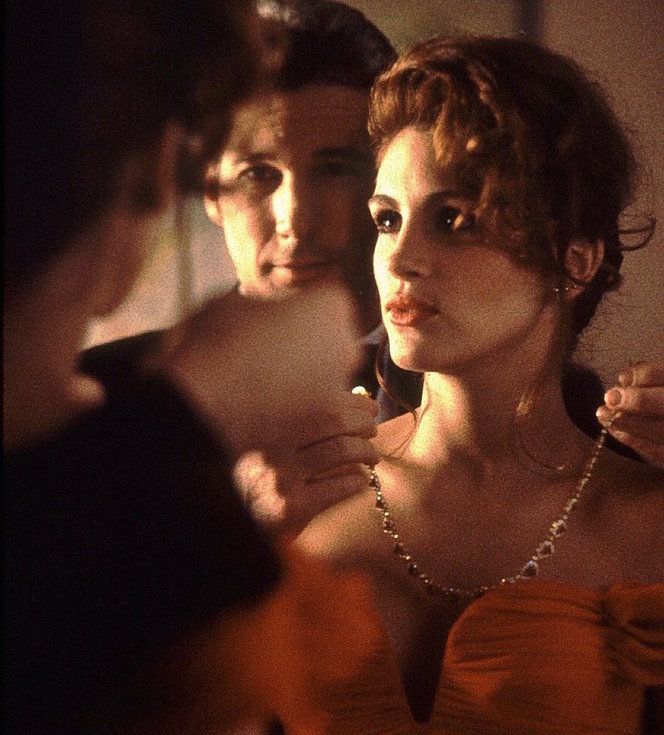 4
Satine necklace in Moulin Rouge
Mounted with 1,308 diamonds (which weigh a total of 134 carats) in intricate openwork patterns, this exquisite statement necklace was named after and worn by Nicole Kidman's character in Moulin Rouge (2001). It was designed by Australian jeweller Stefano Canturi, who was inspired by the opulence of 18th century France — particularly the period of Louis XVI's reign.
The gorgeous necklace, which is estimated at AUD$3 million (S$3.17 million), now resides in a private collection in Antwerp. And if you're wondering how it survived all that rough treatment in the film (one part depicts Satine's spurned suitor tearing it off her neck and throwing it on the floor), Canturi revealed that he actually created a crystal replica for that very scene.
(Photo credit: Stefano Canturi)
5
Savoy headpiece in The Great Gatsby
Spotted on Carey Mulligan's character in The Great Gatsby (2013), this striking headpiece by Tiffany & Co is undoubtedly one of the most opulent jewels showcased in the film. It is festooned with lustrous freshwater cultured pearls and 25.06 carats of sparkling diamonds, which are meticulously assembled to resemble a delicate feather. The feather portion can even be detached and used as a brooch.
The headdress is based on an archival design, and is part of Tiffany & Co's 2013 Blue Book jewellery collection, which draws inspiration from the 1920s Jazz Age.
(Photo: Tiffany & Co)
6
The One Ring in The Lord of the Rings and The Hobbit
With its simple and plain aesthetic, this yellow gold ring by New Zealand jeweller Jens Hansen isn't really something that would take our breath away at first glance. But it boasts a plum role in the The Lord of the Rings and The Hobbit trilogies, where it's portrayed as the key to controlling the whole of Middle Earth, and wields a dark power over its bearers.
Away from Tolkien's universe, this ring isn't as mystical. But it's still a rather interesting slice of cinematic history to possess. Jens Hansen actually retails replicas of it in 16 types of metal, and customers can opt to customise it with Elvish engraving — perfect for those seeking a wedding band with a dash of magic.
(Photo credit: Jens Hansen)