The most important part of getting new piercings is the after-care. Do it right and it'll heal properly – otherwise, you'll be in for a difficult time.
New piercings don't garner as much attention as a new tattoo, but with the rise of retro fashion, the multiple-earring trend is set to make a comeback. If you're looking to try this style out by getting some fresh piercings, it's probably time you read up on some tips on how to care for your new piercings before you actually get them.
Hot on this trend is local jewellery brand Wanderlust + Co. with The Curated Ear collection, a series of earrings designed to create "ear stacks" – essentially mixing and matching various earrings from your earlobes to your helix.
Among this collection is a range of flatback earrings which have been specifically designed to optimise the healing process of freshly pierced ears – this includes being made of titanium and higher-quality surgical steel instead of gold or silver. Wanderlust + Co. founder Jenn Low created these after noticing that there aren't many pretty earrings out there that are used for new piercings.
In fact, if you're part of the 90s generation, you probably got your earlobe piercings done at the goldsmith shop with a piercing gun, complete with gold stud earrings. This way of piercing is, in fact, not the best – it creates too much trauma. Always opt for a needle piercing.
We spoke to Low on how these earrings are perfect for fresh piercings, and also took some tips from Ronny Lai – current owner of Spec Body art and the man headlining Wanderlust + Co.'s famous piercing parties – on how to properly care for them afterwards.
Material and length are everything
You shouldn't be wearing gold plated jewellery for fresh piercings – always opt for surgical steel or titanium for a better healing process. In The Curated Ear series there is a variety of gold-plated earrings available, but if you're planning to get a new piercing, look for the ones that state 'Suitable for Piercing' – these are made of surgical steel.
"Most normal fashion earrings have a six-millimetre length. But all fresh piercings require a length of eight millimetres as your ear tends to swell a little and have excess liquid like pus during the healing process. Having an eight-millimetre gauge gives extra space during the healing process for you to clean and significantly reduces the risk for infection," explains Low.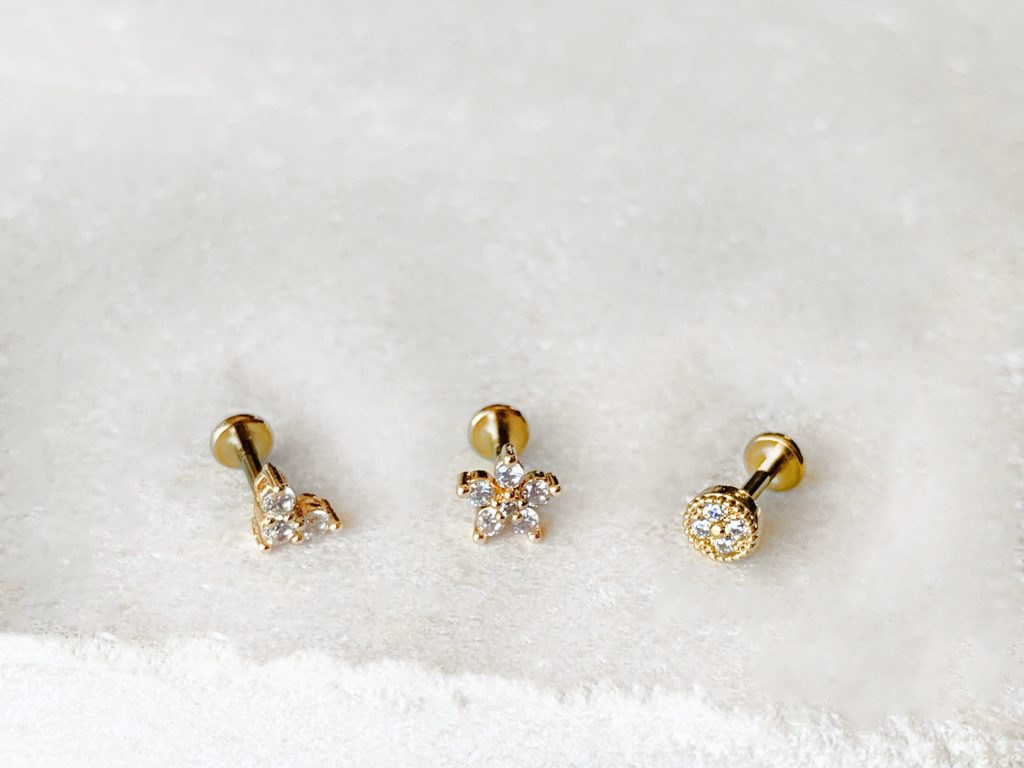 A flat back makes for extra comfort
If you've had piercings before with a regular studded earring, you'll be familiar at how the butterfly stud backs can hurt especially when it presses against you while you're sleeping. These have been designed with a flat back for extra comfort, making the healing process a much easier one.
Also, having a flat back just makes it easier to clean without having unsightly bits cling to the crevices of the butterfly stud back.
Leave the original jewel in your cartilage piercing longer
Unlike earlobe piercings, cartilage piercings – helix, conch, tragus, and industrial – take a much longer time to heal. Don't interrupt this process by removing the original earring you used for your piercing – it needs to remain there for six months or longer, depending on each individual's healing process.
That said, if the piercing is going to stay there for close to a year, you'd want a decent-looking earring. Low had this in mind, which is why the pieces from The Curated Ear have been taken from the most popular design motifs from the brand's collections over the years. "We wanted to turn them into wearable, classic designs that are plain, but still something that you would happily wear along with other earrings on your ear," said Low.
More piercing aftercare tips by Ronny Lai
As the owner of Spec Body Art and longtime body piercer, Ronny Lai knows best how you should care for your fresh piercing. He offers some no-nonsense tips to us, especially since I was personally at the mercy of his hands with a new helix piercing:
Use a sterile saline solution to clean your new piercings every time you shower. Wash the affected area and use a cotton bud to clean out any dried blood or accumulated pus. Never use alcohol swabs, soap, ointment, or any other chemical solutions as that will only irritate the wound.
Keep your hands to yourself – don't touch your piercing unnecessarily, as you could infect it.
Avoid swimming at the pool until your piercing is completely healed.
Try not to sleep on your piercing until it is healed. The earrings may have a flat back, but it's not great to apply too much pressure on a fresh wound.
Finally, avoid shellfish within the first month of your new piercing. A small amount is fine, according to Lai, but don't go all out.
However, if the thought of getting a piercing chills you to the bone, there's another way for you to wear multiple earrings: ear cuffs. Within The Curated Ear collection are some pretty ear cuffs for you to fake the look without going through the pain. As the old adage goes: fake it till you make it.