 Elevating your scrunchie hairstyles can be a challenging feat—especially if you're short on ideas, time, patience, or all the above. That being said, we're always looking to make it seem like we spent hours getting ready instead of the five minutes we actually spent fixing our hair. And, thankfully, there are plenty of easy ways to turn your scrunchies into a look worthy of walking the runway (or, ya know, impressing your boss at your next Zoom meeting).
While you can simply throw your hair up into a ponytail and secure it with your favourite scrunchie, you can also opt to slick your hair back into a sleek bun or trade in your plainly coloured scrunchie for something a bit more sophisticated (think: rhinestones or unique fabrics) to create an entirely different look. To help us learn how we spoke to hairstylists Laura Polko and Xavier Velasquez. Keep reading for 22 of our favourite ways to elevate your scrunchie hairstyles.
Laura Polko is a celebrity hairstylist who has worked with clients including Gigi Hadid and Emma Chamberlain.
Xavier Velasquez is a hairstylist and Virtue brand ambassador.
Sleek and simple
View this post on Instagram
A sleek pony is always a good idea. "To achieve this chic pony, I like to start with a classic middle part and build a lot of texture through the bottom of the hair," explains Polko. "You can do this with your favourite texture spray and then wrap the hair with a huge, oversized scrunchie." Once your hair is secure, you can pull the ponytail either side to side or up and down to add extra volume.
Third time's the charm
View this post on Instagram
Grab three of your favourite scrunchies for this fun look. "Start with the first scrunchie and create a loose half up, half down," says Polko. "From there, you want to gather the rest of your hair to create a low pony and then wrap the extra hair around in a loose braid before securing it with your third scrunchie."
The work out pony
View this post on Instagram
On days when you want to look super chic at your favourite workout class, try this look. "Apply a little of Virtue's Healing Oil (USD44) to smooth the hairline and pull your hair back in a pony high and tight like in this shot," says Velasquez. "Then you're ready to take on any fitness routine."
Added length
View this post on Instagram
Ready to majorly up your scrunchie hairstyle game? Grab some clip-in extensions and prepare to wow in this look. "I just love this pony with a bunch of extra length, and with this style, you don't need to worry about blending the extensions and can wrap an oversized scrunchie to conceal them," says Polko. "For this look, you want to keep the ponytail loose and let pieces of hair that frame your face fall loosely, so it gives you that effortless, undone look."
Elegant updo
View this post on Instagram
We love the understated elegance of this look. Pro tip: If you have curls or coils, consider silk and satin scrunchies, as those fabrics are gentler on your hair.
Playful pony
View this post on Instagram
Nothing feels quite as playful as a pony—and this one is next level. "Slick your hair up to the top of your head and spray the hairbrush down with hairspray before you begin brushing," says Polko. "Once you've gathered your hair on top of your head, you'll want to wrap a scrunchie around tight and loosen up the fabric with your fingertips."
The undone topknot
View this post on Instagram
This is a scrunchie-style staple, but you can upgrade the look by adding a bit more oomph with a generous amount of Virtue's Texturising Spray (USD19), says Velasquez. "If you are on day two (or five) of not washing your hair, you can use dry shampoo for that added lift and airiness."
The ultimate topknot
View this post on Instagram
Throw all your previous topknot expectations out the window and opt to try this uber-fancy iteration. "Twist the hair until taunt, create the shape of your top knot, and secure it with 'u pins' at the base," says Velasquez. "Layer up all the Celine, Louis Vuitton, and other fancy designer scrunchies you can find to achieve this luxe look."
Slicked back style
View this post on Instagram
Searching for a style for day two or day three hair? Try this scrunchie hairstyle to cover up the greasiness with a sleek look and pop of colour. "Get your hair super slick and pull it back into a cute low bun," says Polko. "Secure your bun with an elastic for a tight hold, and then place a scrunchie on top of the elastic for added decoration."
The ritual pony
View this post on Instagram
Velazquez recommends throwing your hair into a classic pony to upgrade your typical athleisure look. "It's the perfect pony for some R&R or errand time," he says.
Level up
View this post on Instagram
FYI: Elevated doesn't have to be complicated—this style proves that. "Gather your hair in a loose, straight-back ponytail and secure it with your favourite elastic," says Polko. "This is a look where scrunchies are more decoration, so once you have your pony secured, you can just stack your three favourite scrunchies in any order you love."
Braided details
View this post on Instagram
Customise your go-to braid with your favourite brightly colored scrunchie. It'll add a touch of colour and is super simple to do when you're on the go.
Party pony
View this post on Instagram
Another fabulous option for day two hair is this party pony. "It is a combination of a high pony and then one medium pony, all held together with a large scrunchie," says Polko. "The layering of the multiple ponytails makes it look bigger and is great for all hair types."
Slicked half-up, half down
View this post on Instagram
Another top pick for elevating our scrunchie hairstyles is a slicked half-up, half-down. "This super slick style can be achieved by spraying hairspray (or gel pomade) onto your brush and slicking down the hair," says Polko. "You want the front section to be really sleek before gathering the top section of your hair into a high pony."
Space buns
View this post on Instagram
Double the buns, double the fun. Secure these two space buns in place with matching (or different) scrunchies for a fun and fresh look.
Cloud braid
View this post on Instagram
While this style may scream #hairgoals, it also happens to be a look we can all try at home. Tie two organza (or any fabric) scrunchies at the base, create a braid, pull the hair through, secure it with a little clear ponytail holder, and be prepared for all the compliments to roll in.
Ballerina bun
View this post on Instagram
Yet another example of an easy-peasy way to upgrade your scrunchie look. Pop your hair back into a sleek bun and secure it in place with the scrunchie of your choice.
All about the details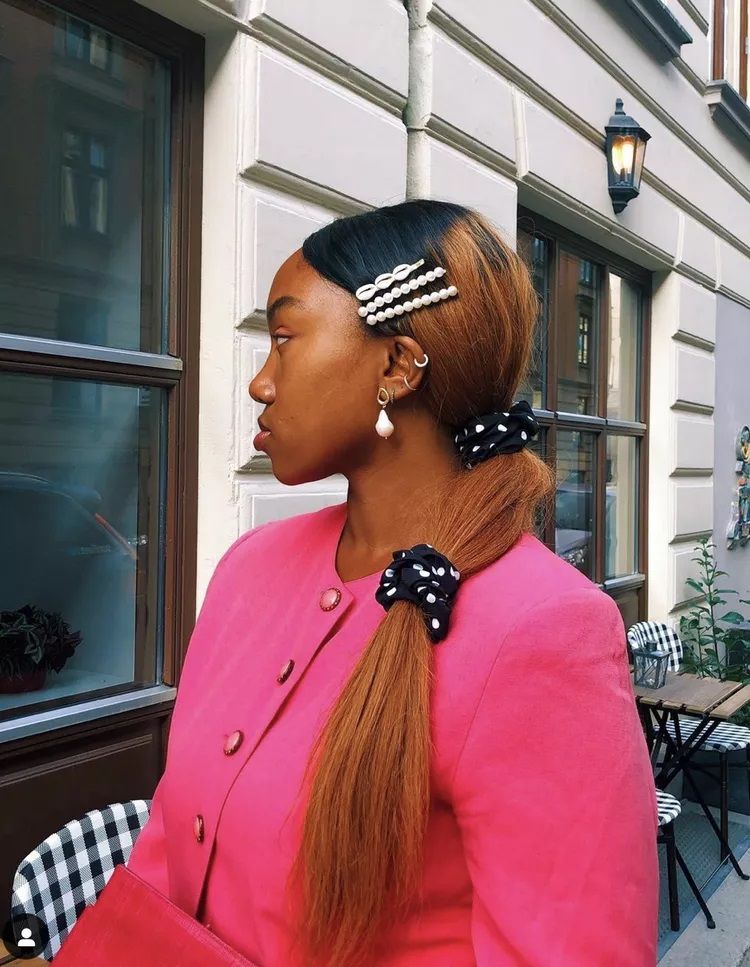 Side ponytails are never a bad option, so take it up a notch by adding in a second (or third) scrunchie and a slew of your favourite clips (looking at the pearl, glitter, or other funky clips taking up the space in your drawer). Also: It's simple to achieve and will reward you with a gorgeous hairstyle that's bound to become a new favourite.
Flower power
View this post on Instagram
Instead of a typical half-up, half-down, change it up by making it a slicked-back bun half-up, half-down. You'll thank us later.
Statement piece
View this post on Instagram
Create a show-stopping topknot, bun, or pony by adding a scrunchie covered in rhinestones or gems. Two words: bling, bling.
Textured tresses
View this post on Instagram
Boost your hair game by adding one (or more) luxurious velvet scrunchies into your rotation. Pair them with your favourite scrunchie hairstyles for an instantly elevated 'do.
Front and centre
View this post on Instagram
Super chic? Check. Easy to pull together in less than five minutes? Check. Does a hairstyle need much else? Not really, which is why you should try this one immediately. Create a high bun half-up, half-down on top of your head, and pull some strands out in the front to accomplish this look.
(Credit for Hero and Feature Image: @laurapolko)
This story first appeared on www.byrdie.com
© 2022 Dotdash Meredith Corporation. All rights reserved. Licensed from https://www.byrdie.com/ and published with permission of Dotdash Meredith Corporation. Reproduction in any manner in any language in whole or in part without prior written permission is prohibited.