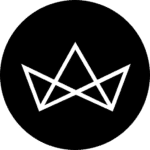 Q&A: Fabien De Nonancourt details Bell & Ross' new flight instruments and its plans to take off into greater heights
Fabien De Nonancourt, Managing Director at Bell & Ross, touches on the latest model in the brand's Flight Instruments collection, and dishes on just what people look for when selecting a timepiece that speaks to them.
First making its debut in the 1990s, it is impressive that Bell & Ross has managed to establish such a deep-rooted trademark with its Flight Instruments collection. Starting with its model BR-01 that launched back in 2005, the brand began creating square watches inspired by the instruments found in military aircraft cockpits — hence its namesake.
While Bell & Ross' most enduring design is that which imitates the radar instrument (as seen in the BR01-92 and then later, in an updated style on the BR03-92 Red Radar), the latest of the Flight Instruments collection is the BR03-92 Radiocompass, striking in its features and multiple fluorescent colours stacked against the black backdrop of its dial.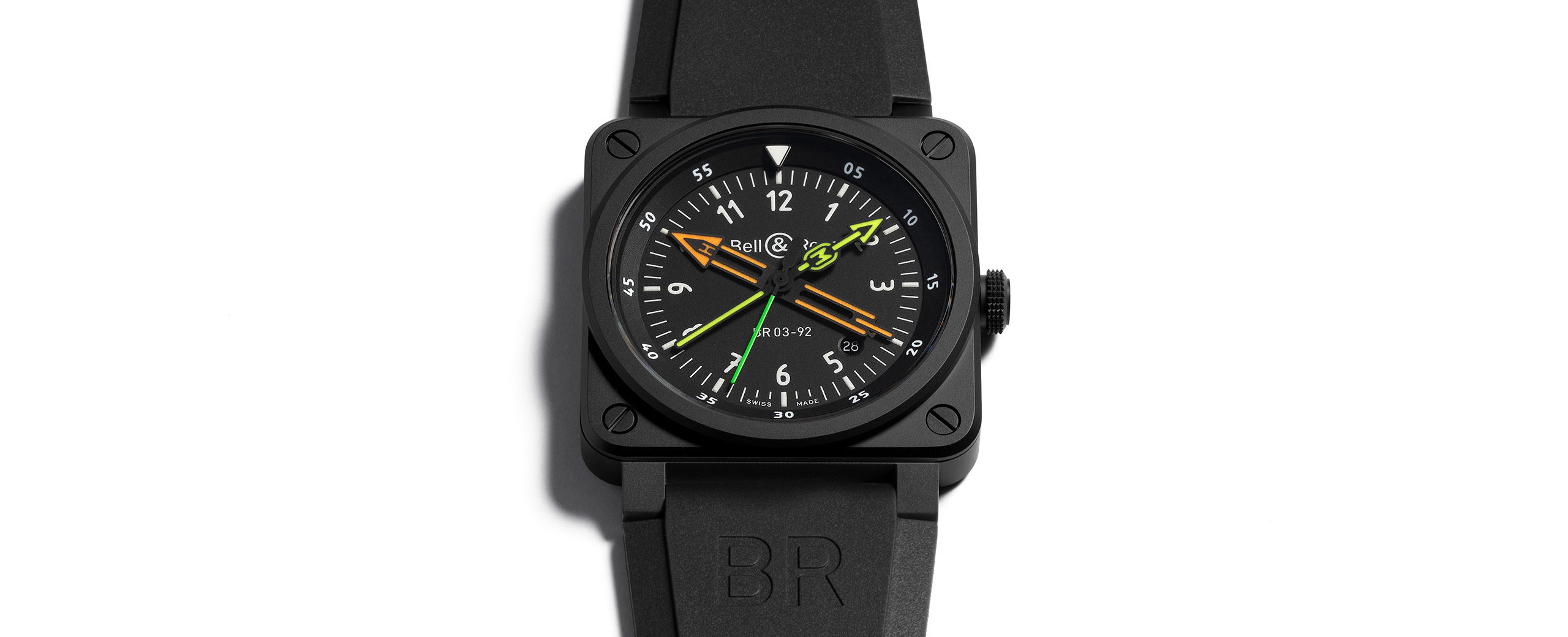 A pioneer of its kind, Bell & Ross' latest model takes inspiration from the radio compass — an often overlooked yet pivotal instrument in the cockpit that not only tells you where the plane is headed, but also signals to nearby beacons as you are flying through its different-coloured indices. In a similar fashion, the latest BR03-92 Radiocompass carries the weight of telling time through different-coloured hands, each carefully marked to fit the aesthetic of the timepiece.
According to Bell & Ross Managing Director Fabien de Nonancourt, the unique designs of its watches go beyond the colours and physical makeup — they are also innovative and functional, while still keeping its creativity. This concept is embodied in the upcoming BR04-94 Multimeter, a timepiece that's both pleasing to the eye and practical.
"The possibilities are endless," Fabien notes. "Our range of chronograph watches has always had various functions. Motor racers can use it to calculate their speed. We have a watch that was created specifically for doctors to measure heart rates. So, our goal moving forward is to create an instrument that can encompass all those functions in one, and that's where the idea for the Multimeter came from."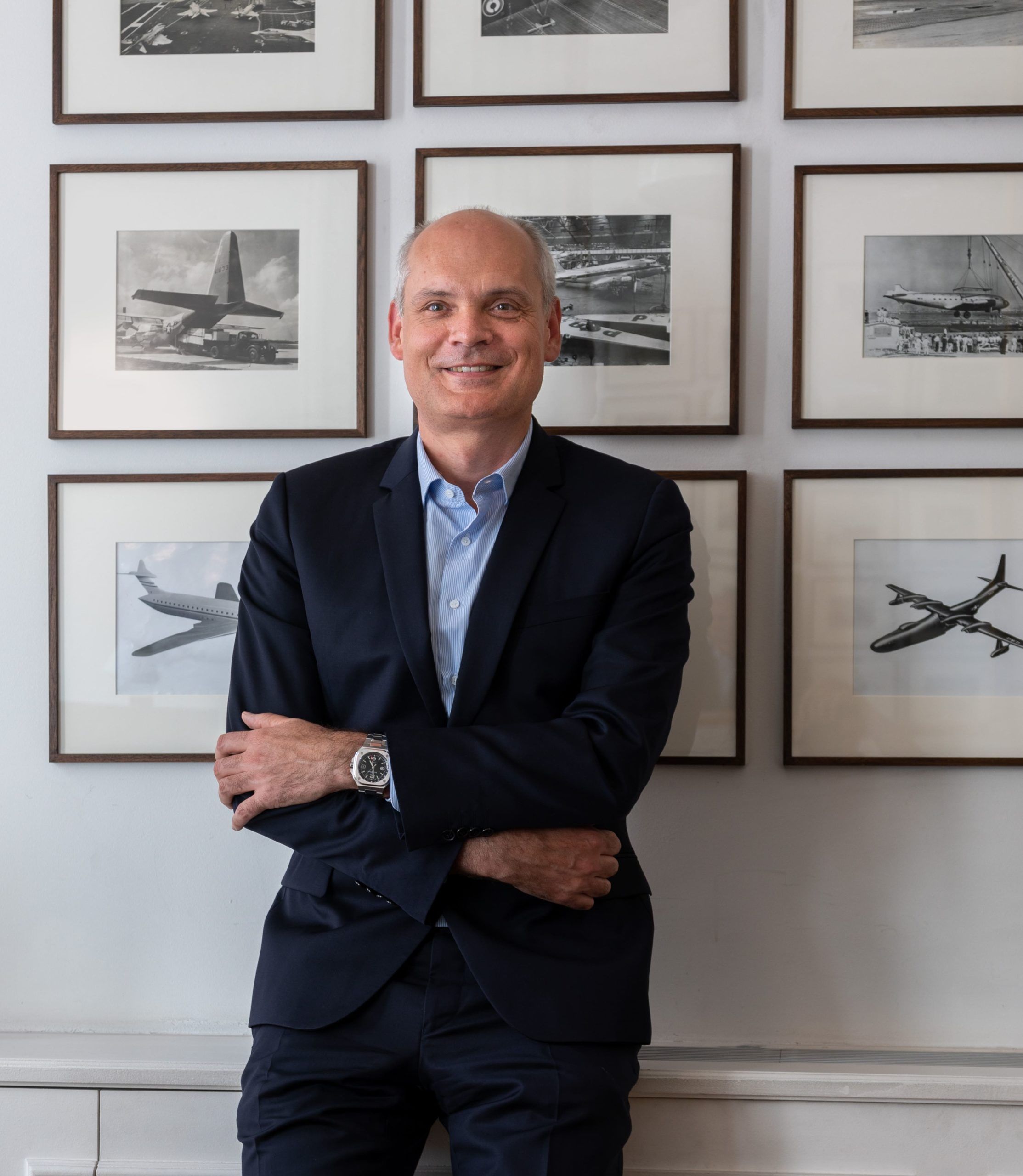 With more than ten years of experience at Bell & Ross under his belt, Managing Director Fabien de Nonancourt is not only able to offer more details on the newest model in the Flight Instruments collection, but also touch on how much the brand has grown since the collection first took off. We sit down with Mr. Fabien to talk about the BR03-92 Radiocompass, as well as his thoughts on the current trends of watchmaking, and what it is that drives people to select the timepieces that's best for them.
Tell us a little bit about the history of Bell & Ross' Flight Instruments collection.
Since it was founded by Bruno Belamich and Carlos Rosillo, Bell & Ross' inspiration has always been the military aviation world. And in 2005, we launched the BR-01, which is really the most symbolic product in that sense, because it is like we've directly put a piece of the aircraft dashboard on your wrist. We have the square flight instrument, round dial, and four screws — all instruments that you'd find on the panels. The BR-01 that we created back then was the basic watch with a chronograph function. So, by 2010 we felt like it would be a good idea to take inspiration from real instruments from the dashboard to create a watch — and it was the radar, which is probably the most iconic instrument in the aircraft cockpit. Over the years, we've tried to interpret many different instruments across the dashboard.
What eventually drove you to create the BR03-92 Radiocompass?
After the success of our comeback 'radar' timepiece, we spent some time contemplating which instrument to take on for our next model and decided on the radio compass, which is very specific in its design. The instrument gives you two indications: one is the direction of the plane, told by the bigger index, while the other yellow index points to the beacons as you fly. The instrument was created in 1926, and it has such specific hands that we think are really unique. So, we wanted to recreate that in a timepiece.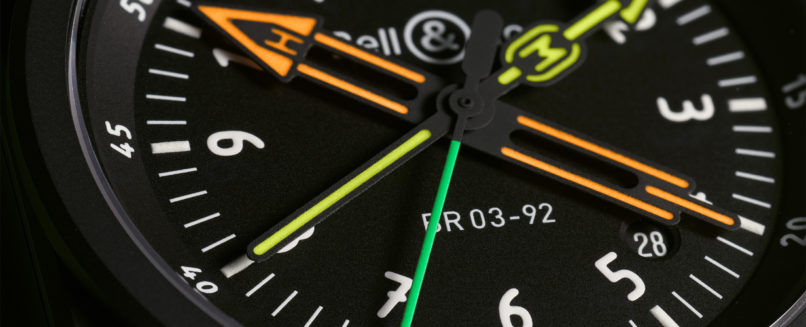 The bigger hand we've mimicked as the hour hand on the watch, while the yellow one becomes the minute hand. We've also added a third thinner hand for the second hand. Because it's a compass, we have also added a lot of numbers around the watch, which goes around 360°. It has the exact same look as the radio compass, but it doesn't point you to a beacon! (laughs) It only gives you the time.
Are there any specific current trends within the world of watchmaking that you think are worth noting?
I think a global trend that we've seen in watchmaking lately is that there's definitely a growing interest in watches from people, especially since the COVID-19 pandemic. I believe there are two explanations as to why. Firstly, since most retailers have closed, I've seen more watch brands begin communicating directly with their customers to promote their watches. And so, this probably elevated the image of the watches, as well as the customers' interest.
The second has more to do with investment purposes — people look at watches not only as something to enjoy or to look nice on your wrist, but as a kind of investment. That's definitely a trend that we see. People are looking for more exclusive models, and those that are limited edition. People are also looking at the manufacturing aspect of the timepiece as well, because that is seen as an added value to the watch itself.
What do you think customers are looking for in a timepiece today? How would you say a person would go about selecting a timepiece?
Before any specific features, I believe that the first thing people look at is the design. When we sell a watch, we don't sell the movement or the materials first. You don't really sell its function just yet — it always starts with the design. So, I think the most important thing is to create a great design that is appealing because it's the first thing that you would see and what you want others to see when you have it on your wrist. And then later on, you can bring the additional features that have to do with the manufacturing and function. But first and foremost, it is the look. That is the most important thing.
Are there any plans to explore other sorts of designs in the future of Bell & Ross, besides the 'flight instruments' collection?
Yes, absolutely. This is actually already in the works. Up until 2019, we had two major designs in our collections: the square models directly inspired by the aircraft cockpit; and we also had the Vintage collection inspired by the pilots' watches from the 1950s. So, we felt that in 2019, it was time to introduce a new kind of design that's close to the old square model, but just slightly different. And this is where the BR05 collection comes in, which is what I'm currently wearing. With the BR05 collection, you can still recognise the same square shape and the round dial, the four screws just like the Flight Instruments collection, but it looks more elegant. More chic. From there, we continued with the launch of the BR05 GMT, and so this is the collection that we hope to keep building on in Bell & Ross.
What would you say is your favourite Bell & Ross watch model?
This may sound like a bit of a stupid answer (laughs), but I always say that my favourite model is the one that we are going launch soon. I have a privilege working at Bell & Ross HQ, and every Monday we have a product committee meeting where we talk about the future product. So, I already know what we will launch next month, and next year and so on.
But as you can see from what I'm wearing now, at the moment I am a real fan of the BR05 model. I think the watch looks very good, and it's very comfortable. I like the combination of the sporty style with the steel bracelet. I've been a big fan of the BR03 for many, many years. And my first ever Bell & Ross watch was the BR01. But I must say that right now, the BR05 is probably my favourite.
What is the watch market like within Asia?
The watch market is doing very, very well — really, very good. There is a growing interest in watches as we've seen. For example, in France when we had the first two lockdowns. The first lockdown — businesses closed down, yes. But after the lockdown, business was crazy for a few months before it went back to normal. Then, we had a second lockdown, and the retailers managed to sell watches anyway. By the time the lockdowns ended, the sales went very well, and it remained very well even until now. It never went back to the previously 'bad' situation.
At the moment there is a lot of growing interest in watches across Asia, and I think there are a few reasons for this. As you know, the Chinese market is an important market. And Chinese customers were buying watches everywhere around the world — from Paris, London, Switzerland and so on. And it became so big that many watch brands didn't focus much on the domestic market, but paid more attention to the Chinese market.
Another aspect that's helping the watch market at the moment is all those stories you hear about how you can make money by buying watches. There are some models that are usually so hard to get because there are limited pieces being sold, and so you buy them for €10,000 and resell them for €15,000 or €20,000. So, it is attracting a different group of customers to the brand — not so much watch lovers, but the interest is still there.
What are your thoughts on collaborative watch collections? Are there any future plans for Bell & Ross to collaborate with other brands?
Yes, definitely. We've already collaborated once with BAPE. But if we want to launch a future collaboration, we would like one that makes sense with the brand. For example, our collaboration with BAPE was good because we specialise in military aviation watches, and so we have camouflage designs, which is also something that BAPE focuses on — the 'camo' look. So, that was a perfect match for us. We are looking for partnerships in the future, but we need it to make sense for it to work and be more efficient for both ourselves and the brand that we will be partnering with.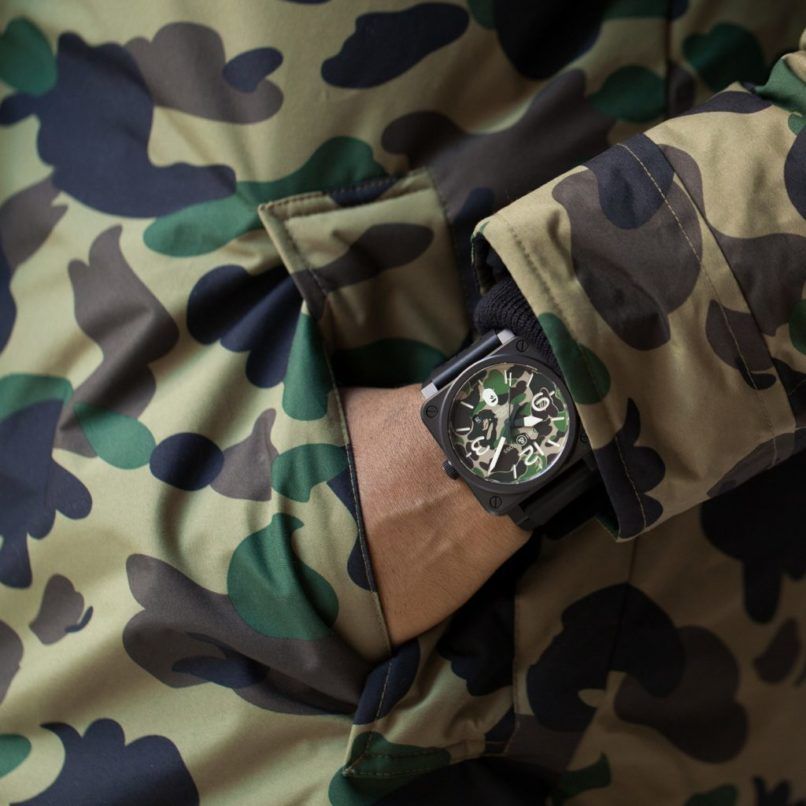 Is it safe to say that collaborations, like what you did with BAPE, actually brought the brand to a new or different audience?
Definitely, 100%. The collaboration with BAPE enabled us to reach customers that were not previously interested in our products, or perhaps didn't know us. And then suddenly, we were on the radar of those people. Honestly, it was one of our craziest launches yet. We had people queuing in our Malaysian stores, and for the 12 watches that were available here, we had a waiting list of about 300 people. That was totally crazy at the time. But as I've said, it's not easy to just embark on this, and it has to make sense. It has to be some kind of logical collaboration. And sometimes it can be imbalanced — one might benefit more than the other. We want to do something that can benefit both of us equally.
Finally, how do you see Bell & Ross' growth within the next 10 years?
Ah, that's an easy question because Bell & Ross, since day one, has always been an aviation-inspired brand, mainly military aviation. So, I can confidently tell you that even in 20 years' time, Bell & Ross will continue to be inspired by aviation. In 10 years, we will still have the square design for sure — it is our iconic line, and it will last forever. So, there won't be change in that department. Probably, what we'll try to do is that we will continue to build on the BR03 and the BR05 designs. 
The BR03-92 Radiocompass is available on the Bell & Ross website, and in stores across Malaysia. Th  watch is only limited to 999 pieces worldwide.