Pocket watches are somewhat of a novelty these days since luxury wristwatches slowly taken over the market. However, it's seen more as a trendy accessory than anything else. While a wristwatch is the ideal arm candy to have, there's just something about a pocket watch that speaks volumes.
Pocket watches allow you to stand out from a crowd more than what a wristwatch can do. It gets you noticed and creates a lasting impression while also being a perfect topic of conversation.
What's great is that the last few years has seen a resurgence. While some may take on a design aspect from the yesteryears, many other watchmakers are looking towards the future by including modern technologies and design elements. Tourbillon escapements, moon phases, and many other complications are slowly being added into pocket watches to give it a new and improved identity from its forefathers.
Investing in both a luxury pocket watch and a timepiece would be ideal as you will have one for each occasion. If you're looking to spruce up a dull black-tie event or attending a gala, you'll know which will play the part better. Be sure to scroll down below to check out the top picks of luxury pocket watches.
1
George Daniels Space Traveller I
If there is one brand that is known for making pocket watches, it has to be the 20th century pioneering British watchmaker, George Daniels. The brand is known for inventing the co-axial escapement back in 1974, which was then considered to be a horology marvel in the last 250 years. The George Daniels Space Travellers I was recently sold at a Sotheby's auction for a whopping US$4.6 million, making it the most expensive English watch ever sold. The Space Traveller I was specifically made for a client back in 1982, which commemorates the moon landing 13 years prior to that. The watch itself comes with multiple complications that include both solar and sidereal time, a moon phase, and even the signature escapement George Daniels is known for.
2
Breguet No. 5 Perpetuelle
The French watch, clock, and jewellery maker is known for putting out some highly complicated and exclusive timepieces, one of which is the Breguet No. 5 Prepetuelle pocket watch. With a list price of US$1.8 million, it is held in high regard even when not being on the auction block. What makes it a special piece is because it is a direct replica of a pocket watch done by Breguet back in 1794. At the heart lies Abraham-Louis Breguet's own design for an automatic winding mechanism, thus the name 'perpetual'. The Breguet No. 5 Prepetuelle comes in a 54mm yellow gold case with platinum oscillating weight, topped up with a hand-painted dial in silvered gold. The traditional Breguet style is also evident in the pocket watch as both the case and dial are guilloché-engraved.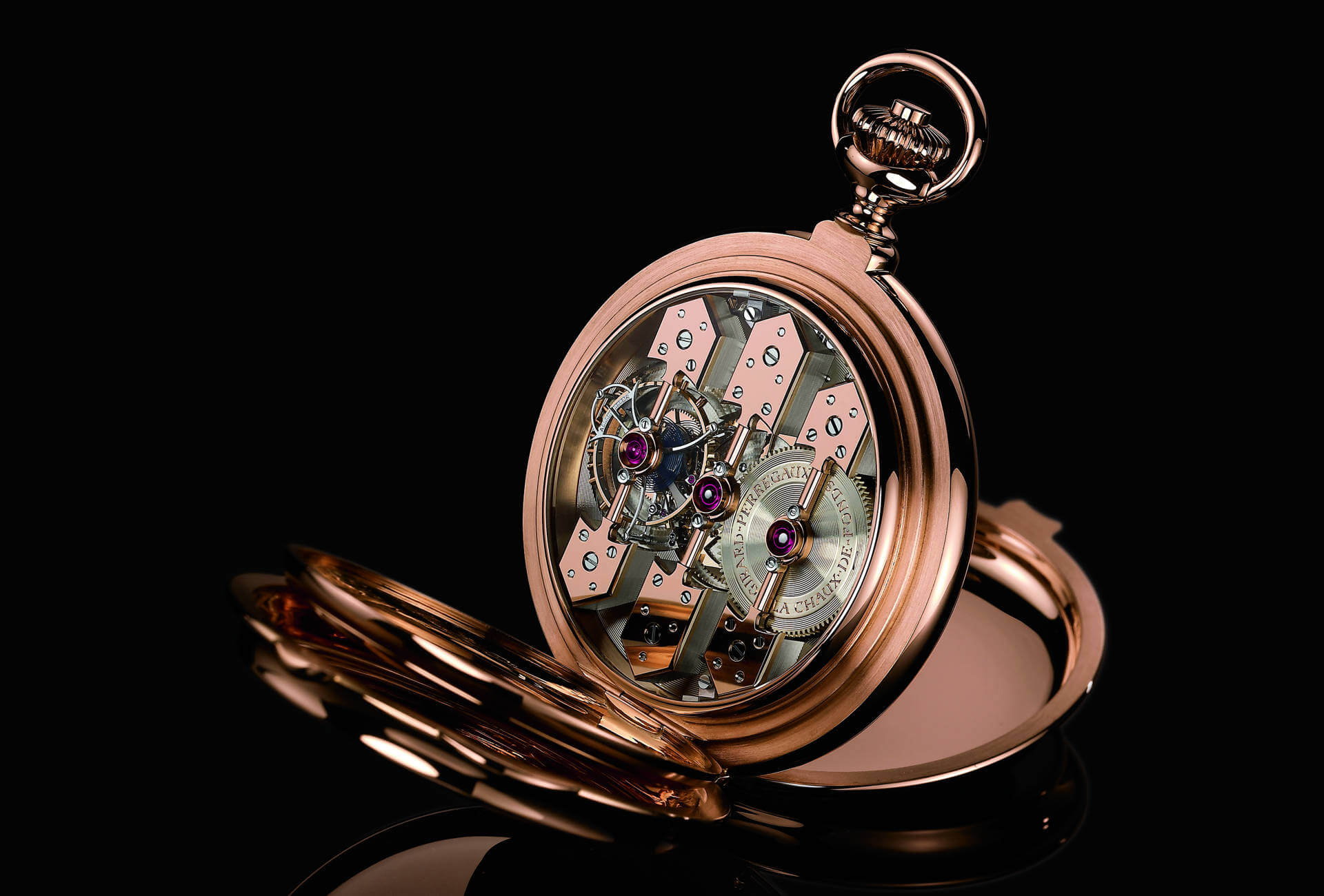 3
Girard-Perregaux Tourbillon with Three Gold Bridges
A Swiss luxury watchmaker dating back to 1791, Girard-Perregaux is known for its simplistic, yet highly complicated watches with an artistic touch. This is evident in the reissue of the Girard-Perregaux Tourbillon with Three Gold Bridges pocket watch. This is the same exact model that won the gold at the 1899 Paris Universal Exhibition. This pocket watch is essentially a throwback for Girard-Perregaux in terms of Swiss haute horlogerie with modern day finishings like a pink gold hunter case, an enamel dial, and blued steel hands.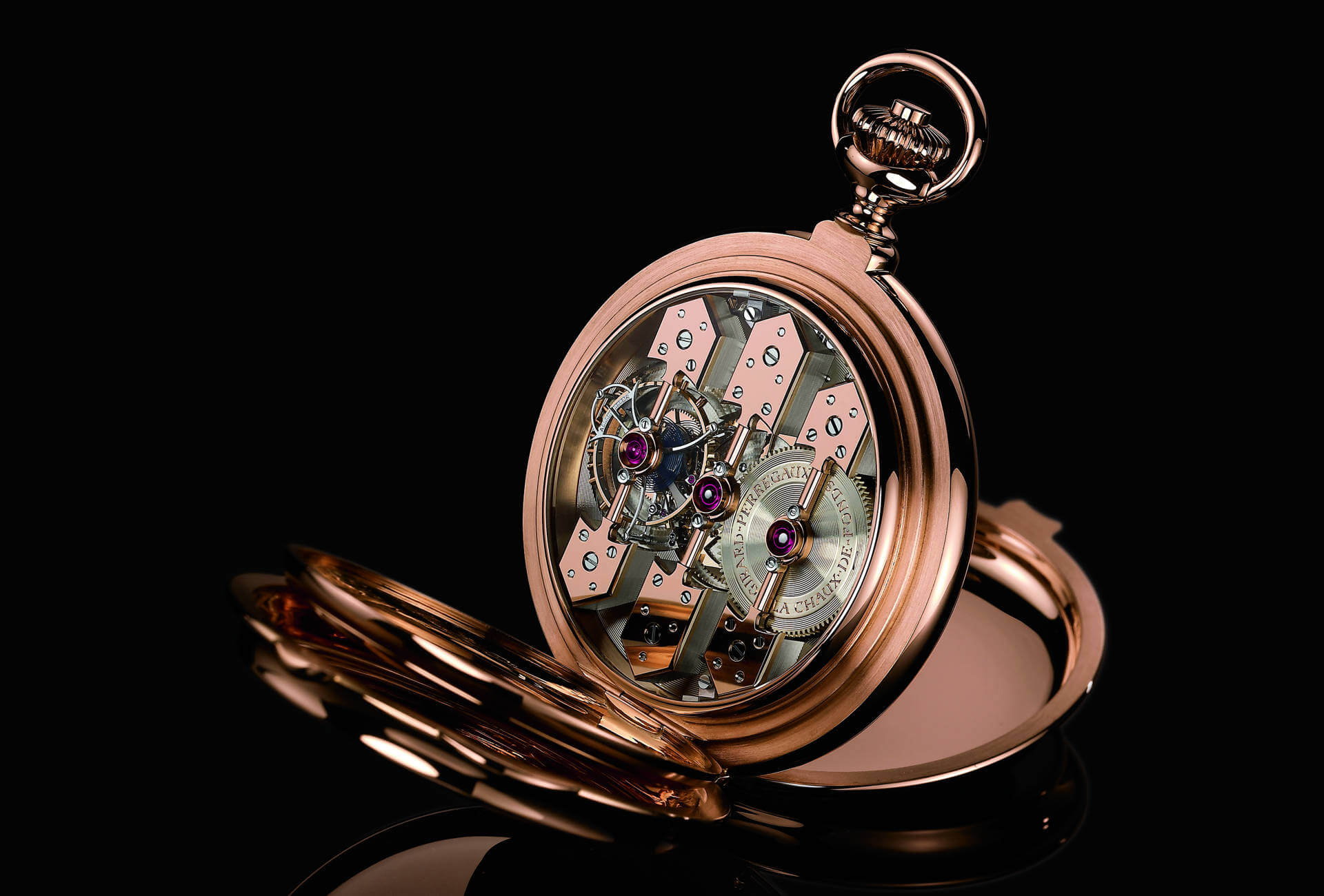 4
Bovet 1822 Virtuoso VII
Bovet 1822 as a brand is known for its grande complications, which is pretty deserving considering it bagged the top prize at last year's Grand Prix d'Horlogerie de Genève. Aside from that, Bovet 1822 is known for creating majestic timepieces for both your wrist and your pocket, as is the case with the Virtuoso VII. It comes with a retrograde perpetual calendar complication, which is capable of providing the exact date, day, month, and leap year cycle with precision and accuracy that require no adjustments for 400 years.
5
Patek Philippe Henry Graves Supercomplication
Auctioned off at US$11 million, the Patek Philippe Henry Graves Supercomplication is one such pocket watch that took a total of four years to complete. Given its exorbitant price tag, there is a certain history behind this pocket watch as it was initially custom-made for a banker named Henry Graves Jr. back in the 20th century. A unique complication of the pocket watch would be its celestial chart that is based on the night sky as seen from Graves' home in New York City. It is also the only pocket watch to ever break its own record when it was auctioned off yet again for a whopping US$24 million.