Impossibly blue waters. Clean, sandy beaches. The iconic stark white buildings made out of volcanic material. All these are the makings of gorgeous Greek islands that you should definitely try to visit this year. If Santorini is already on your list, you might either want to scrap that out or add one of these islands to your itinerary, because there are more to Greek islands than just Santorini.
You're probably overly familiar with the sights of Santorini constantly flooding your social media feed. The picturesque town is beautiful, and everyone wants to experience it. That's why you need to walk the path less travelled and try other equally-beautiful Greek islands.
There is also a no better time to be a tourist in Greece than now. The country is, unfortunately, currently in an economic crisis. This means that the currency is low, and tourists' spending power will be higher. All the more reason for you to splash out on this exotic European trip.
Even without the crisis, Greece is still a wonderful place to spend your holidays in. In the Greek islands, the Mediterranean weather is pleasant with long, hot and dry summers and mild winters. If you worry about it getting too hot at this time of the year, don't — the islands are usually visited by the cooling "Meltemi" winds, which are sea breezes that blow from the north and northwest.
But first, you need some destination ideas within Greece. These Greek islands will keep you company with their lush beauty and Insta-worthy views. Don't believe us? See for yourself:
1
Milos
You've heard of the Venus de Milo statue that is now in the Louvre — but did you know that it was discovered in the Greek island of Milos? Just like the statue, this volcanic island is a stunning one with over 70 beaches that line its dramatic coastline. Before, Milos' claim to fame was that it was a mining town—for obsidian, alum, barite, and sulphur—dating back to 11,000 years. Now it's slowly giving way to tourism thanks to its natural wealth of beauty. Many have gone to the swimming hole at Papafragas, marvelled at the undulating cliffs of Sarakiniko, and taken photos of themselves at Mandrakia and Klima. Now you have to head there before it becomes the next Santorini.
2
Amorgos
Fancy yourself a loner or a hermit? Either way, you can live out your dreams of seclusion right here in Amorgos. For starters, it's quite a chore to get here. You need to take an eight-hour boat ride from Athens, especially when the high winds strike. But here, you get to enjoy the wealth of unspoiled nature that Greece has to offer. The waters are so blue and clear, visible from all angles even when you're on the hiking trails (funnily, named Blue Paths). But don't worry, the island is not completely secluded. There are watering holes where you can get cocktails, enjoy some jazz, and interact with both the locals and smattering of tourists that do head there.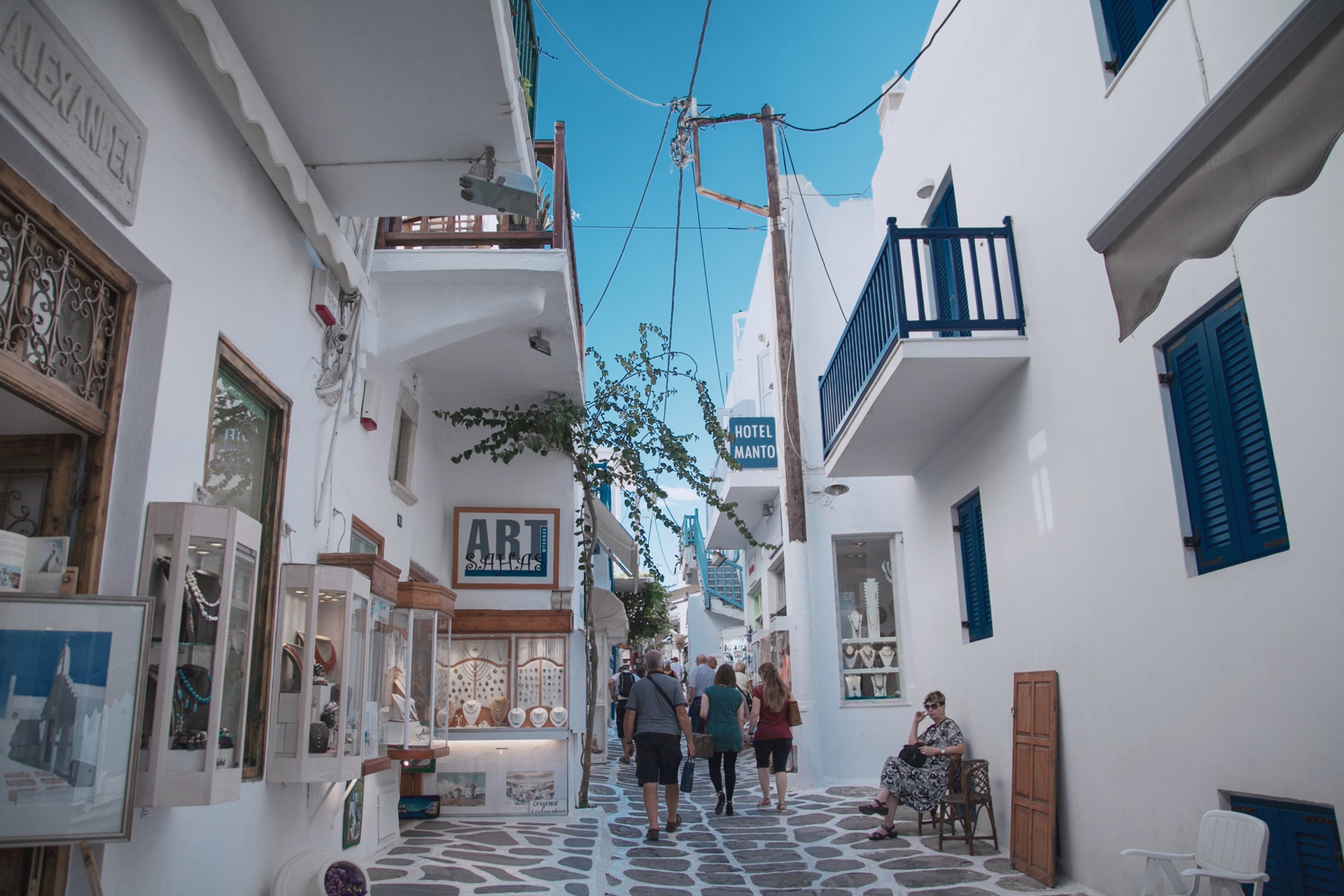 3
Mykonos
On the other end of the spectrum, Mykonos is probably one of the best destinations for those who love to party. After all, even Lindsay Lohan decided to be her own boss girl and set up a nightclub in this island. It's glitzy and ditsy, the perfect place for all the rich and famous to let their hair down and party the night away. For the best clubs to see and be seen at, it has to be Scorpios and Astra.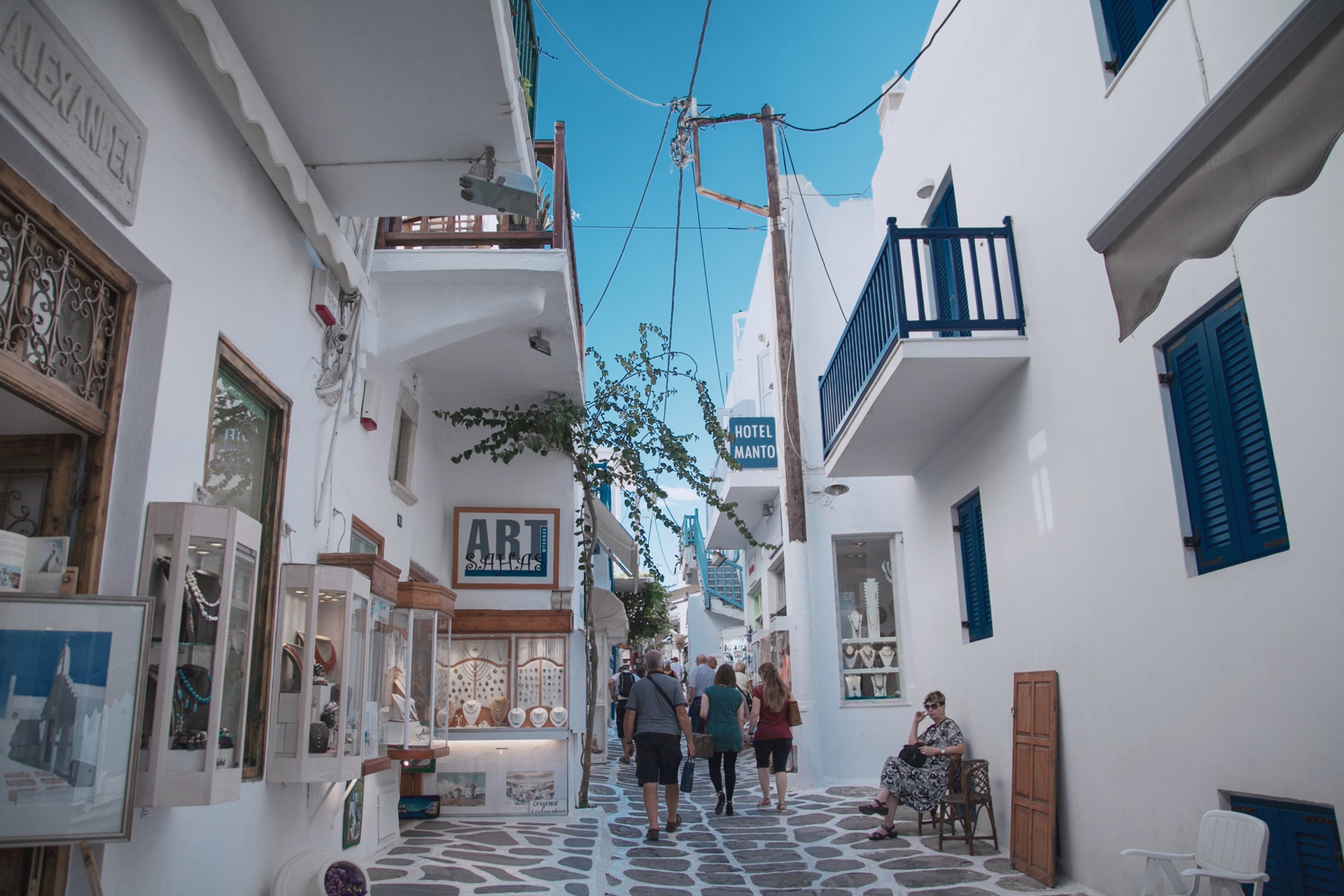 4
Paxos
In the small island of Paxos, you'd be hard-pressed to find many five-star luxury hotels. However, it is precisely thanks to that the island remains largely unspoiled, and you have direct access to the lush Mediterranean sea. When night falls, a blanket of stars becomes your direct view — something that the city won't be able to offer. Visit the port area of Gaios and hunt for buildings with gorgeous Venetian architecture, or even visit vineyards and orchards for even more access to nature.
5
Lefkada
Lefkada is perhaps one of the easier islands to get to in Greece. For starters, you don't necessarily need to get there by boat, as it's accessible from the mainland. The highlight of this island is the stunning cliff-backed beaches such as Porto Katsiki and Egremni. The Vassiliki and Sivota beaches are perfect for windsurfing and swim through sea caves in Kalamos. If you're tired of the beach, you can also head up to the mountainous area of the island and visit villages such as Karya, Eglouvi, and Exanthia for a slice of countryside life.
6
Hydra
Hail Hydra? Maybe not the kind you were thinking of. The island of Hydra in Greece is perfect for art enthusiasts as every summer, big names in the art world head over to the island's old slaughterhouse for site-specific art installations. Even Greece's most prominent art collector, Dakis Joannou, finds his home in Hydra. Unfortunately, the beach scene in Hydra is not the greatest, but it's a perfect rocky island to relax and soak in the artsy vibes nonetheless. Even celebrities have been known to visit on the down low just to unwind.