Make Kuantan your next local holiday destination, because it comes with a large selection of hotels and resorts to choose from.
The term "cuti-cuti Malaysia" has really hit home given the current global pandemic that is COVID-19, when all overseas travel plans have been put on hold for the rest of 2020 and possibly longer. This has since kick-started the trend of holidaying around your own home country.
Thankfully, we live in a tropical country that is surrounded by stunning seascape and mountainside with a mix of urban and rural backdrops. While our Covid-19 cases have been on the rise lately, it's always good to plan and prep as much as you can before you embark on your next holiday. In Kuantan's case, the popular holiday destination for locals has seen a spike in tourism ever since the Recovery Movement Control Order (RMCO) was announced and it's not showing signs of abating.
Kuantan is a beautiful destination with serene beaches and pristine waters of the East Coast. What's great about this seaside city is that it's only a short drive away from Kuala Lumpur. Its popular beaches would be Teluk Cempedak and the nearby Cherating, which is already home to a few hotels and resorts on this list.
Planning your next trip to Kuantan? Then you have to check out the resorts and hotels below!
Located at the very edge of Teluk Cempedak is the Hyatt Regency Kuantan Resort, a five-star beachfront resort that boasts over 300 refurbished rooms, which includes 12 luxury suites and 19 family-oriented rooms. As for its design, the refurbishment brought about a new look that accentuates traditional Malaysian craft elements with a modern and aesthetic design. The hotel also has plenty of choices when it comes to food including Kampung, it's all-day dining restaurant; Italian Bistro for an authentic experience of antipasti, pasta, and pizza; The Deli is its one-stop gourmet delicatessen, and Sampan Bar as the best place to relax and unwind by the beach.
(Image credit: Hyatt Regency Kuantan Resort)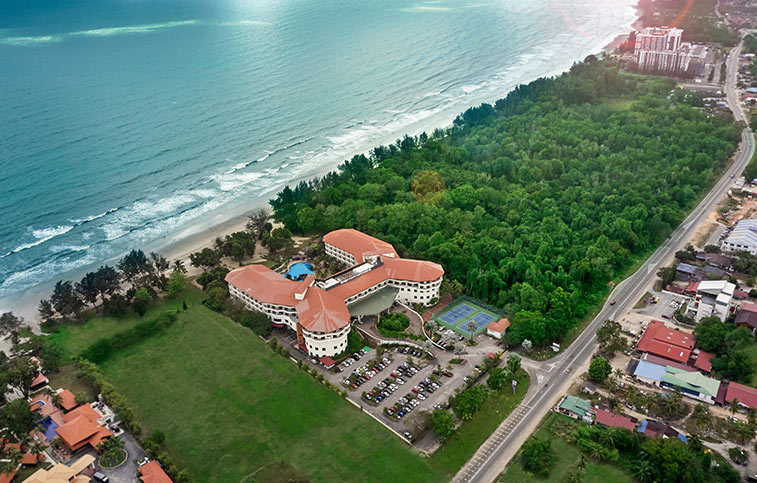 The Swiss-Garden Beach Resort Kuantan is all about providing a fun and wholesome experience for the entire family. However, the hotel is more than just that. it's situated on the pristine Balok beach that overlooks into the South China Sea. Speaking of the hotel, it houses 300 rooms and suites across six different categories. This ranges from the basic deluxe room to your one-bedroom executive suites. You can also tuck into some great food at either the Garden Terrace Coffee House, the Blossom Chinese Restaurant, or the Swiss-Deli.
(Image credit: Swiss-Garden Beach Resort Kuantan)
Marriot makes its presence known in Kuantan with AC Hotel, a modern-day escape from the city's hustle and bustle. Bringing both quality and comfort into mind, the hotel captures the authenticity and culture of the city into its decor and ambience. Its guestrooms include both the deluxe king and twin rooms as well as the club executive deluxe and club suites. While it may remind one of a business hotel stopover, AC Hotel by Marriot Kuantan offers more than just that.
(Image credit: AC Hotel by Marriott Kuantan)
Situated just on the outskirts of the city is Mangala Resort & Spa, a five-star oasis where you reintegrate yourself with nature. The resort is set amidst the tranquil atmosphere of vast lake and wetlands with its design aimed at enhancing the well-being of its guests. Each villa is "nature-inspired" and it has six different options to choose from. The Sara Villa is located on the Mangala Wetlands while the Jala Villa is situated next to the Mangala Lake to make you feel one with nature. Pool villas are also available via the Vana and Amani Villas. The Lakeside Restaurant is where one hits for breakfast, lunch, and dinner with signature local and international cuisines to choose from.
(Image credit: Mangala Resort & Spa)
The Kasturi is all about connecting you with nature and the ocean. Named after famed local designer Hijjas Kasturi, the resort brings lush and private villas into the foray for both couples and families. Its beachfront villas are the most popular attraction with its own private pool while bigger parties can opt for the two- and three-bedroom options that vary across the beachfront and forest villas. The Kenyang Restaurant is where you go for all your meals while the resort also has its own resident dogs that you can spot all around the resort. Be sure to also pay a visit to the Rimbun Dahan turtle sanctuary.
(Image credit: The Kasturi)
While both The Kasturi and Royal Chulan Cherating Villas aren't exactly in Kuantan, it is still within its vicinity and therefore is deserving of the list. The latter offers hillside views of the sunset across the South China Sea with its very own private beach to boot. There are one- and two-bedroom villas, all of which are in its own location around the hillside. There are also premier and beach club ocean suites if you're looking for something cosier.
(Image credit: Royal Chulan Cherating Villas)