Sure, our country may be home to some of the best beaches and diving spots in the world, but we don't lose out much when it comes to greenery as well. You might have already checked in to some of these luxury resorts by the rainforest, so why not take it one step further and check out these national parks in Malaysia? Did you know that there are over 30 national parks in our expansive rainforests that span the Peninsular as well as East Malaysia? That's a lot of national parks to visit, but we'll be narrowing it down to some of the best and most beautiful national parks you absolutely must head to.
Visiting these national parks in Malaysia is essential in allowing you to experience the raw nature of our flora and fauna. Being up close and personal truly allows you to appreciate the abundance of greenery our country has to offer, including the weird and wonderful species of animals native to our land. Besides, how many city dwellers can actually say that they've seen the Rafflesia flower in the flesh (and smell its pungency) or walked through the canopies of trees in Taman Negara? Not more than a handful, in fact.
While the national parks already have clearly laid out trekking trails for visitors, it would be wise to engage guides if you're planning to explore more. Some of these national parks offer more than just a hike through the forest — you can visit Orang Asli (the indigenous tribes) villages, go bird-watching, canoe through the rivers, or take river cruises to see more flora and fauna in a leisurely manner.
Ready to take on the rainforests of Malaysia and all it has to offer? See below for our recommendations on which national parks in Malaysia you should visit.
1
Bako National Park, Sarawak
It may not be the easiest to get to Bako National Park, but the journey is most certainly worth it. To get there, one needs to get on a 30-minute speedboat ride from Bako Village. Before that, it's a half hour drive from Kuching to the Bako Village jetty. Make sure you're prepared with sunscreen and insect repellant because from there on, it's straight into nature. There are many hiking trails in Bako National Park, but be sure to take your time and look up every once in a while. You might just find yourself encountering several species of monkeys, including the interesting long-nosed monkey. Geographically, Bako National Park is small. However, its size belies the amount of flora and fauna it houses, including the amazing rock formations and sea arches that seemingly rise up from the seawaters.
2
Endau-Rompin National Park, Johor
The second-largest national park in Peninsular Malaysia after Taman Negara, Endau-Rompin National Park is home to one of the most untouched lowland forests in the country. Because of that, you should definitely hire a guide to bring you trekking around the national park, lest you get lost. These guides are from the indigenous Jakun tribe and they're immensely familiar with the area. Be sure to hike up to the 50-metre tall Mahkota waterfalls, where you can also find Gadang Cave.
3
Mount Kinabalu National Park, Sabah
At the base of the famous Akinabalu — the local indigenous name for Mount Kinabalu — sits a very gorgeous national park. Mount Kinabalu National Park also happens to be Malaysia's first UNESCO World Heritage Site, thanks to the 5,000 species of plants and more than 400 species of birds and mammals there. Of course, at its peak sits Mount Kinabalu, which you are welcome to scale in the course of over three days. But if you prefer staying low, be sure to explore and look out for the Rafflesia flower — the biggest and smelliest in the world — and learn more about the Dusun tribe at the local villages.
4
Gunung Mulu National Park, Sarawak
If caves are your interest, then Gunung Mulu National Park is the place for you to visit. There's a big range of caves to explore, including the Sarawak Chamber, the largest known chamber in the world. Other than the caves, this national park is also known for its interesting rock formations that are out of this world. Sharp, jagged rocks jut out of the forests in a way that is both creepy yet cool. Take the Long Imam Ba'Desai Waterfall tour that goes from Melinau River to Long Imam and you'll be rewarded with the sights along the way. You can also live like the Penan community at a homestay programme and learn the way of their lives.
5
Niah National Park, Sarawak
Not for the faint of heart, Niah National Park is not only known as the site where a 40,000-year-old human's remains were found but also has ancient wall paintings that depict the boat journey of the dead into the afterlife, along with remnants of "death-ships" on the cave floor: boat-shaped coffins. You won't be seeing the coffins around anymore, as they have since been sent to the Sarawak Museum. Creepiness aside, the Niah Cave has been a human settlement over 40,000 years ago and has Palaeolithic and Neolithic burial sites. Stay until sunset and you'll see the swiftlets returning to their nests in the caves. At the same time, the bats all leave the cave to hunt for the night — it is a sight to behold. If you're daring enough to stay till it's dark, you'll be rewarded with the sight of luminous fungi.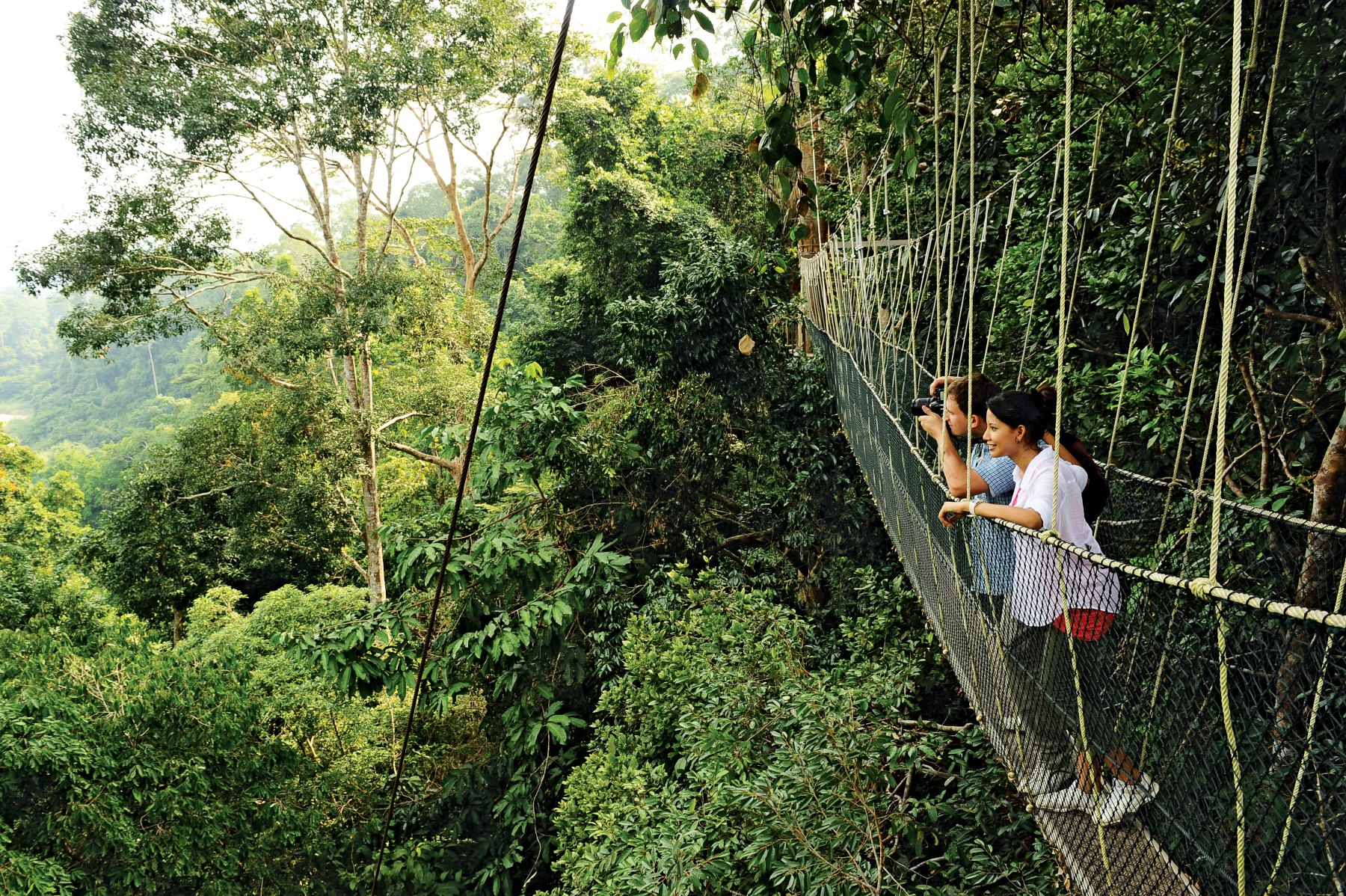 6
Taman Negara, Pahang
No trip to a national park in Malaysia is complete without visiting Taman Negara, or the National Park. It is not only the oldest conceived national park in Malaysia — established in 1939 — but also the largest. Just to give you an idea of how large it is, the park spreads out across three states: Pahang, Kelantan, and Terengganu. There are plenty of activities here, from climbing to fishing, trekking, and learning about the indigenous cultures. Definitely don't miss out on the canopy walkway, where you can literally walk on the canopy level of trees and see the view of the forest floor from above.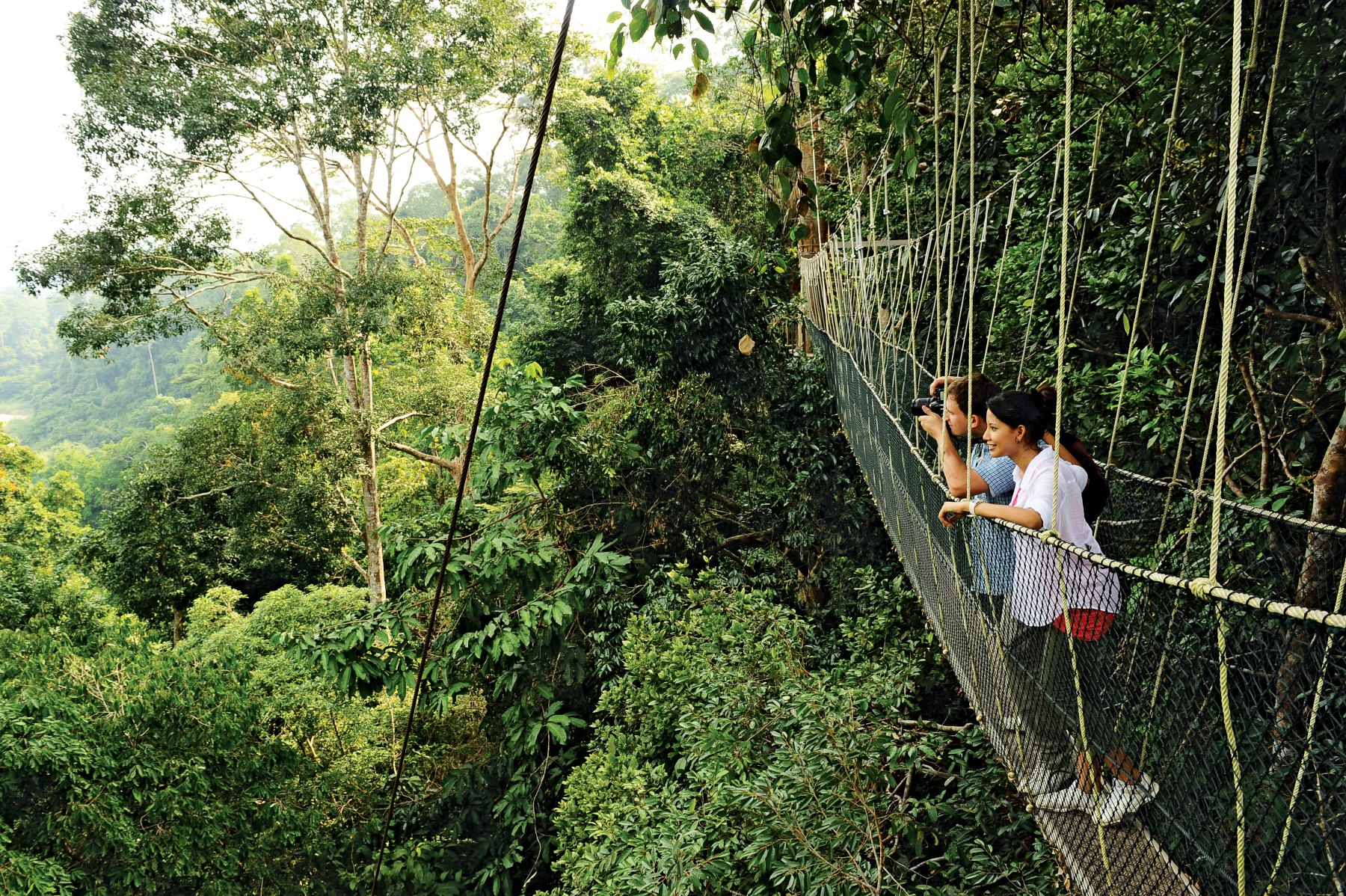 7
Tunku Abdul Rahman Marine Park, Sabah
Did you know that a marine park also counts as a national park? Take your appreciation for nature underwater at the Tunku Abdul Rahman Marine Park, where you can explore not one, not two, but five islands. Pulau Gaya, Manukan, Sapi, Sulug, and Mamutik are all within short boat rides of each other. Getting to the park is also easy, as it's just a day trip from Kota Kinabalu. However, once you go underwater, you'll be able to see why it's important for the country to conserve this marine park. The abundance of corals and sea life are second to none, which you can admire for yourself if you decide to go diving. Otherwise, just enjoy the day out at the beach and do some water sports.
(All images: Tourism Malaysia)