Keep this on your travel list.
Phuket's newest resort sits beautifully on the city's most sought-after west coast welcoming all the travel-hungry souls out there. Guilty for being a travel nomad or not, there's nothing more exciting and soothing right now (especially this year) than to escape to the tranquil arms of the Andaman Sea. Given this, Four Points by Sheraton makes a breakthrough by opening its doors to a new resort, the Four Points by Sheraton Phuket Patong Beach Resort.
An ideal spot to spend your vacation with family and friends or to opt for a business trip, here's what you can expect and everything you need to know.
Location
Let's admit it, we all love the buzzing side of Phuket, but this sanctuary steps away from the bustling entertainment district to show us the tranquil side of North Patong. Among the sandy beach and facing towards the breathtaking vistas of the Andaman Sea, the beachfront resort is just within walking distance from the city's most vibrant entertainment. That's right, it's between Phuket Old Town and the local airport, so you can easily venture out to all the attractions and sightseeing spots on your bucket list.
Design
The brand reflects the work-life-balance essence for modern-day travellers via its contemporary, sleek design and state-of-the-art amenities.
For art lovers, experience a world of authentic Peranakan art and design. While it's definitely a lush haven for nature-lovers, it almost feels like a living gallery where you've entered a globetrotter's home filled with an inspiring collection of artworks. Walk through and witness almost 70 original artworks by Artslonga, an acclaimed designer who specialises in eye-catching artworks, murals, sculptures, and other forms of art that reflect Phuket's Peranakan heritage. As you stroll by, you will see unique Sino-Portuguese wall paintings all around the resort. Stop by and take a snap for your 'gram.
Rooms and Suites
Get cosy in the sleek and comfortable pool access rooms and suites. The Four Points by Sheraton Phuket Patong Beach Resort accommodates 600 rooms including rooms with pool access, bedroom suites, and even family suites with an ocean view.
Breakfast to Dinner
You don't have to step out of the resort to satisfy your cravings because the hotel features five dining venues for you to enjoy.
If you're in the mood to groove to the beat while sipping cocktails with small bites, we suggest you head to The Deck Beach Club Patong. But if you rather sip beer, then you've got Phuket's Best Brews on tap, as part of Four Points' signature local craft beer program. You can also sizzle by the Pool Bar and soak up the heat with some frozen cocktails at their 7-seat swim-up bar.
Beyond the pool, if you need a break after a long swim, then The Lobby Bar is a chic spot to indulge in a cup of coffee or head for a quick pick-me-up. From breakfast to dinner, Chao Leh Kitchen and Sears & Co. are the go-to dining destinations in the resort. If you're up for a seafood grill with a more Thai flavour, then kick back at Sears & Co. If you want to eat like a local and savour some Phuket flavour alongside western favourites, then Chao Leh Kitchen is your vibe.
Facilities
The resort accommodates everything you need to unwind and relax here. Unravel at their cosy cabanas, take a dip at their three different swimming pools including a saltwater lagoon pool, sweat it out at their 24-hour fitness centre, and keep your little ones entertained at the Little Sea Gypsies Kid's Club. To stretch more and stress less, start your day with a morning yoga session with a professional instructor.
One of the highlights here is the flexible function space that sits on 1,200 square meters, including two ballrooms and over 1,000 square meters of outdoor event space. Whilst The Kara Grand Ballroom is a foyer and a pre-function area that caters up to 500 people for all sorts of gala dinners, the Kathu Junior Ballroom is perfect for smaller events. From catering to all types of corporate and social gatherings to hosting dream weddings, bookmark this elegant resort as your destination for all the large-scale conventions you might be planning.
Safety measures
To give you extra peace of mind, the resort has received the Tourism Authority of Thailand's Amazing Thailand Safety and Health Administration (SHA) certification, so fret not. What's more, sanitisation kits are also available in the rooms and suites.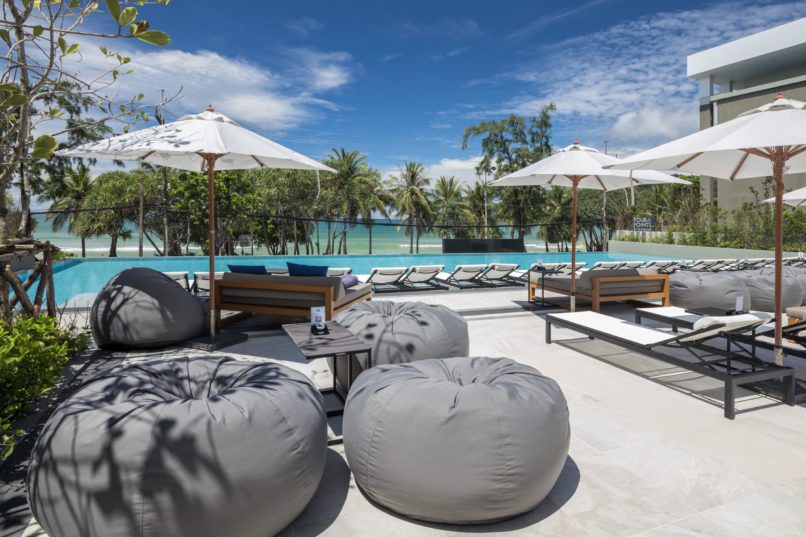 Rao Tiew Duay Gun program
Domestic travel has never been so popular, and this year we've probably hit more local spots than ever. We are fortunate enough to be able to travel during this pandemic, so it's best to make the most out of it, right? Given that the resort is partnered with the Travel With Me (Rao Tiew Duay Gun) program, you simply can't miss out on it.
For more information visit Four Points by Sheraton Phuket Patong Beach Resort. 
(All images courtesy of Four Points by Sheraton)
This article first appeared on Lifestyle Asia Bangkok.