When glamping took over the world by storm, you could only get it outside of the city. Now, Castra by Colony offers you the experience right in the heart of KL.
You might be familiar with Colony Coworking Space, one of the more upscale coworking spaces in town. With several outlets in the Klang Valley, its branch in Star Boulevard KLCC is the newest one. This particular branch also brings something a little extra in its rooftop area – Castra by Colony, the city's first glamping and bohemian events space.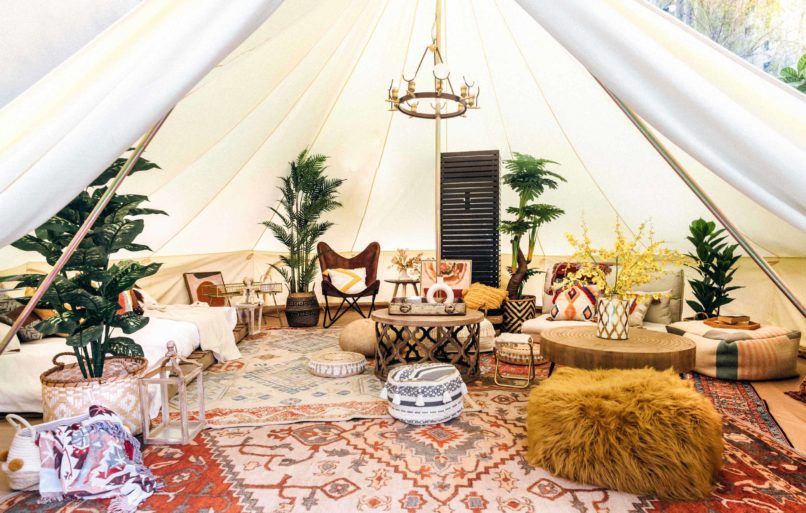 "We are always on a mission to find new definitive ways to elevate experiences," says Colony co-founder Timothy Tiah. "We have started from inspiring workspaces to uplifting events, now we want to redefine how businesses and groups organise their retreats. Hence, introducing the glamping concept that can provide a bridge to the outdoors that gives you the assurance of modern facilities and promised comfort is what we envision Castra to be."
The luxury campsite has a 4,000 sqft private garden lounge, a barbecue deck, and two large tents that can sleep up to five people each while being equipped with your standard hotel amenities such as premium beds and linens, en-suite bathrooms, and outdoor patio seating. What makes this space stand out is its fashionable bohemian Mediterranean style. Think tribal, earthy, and rustic motifs that are equal parts Instagrammable and yet also sets the mood for a touch of escapism. You'd never guess you were still in the city unless you looked out to the city skyline.
So, how can one utilise the space? The overall area can accommodate 100 people, which means you have a variety of events to weekend getaways, an outdoor movie night, or intimate parties. Whatever the event, we're certain it's going to be one of the more unique ones you can get in KL.
(All images: Castra by Colony)