Roses may be ubiquitous but its role in the fragrance world is a surprisingly acquired one.
Most pure rose perfumes are too sweet and somewhat powdery, hardly something you'd reach out for.
But the new Aesop Rozu fragrance is challenging what you know. Rozu is the fourth fragrance by the iconic Australian skincare brand, following cult genderless favourites Marrakech Intense, Tacit, and Hwyl.
For this fragrance, Aesop has tapped the olfactory expertise of French perfumer Barnabé Fillion, who was also responsible for recreating Marrakech Intense and the creation of Hwyl. Fillion also crafted some other iconic fragrances, including Le Labo's Geranium 30 and Les Foins' La Remue.

Every fragrance created must have an inspiration behind it and for Rozu, it was modernist designer Charlotte Perriand. The fragrance pays homage to Perriand in her entirety: her life, work, enthusiasms, and of course, the Japanese rose created in her honour — the Wabara garden rose. Perriand, who passed in 1999, was recently spotlighted again at an exhibition at the Fondation Vuitton where her contributions to the art of modern living were showcased. This includes the iconic Chaise longue basculante B 306.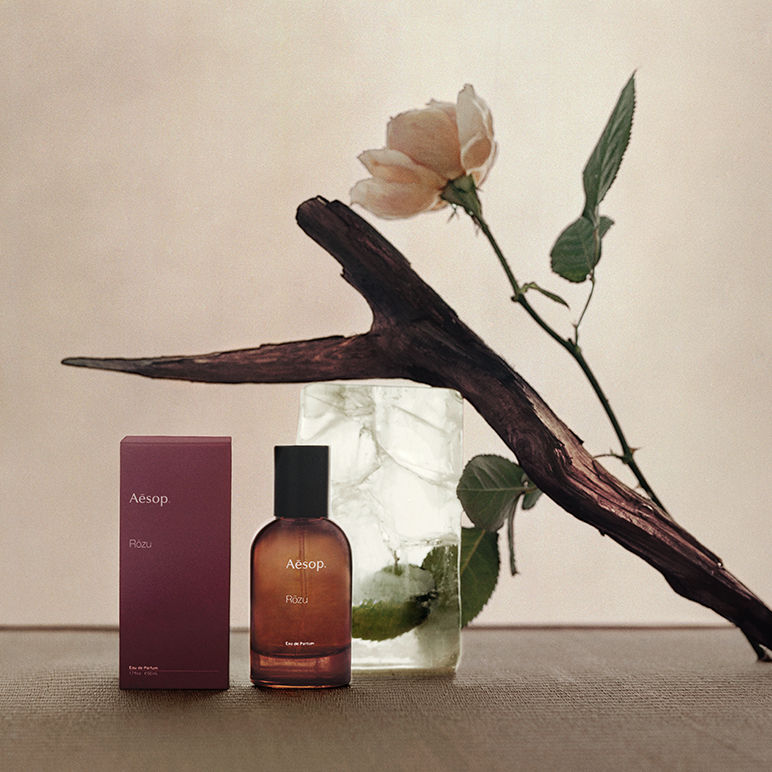 The fragrance opens with rich floral notes of Rose, Petitgrain, Bergamot, and vibrant Shiso notes — a reference of sorts to Perriand's love of Japan and the high mountains she so enjoyed exploring. At the heart of the fragrance are floral notes of Ylang Ylang, and Jasmine with muted spices and light smoke of Guaiacwood, accompanying earthy green accords of Vetiver extract with a base of Patchouli, Myrrh, and deep powdery notes of Musk. To create this scent that represents Perriand in every way, Fillion and Aesop worked closely with Perriand's family. Much of their time was spent in the designer's apartment in Paris, as well as retracing her footsteps in Japan and photographing the campaign's visuals at her Meribel chalet. In fact, Aesop even engaged Jacques Barsac to be the photographer, who happens to be Perriand's son-in-law.
"Rozu Eau de Parfum is a unique interpretation and reflection of Rose, articulating its lifecycle from greenhouse soil to sumptuous blooms to delicate fading petals," says Fillion. "It is designed to evoke both a sense of place and Charlotte Perriand's life's work and legacy—linking, for example, to the Wabara garden rose that was created in her name, the workshops of carpenters with whom Perriand collaborated and the bracing alpine environments she loved to explore."
"The prevailing character—florals with elements of green citrus, all tempered by earthy, woody Vetiver—calls upon the traditional men's colognes she was known to favour. In its Japanese touch, it's like a ghost; the trace left after a light incense has been burned."
The Aesop Rozu is priced at $235.
(All images: Aesop)