So you've procured an amazing arsenal of holy grail skincare products, each promising to combat every skin issue you're faced with at the moment. 
The next hurdle then, is figuring out how to incorporate every single one into your routine. Now that a 10-step skincare regimen isn't trendy anymore (thank you, skinimalism), there's never been a greater call for ensuring that your acids work harder for you, and that your serums don't end up clashing with your oils. 
To solve the age-old conundrum of skincare layering, we've enlisted the help of skincare expert Pauline Ng, founder of beauty brand and face spa Porcelain. Building a name that's now a cult favourite amongst skincare enthusiasts around the world couldn't have been easy, but it was ultimately the entrepreneur's philosophy in correcting, and not concealing that's made her products and treatments so effective and well-loved.
This guide will be all the more timely then, especially since Porcelain's recent rebranding not only encompasses new logo and packaging, but also a wider range of customisable solutions for every skin type and issue. Ahead, Pauline shares her tips for skincare layering, and how to effectively incorporate everything in your arsenal for better, brighter skin.
Why should we layer our skincare?
Everyone's skin is so different that not one product has all the required ingredients to suit yours, which is why a customised skincare routine with a smart choice of products is important. It's effectiveness, however, depends on applying them at the right time and applying them in the right order.
"Proper layering of skincare will allow for better penetration and absorption into skin, giving a more noticeable result in the long run," says Pauline.
What are your golden rules around the order in which we layer our skincare in?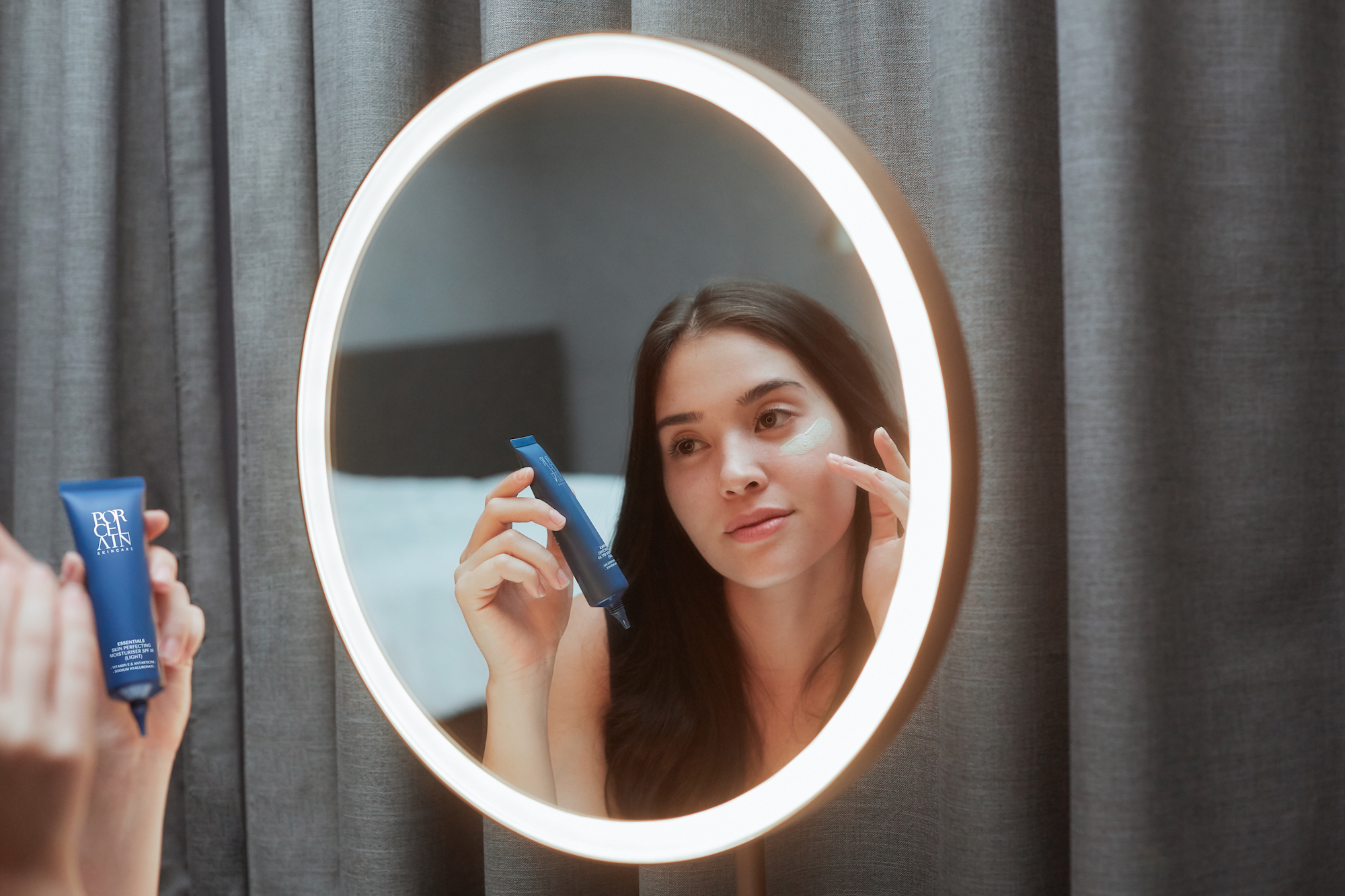 "After cleansing and exfoliation, work your way through the thinnest products first and build up to the thickest," she explains. "Products that are less viscous such as water-based essences or boosters have smaller particles, thus penetrating more easily and deeply into your skin. Nourishing creams and oils should be applied last. Allow some time in between each application to ensure maximum absorption of each product into the skin."
That said, your skincare routine should always end with a good sunscreen in the morning — regardless of its consistency — so that it's the first layer the sun hits. The only things that can be layered over, if necessary, are powder, concealer, or foundation.
What active ingredients are best layered with each other for acne-prone skin? 
So you're facing your worst bout of acne now no thanks to face masks, and you're skeptical about using anything other than an exfoliating face wash and a spot treatment. Quite the contrary, your skin needs a smart concoction to help both its pH levels and sebum balance back on track. For this, Pauline recommends a regimen involving salicylic acid and niacinamide, or Horse Chestnut extract with tea tree oil.
Otherwise known as vitamin B3, niacinamide is generally well-tolerated and helps build proteins in the skin and offers protection against environmental damage, and can be helpful for severe acne, especially inflammatory forms like papules and pustules. Coupled with a BHA like salicylic acid — which penetrates pores to loosen clogs and break down sebum — the duo can effectively curb breakouts while rebuilding the skin.
The combination of Horse chestnut extract and tea tree oil — like in the Porcelain Essentials pH Balancing Essence — helps control sebum while hydrating and keeping the skin free from inflammation. 
What active ingredients are best layered with each other for dry skin? 
Those suffering from dry, flaky skin should layer hyaluronic acid with rose oil, according to Pauline. Usually extracted from the petals of the Damask rose, rose oil is deeply hydrating and improves the skin's natural resilience, alongside its strong antibacterial and antiseptic properties. 
As a humectant that helps reduce the loss of moisture, hyaluronic acid can hold up to 1,000 times its own weight in water, and works by drawing moisture from the air and sealing it into your skin as a barrier against moisture loss. Together, the two ingredients protect the skin's mantle against dryness and irritation.
Are there any ingredients that shouldn't be layered together? 
"In general, we do not recommend layering products with powerful ingredients together," says Pauline. "For example, using a combination of products containing acids such as AHAs and BHAs may result in over-exfoliation, resulting in skin problems such as burns and dryness. Other ingredient combinations to avoid include acids + retinoids, acids + benzoyl peroxide, and acids + vitamin C."
If there's more than one serum in a skincare routine, which should be applied first? 
"Following the same golden rule, apply the serum with a lighter texture first. If both serums have the same consistency, you can start of by applying the one with stronger active ingredients with properties that target your main skin concerns, such as retinoids and vitamin C for skin-plumping and anti-ageing."
How should our day and night skincare layering regimen differ? 
"The layering of your night skincare regime should follow the same order as your daytime regime," Pauline advises. 
While the sequence should be the same, the products used can differ based on your skin's needs. "In the evening, as our skin goes into repair mode, the products used can focus on rejuvenation and repair. Ingredients such as glycolic acid and retinol are best used at night as they increase photosensitivity in the skin," she added.
What are your must-have products for clear skin? 
"I have dry and sensitive skin, so I practice layering different products to address these two key skin concerns. The first step to my skincare routine always begins with double cleansing. I use Porcelain's Pre Cleansing Milk followed by the Hydro Cleanser. 
For toning, I dispense the Botanical Sensitive Care Toner onto cotton pads and leave it on my skin for a few seconds to soothe any redness before layering it with a few spritz of the Deep Hydrating Lotion. This is followed by application of the HA+ Hydrating Serum that's layered with the pH Balancing Essence. Finally, I apply a generous amount of Deep Recovery Gel as a moisturiser to end my skincare regime. 
In the mornings, my skincare routine always ends with the Skin Perfecting Moisturiser SPF 30 — a definite must-have!"
How has your skincare routine changed since the pandemic? 
"With prolonged mask-wearing, my skin has become slightly more sensitive, with increased redness and appearance of bumps. I have added Porcelain's Glycolic Toner into my routine by applying it on my chin twice a week in the evening. Enriched with a unique blend of AHAs and Vitamin C & E, this alcohol-free toner clarifies sluggish complexion and protects it against free radicals that cause signs of ageing. It's also infused with dead sea salt, witch hazel, aloe vera and sodium hyaluronate, which help hydrate and soothe inflammation around my chin. 
To reduce sensitivity, I have started mixing the Botanical Sensitive Care Toner with the Deep Recovery Gel as my daily moisturiser. The combination of both provides an instant relief for sensitive and inflamed skin while strengthening my skin's barrier."
(All images: Porcelain Face Spa
Find out more about Porcelain Face Spa here.