The binary of East and West typically dominates the study of modern art, but National Gallery Singapore's newest exhibition 'Latiff Mohidin: Pago Pago' challenges that by spotlighting the Malaysian painter-poet, whose works synthesise his experiences living around the world. 
The show takes its name from the phrase 'Pago Pago,' which was coined by Mohidin himself to evoke the consciousness that emerged from his travels. Prior to showing in Singapore, the exhibition previously travelled to the Centre Pompidou in Paris and ILHAM Gallery in Kuala Lumpur.
It charts Mohidin's personal and artistic journeys across the globe, from being discovered as an artist at age 12 in Singapore's Kampong Glam; to training and developing 'Pago Pago' works in Berlin; and solidifying a regional aesthetic while travelling in Southeast Asia. It's an in-depth, biographical approach that immerses viewers in Mohidin's spirited life, astute worldview, and vivid visual and written works. 
Here's what to look forward to. 
Latiff Mohidin's hand-drawn map of Kampong Glam
Mohidin's time in Kampong Glam is particularly notable as that was where he was discovered as an artist at age 12 in 1953. He was quickly celebrated as a prodigy, and that very year saw him have a solo painting exhibition that year at the Kota Raja Malay School. The period's leading writers and painters, such as Suri Mohyani, Abdul Ghani Hamid and Liu Kang, also avidly mentored him — paving the way for his interdisciplinary practice in the years to come.
Emblematic of these formative times is his hand-drawn map of Kampong Glam, which is exclusive to the Singapore leg of the exhibition. It charts the creative networks he engaged with while growing up in the area and offers deep insight into the vibrant cultural and literary activities that defined life there.
The map even playfully marks Mohidin's personal landmarks and favourite eateries. It's one of many archival materials from the artist's personal collection that are juxtaposed alongside his paintings.
Early Pago Pago paintings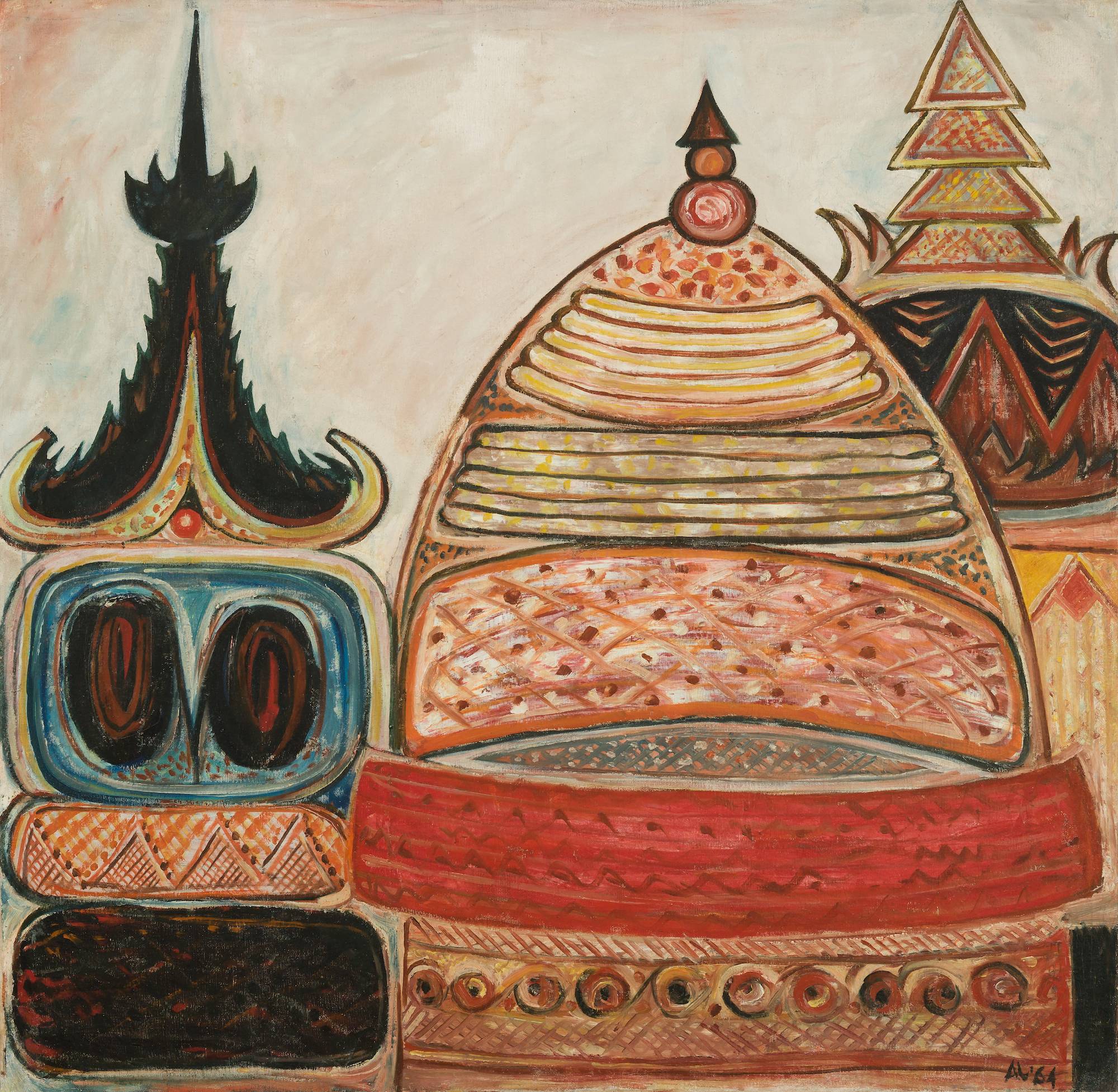 Horns and serrated edges are some of the most distinctive features of Mohidin's Pago Pago paintings — evident in works like Pagoda II (1964) and Pago Pago II (1965).
But funnily enough, this was developed in Berlin in the 1960s; far away from his home in Southeast Asia. He found himself in the German capital after applying for an art scholarship and arrived without knowing a smidgen of the language.
Embodying the merantau sensibilities of his Minangkabau upbringing and heritage — which encouraged the community to travel beyond their homeland and seek knowledge from around the world — Mohidin soaked up all Berlin had to offer: everything from Cubism and Surrealism to experimental film and jazz.
But most notably, it was in the city's ethnographic museums he encountered the Thai and Khmer objects that would form the foundation of his 'Pago Pago' works. The formative experience led him to integrate horns and serrated edges into his works and provided him with the title 'Pago Pago:' he cut the German word for pagoda ('pagoden') in half and repeated it to recall the rhythms of Malay poetry.  
A distinct Southeast Asian aesthetic
Later travels across Southeast Asian countries like Thailand, Cambodia, Laos, and Indonesia inspired Latiff Mohidin to integrate regional phenomena and themes into his 'Pago Pago' works. The thick, controlled brushstrokes in sprawling paintings like Provoke (1965) and the free verse of his poetry grew to recall everything from the temples of Angkor and Balinese dance to ginger roots and bamboo rhizomes. 
With his prolific work, Mohidin's works continue to forge a distinct regional aesthetic while offering a unique perspective into how an artist considers his place in the world.
'Latiff Mohidin: Pago Pago' will be open to the public at National Gallery Singapore from 27 March to 27 September 2020.