When approached for their sources of national pride, Singaporeans will boast about the following: the local food and beverage scene, how safe the city is, and Changi Airport.
More than just a destination for flights and travellers to come and go, Changi Airport is an experience, a world unto its own. How many others of its kind can tout a swimming pool, butterfly garden, cinema and the world's largest indoor waterfall in its confines? We'll wait.
While on the topic of giant waterfalls and bragging rights, let's look at Jewel Changi Airport, which has become the crowning jewel (we're not sorry) of the address. This nature-themed entertainment and retail complex caters to both visitors and locals, whether there for a stopover or a weekend jaunt.
Plenty of dining options exist in Jewel Changi Airport, as expected, so it's easy enough to know where to grab a bite amidst the 135,700 metre-square expanse. When you want a drink, though, things get a little less obvious, and this is where our guide to the best bars in Jewel Changi Airport comes in handy.
Let's face it, whether you're travelling from abroad or from your local neighbourhood, making it to Changi is an exercise deserving of a drink.
Jump To / Table of Contents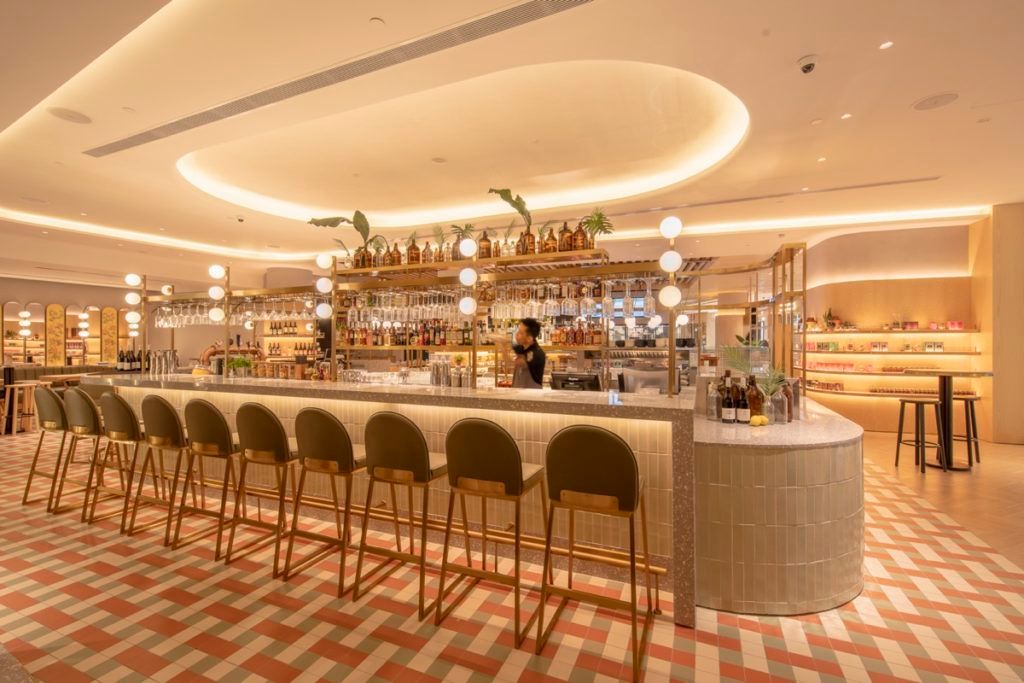 As the first outpost of the Shangri-La Group outside of a hotel, Shang Social aims to offer patrons a variegated experience of Chinese cuisines. Within, there is a formal dining restaurant, a casual market, and finally, a gorgeous art deco-style bar, where cocktails with Asian touches share space with Chinese-style tapas. Read our review here. Casual gastro-bar Rumours' sophomore destination brings all you know and love from its original Holland Village outlet to Jewel. Fruity, tropical cocktails and a classic bar bites menu — nachos, burgers and fries, for instance – offer a frills-free experience for patrons at the open bar, complete with a small courtyard. Tiger Street Lab is the homegrown beer label's first experiential concept destination in the world. Featuring Tiger beer, of course, but also local zichar-style food, design and apparel that pay homage to the iconic brewery. There are also seasonal exclusive beers, featuring flavours like orchid, red dragon fruit and other experimental brews, giving you more incentive to visit and do so regularly. Famed UK chain Burger & Lobster has plenty to deliver apart from what its name suggests. Inside its Jewel Changi restaurant, Burger & Lobster dishes out food and an ample selection of cocktails, as well as wines. Cocktails here lean towards easy, drinkable classics, with the option for off-menu orders as well. Perfect to enjoy with the signature sambal lobster. Tono Cevicheria's sibling restaurant, Tonito, is all about presenting the diversity of Latin American cuisine in an accessible, comfortable setting. Apart from the spread of food that encompasses Mexican, Peruvian, Agrentinian and more, there are also Latin American spirits available on the menu, including the beloved Pisco. The cocktails may be lean, but it perfectly captures signature drinks from Latin America — there is the Pisco Sour, naturally, but also, the Paloma and Chilcano. No, this is not a cult for flat-earthers. The World is Flat is, instead, a quaint gastro-bar with a focus on boutique spirits and craft beers from around the region. Here is where you want to go if you're looking for a classic cocktail or a thirst-quenching pint, and if you're there during happy hour, be sure to enjoy your drink with its oysters, which go for S$2 a piece during the time. Monday to Sunday from 3pm to 7pm, take notes.