If your weekend plans don't regularly involve a fun (possibly boozy) brunch, then you're doing weekends all wrong. But even if you do go out for brunch regularly, you might need to mix up your rotation and try some new spots. Either way, now's the time time to round up your #brunchsquad and eat your way through some of the city's best new brunches. From Spanish tapas at a Jason Atherton staple to a Mexican fiesta to the first brunch offering from one of the most distinguished chefs in the world, we've got the definitive guide to the newest brunches you should be checking out when the weekend hits.
Ham & Sherry When: Every Saturday and Sunday from noon–3pm
Price: À la carte; HK$168 for free-flow cava and Estrella Galicia.
Ham & Sherry often doesn't get as much love as its older sibling, 22 Ships, just across the road, but the casual tapas joint has gone from being just a place to grab drinks pre- or post-dinner at 22 Ships to a dinner spot serving up a stellar and unique menu of its own. The cosy, blue-tiled eatery has just launched a new weekend brunch, with a short but sweet menu of á la carte Spanish tapas, and the option for free-flow cava and Estrella Galicia at a reasonable add-on of HK$168 per person.
Review: The menu options and serving sizes are kept small at Ham & Sherry to let guests sample their way around the menu. The Iberico pork and chorizo burgers (HK$168) — although somewhat pricey for two bite-sized sliders — were packed with flavour; the juicy and charred patties were sandwiched between buttered buns, topped with red peppers and pickles, and given earthy and savoury undertones from a smear of black garlic sauce. Gambas al ajillo is one of our favourite tapas, and Ham & Sherry's version does not disappoint, with plenty of prawn heads piled high in a garlicky sauce to extract maximum shellfish flavour. Scotch eggs with chorizo and piquillo peppers (HK$88) and a slow-cooked egg with mash potato and jamón (HK$88) are two excellent options from the egg offerings, while the crispy churros (HK$58) wrap up the meal nicely with a sweet, cinnamon-sugar-filled ending.
Ham & Sherry Hong Kong, G/F, 1-7 Ship Street, Wan Chai, Hong Kong; +852 2555 0628, hamsherry.hk
Mamasita's Cantina When: Every Saturday and Sunday from noon–3pm
Price: HK$428 per adult and HK$188 per kid; HK$148 for free-flow sangria, sparkling wine, red or white wine.
Although our city still lacks truly authentic regional Mexican food, there are plenty of places you can go for a decent fix of quesadillas, enchiladas and the like. Mamasita's Cantina is one such place, with a fun and vibrant atmosphere to boot. The new brunch here is a buffet-style selection, divided by category: salsa & bread, 10 various types of ceviche, cheese & charcuterie, Mexican classics from a live-cooking station, and Mexican breakfast platters. After filling up on breakfast items such as tortilla chips with scrambled eggs, cotija cheese, chorizo, avocado and sour cream, diners can dig into hearty meat platters, including a 24-hour slow-cooked chile-rubbed beef brisket, and free-range chicken ranchero in homemade coloradito sauce. Finish it off with a Mexican flan, homemade churros, or warm rice pudding.
Mamasita's Cantina, 5-6/F, 8 Lyndhurst Terrace, Central, Hong Kong; +852 2896-6118, mamasitas.hk
Mercato When: Every Saturday and Sunday from noon–3pm
Price: À la carte; HK$250 for free-flow sparkling, red or white wine and Peroni beer.
Casual Italian eatery Mercato serves up a fine selection of pizzas, and their breakfast selections offer a delicious, protein-filled twist on the regular lunch options. Start your day with avocado pizza with smoked salmon and créme fraîche (HK$228); black truffle with three cheeses and farm egg (HK$278); or house-made sausage with egg, three cheese and pickled chillies (HK$188). Chef Jean-Georges' signature handmade pastas are also on offer, as well as classic Italian mains, including veal Milanese with parmesan (HK$288) and porcini-crusted salmon with warm leek vinaigrette (HK$228), recommended with a side of "spicy crackling cheesy polenta" (HK$88). Drinks are a must, with the option of free-flow sparkling, red or white wine and Peroni beer for HK$250 per person.
Review: If you're not opting for the free-flow option, a glass of lychee-raspberry Prosecco (HK$108) is a refreshing way to start the meal. The appetisers are worth exploring: the house-made ricotta with cranberry, olive oil and grilled bread is a Mercato signature, but we opted for the burrata recently and found it just as good — if not better: a tennis-ball-sized burrata filled with fresh cream, crowned in a burst of citrus from orange segments and fruity marmalade (HK$168). The rustic pieces of olive oil-grilled bread are the perfect way to scoop up the cheese-and-citrus combo. We also devoured the giant plate of poached eggs with roasted wild mushrooms, salad and roasted potatoes (HK$148), vibrant with tarragon, dill and fennel — an all-in-one breakfast. We were too stuffed to try the highly-recommended buttermilk pancakes with bananas and house-made nutella (HK$128), but they're on our list for next time.
Mercato, 8/F, California Tower, 32 D'Aguilar Street, Central, Hong Kong; +852 3706 8567, facebook.com/mercatohongkong
Buenos Aires Polo Club When: Sundays from 11am–2pm
Price: HK$328 per person plus 10 percent surcharge; HK$288 for free-flow house wines and beer, HK$588 for free-flow Laurent Perrier Champagne and Club cocktails.
Brunch isn't always the classiest affair, but the stately Argentinian steakhouse Buenos Aires Polo Club offers a sophisticated venue to spend a weekend afternoon. The new brunch is all-you-can-eat, with different stations around the beautifully appointed space, including a room dedicated to plates of king crab legs, oysters, house-made gravlax, cured meats and cheeses; a made-to-order egg station where you can choose how you like your Japanese eggs cooked; and a dessert bar brimming with sticky cinnamon buns, layered cakes, fruit pies and tarts, mille-feuille and fresh fruit. Opt for house wines and beer for HK$288 extra, or go the whole nine yards with free-flow Laurent Perrier Champagne and cocktails for HK$588.
Buenos Aires Polo Club, 7/F, LKF Tower, 33 Wyndham Street, Central, Hong Kong; +852 2321 8681, bapoloclub.com; email reservations@bapoloclub.com or call to book.
Kitchen at W Hong Kong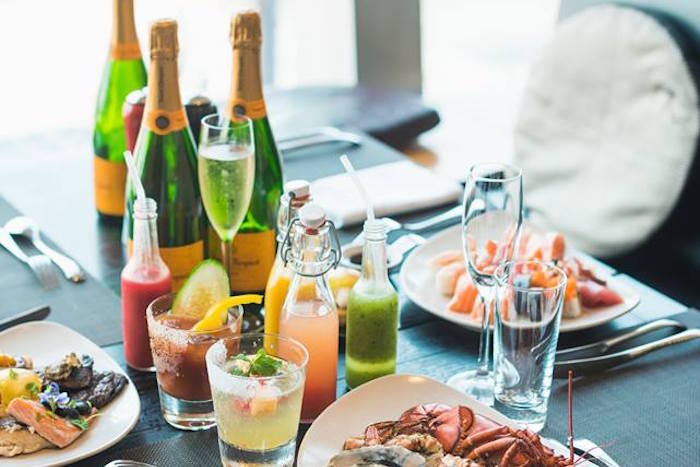 When: Every Sunday from noon–3pm
Price: HK$828 per adult, including free-flow Champagne, wine, beer and cocktails; HK$414 per child with soft drinks only; prices include a 10% surcharge.
What's more fun for a girly brunch than an Alice in Wonderland–themed feast? With the Champagne flowing from start to finish and plenty of seafood options so you can have a long, drawn-out lunch without being overly full at the end, we expect to make several return trips to Kitchen this year for a fun bubbly brunch. The new, revamped brunch spread is inspired by the whimsical fantasy of Alice in Wonderland, with the Mad Hatter's topsy-turvy plates and a golden column comprised of over 5,000 eggs just a few of the highly 'grammable details.
Review: Start with a toast of Veuve Cliquot, with free-flow Yellow Label Champagne as well as Bloody Marys, sangria, wine and beer included in the brunch price. We recommend going straight for the fresh seafood corner, piled high with mussels, crabs, oysters and lobsters — yes, that's all-you-can-eat lobsters. Once you've had your fill, you can double-back on the hot dishes, including breakfast items such as lobster eggs Benedict, and heartier mains such as roasted Canadian prime rib, herb-marinated Australian rack of lamb, Chinese BBQ, and dim sum. For those looking for a lighter option, W's range of signature detox drinks range from beetroot and ginger to coconut water and pineapple, while vegetarians can find comfort in cheese fondue and bowls of beetroot, quinoa and roasted corn. We always cap the meal with two scoops of Haagen-Dazs ice cream, covered in crunchy toppings and sprinkles — although Kitchen's metres-long dessert spread won't leave you short of options.
Kitchen, 6/F, W Hong Kong, 1 Austin Road West, West Kowloon, Hong Kong; +852 3717 2299, w-hongkong.com/kitchen
Pierre at the Mandarin Oriental When: Every Sunday from 11am
Price: HK$688 per person, plus 10% surcharge; includes 500ml Champagne carafe per couple.
Perhaps the idea of a drunken, rowdy brunch crowd doesn't exactly fit in with the ideal of a formal, French dining establishment, which is why world-famous chef Pierre Gagnaire has refrained from serving brunch at any of his venues worldwide—until now, that is. Kicking off his inaugural brunch edition is "Le Grand Petit Déjeuner" at our very own Pierre, where guests can enjoy a traditional French Sunday lunch sprinkled with Parisian breakfast faves for HK$688 per person.
The journey starts with 10 starters to share, including Japan-style oysters with a "tartlet of caviar", beef fillet wrapped in caramelised onions, and seaweed tartare and smoked mackerel. Following are the egg dishes, but don't expect your typical scrambled or poached protein — chef Gagnaire's creations are sophisticated and complex creations, from poached egg with foie gras velouté to nested quail eggs with tomato jam. For the main course, choose from five options including grilled ribeye with buckwheat galette and rocket, cocotte of scallops with razor clams and salsify, and salted cod brandade with cucumber. A range of 13 desserts round out the sweet offerings — and of course, a selection of freshly baked breads, confiture and butters which no Parisian breakfast could be complete without.
Pierre, 25/F, Mandarin Oriental Hong Kong, 5 Connaught Road, Central, Hong Kong; +852 2522 0111, mandarinoriental.com
Kaum at Potato Head Hong Kong When: Every Saturday and Sunday from noon–3pm
Price: HK$395 per person, choose one small plate, unlimited large plates for sharing, and one dessert.
From Hong Kong to Bali, Kaum at Potato Head is where the fresh, funky and vibrant flavours of Indonesia come alive. We've been consistently impressed with Kaum since it first opened — especially with keeping prices consistent with the Bali flagship club despite the city's usual mark-up. With its spacious, tropical-like atmosphere, relaxed vibes, and bold flavours that give you an instant morning jolt, Kaum is firmly on our list of the city's best new brunches.
Review: With the menu drawing inspiration from the more than 600 ethnic groups that make up Indonesia, brunch at Kaum can start with gado gado — assorted blanched vegetables in a white cashew and peanut sauce — or batogor, Japanese fried prawn and mackerel dumplings with a roasted cashew nut sauce, scallions and fresh coriander. The dumplings are plump and meaty with a chunky, textured seafood filling — equivalent to giant fried wontons. There's also an Aceh-style curry dancing with spices and featuring juicy prawn tails, or a lighter marinated fresh tuna with coconut oil, lime, chilli and green apple. For large plates, you can feast on as many as you'd like to share — we recommend the roasted baby pig marinated in a fragrant mix of Balinese spices, and the nasi goreng udang — fried rice tossed with fresh prawns, Bangka shrimp paste, basil leaves and red chilli paste.
Kaum, Potato Head Hong Kong, 100 Third Street, Sai Ying Pun, Hong Kong; +852 2858 6066, ptthead.com