Before the grain bowl, there was thunder tea rice, an ancient Hakka dish more fondly known as Lei Cha.
Preparation of thunder tea rice first begins with a painstaking pulverisation of a multitude of vegetables and herbs (which include mugwort, basil, tea leaves and nuts) with a mortar and pestle, which is then added with boiling water to create a bright green soup. On the table, it is served alongside a bowl of rice that's topped with an assortment of chopped vegetables.
The nutritious, vegetarian bowl was created during the warring Three Kingdoms period in China, said to keep the soldiers in good shape and resistant to disease. Perhaps due to to its strange-looking colour and the characteristic "green" aroma of the soup, thunder tea rice remains a niche, albeit polarising dish in Singapore.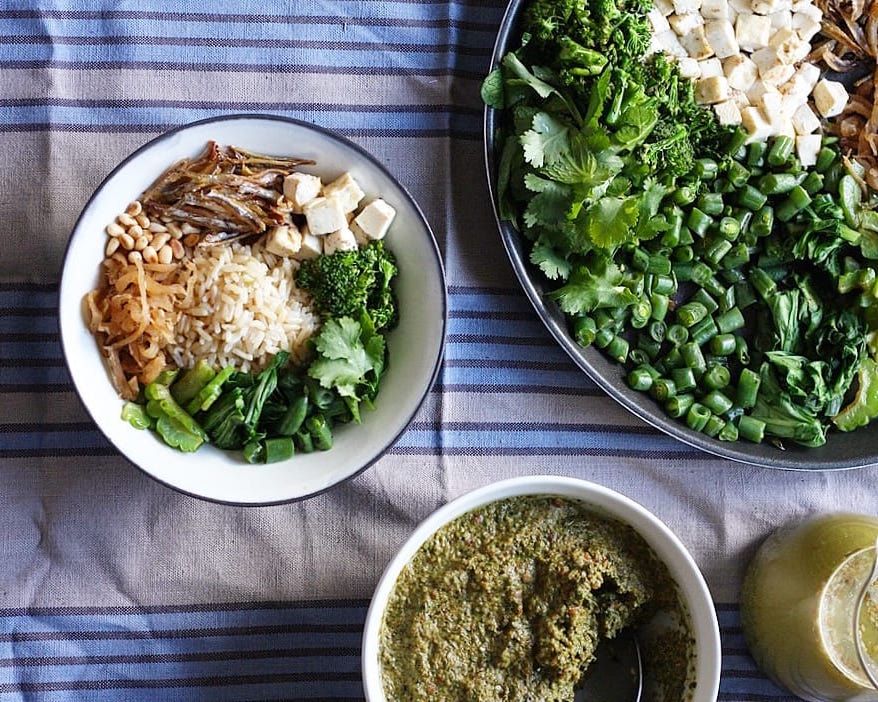 It isn't commonly found here either: many hawkers are put off by its labour-intensive process, and most diners would rather opt for a plate of chicken rice than a bowl of greens topped with a thick tea soup.
Yet, we're seeing a resurgence in popularity over the dish due to the increasing amount of consumers who looking to incorporate more greens into their diet. Read on for some of our favourite thunder tea rice spots in town. After all, there's no time like the present to get started on the healthy-eating, right?
Here's where to find the best thunder tea rice in Singapore:
((Hero and featured image credit: @pamelachia via Instagram & Living Wholesome Vegetarian)
Jump To / Table of Contents If you're new to thunder tea rice, perhaps you'd like to give a more modern version of the dish a go before delving into the traditional flavours. Ah Lock & Co, nestled in the basement of Guoco Tower, is the place you should head to. The grain bowl infuses elements of both thunder tea rice and the Hakka yong tau foo that results in an innovative rice bowl complete with touches of tradition and familiarity. Vegetarians take note: unlike regular thunder tea rice, the bowl here comes with stuffed chicken tofu and meatballs.
(Image credit: @ahlocknco via Instagram) The prices at Thunder Tree may be a little steeper compared to the more traditional stalls, but diners have to account for the fact that the establishment uses mainly organic ingredients and there isn't any MSG, artificial flavouring or colouring in their preparation process. Each generously portioned bowl comes with a creamy green soup that isn't too bitter or herbaceous, making it a great option for those who enjoy a more viscous soup option that's light in flavour.
(Image credit: @zehbeehoon via Instagram) Vegetarian cafe Sunny Choice has been operating since 2007, and their thunder tea rice is hands down, one of the most popular items on the menu. Instead of the regular ikan bilis, peanuts and choy sum, they've replaced them with more premium items like fried enoki mushrooms, cashew nuts and the cekur manis. The broth itself is a secret recipe from the owner, who uses a total of ten ingredients to create a deep, olive-green soup that's delightfully sweet and savoury at the same time.
(Image credit: @mew.tatsme via Instagram) If you're looking for a thunder tea rice stall that's big on the savoury notes, you'll find yourself right at home at Thunderbolt Tea. The fragrant broth is slightly creamy, with aromatic hints of sesame and peanuts — a recipe that's been with the heritage spot since it first opened. If you think you won't be full after a bowl of vegetables, you can always add some fried pork belly to top the dish off with.
(Image credit: @cuisineparadise via Instagram) The bowls at Traditional Hakka Rice come crowned with a delightful mix of tofu fried with leek and dried shrimp, preserved radish, shredded cabbage, chopped green beans and a scattering of toasted peanuts to give the dish a crunchy, textured mouthfeel. The broth, however, is what really stands out: refreshing, balanced and not overwhelmingly bitter. The sea of green incorporates toasted sesame seeds and peanuts with basil, mugwort and sawtooth leaf to create a nutty, aromatic mixture that's great for beginners.
(Image credit: @breadandcaifan via Instagram)