It's almost time for Chinese New Year, and with the celebrations, plenty of good food. Singaporeans, of course, are one of the best people to turn to when it comes to good food, and what better way to celebrate the Lunar New Year in 2023 than with a table full of the most symbolic 'lucky foods'.
Why are these foods considered lucky and auspicious for Chinese New Year?
These auspicious dishes are rooted in symbolism and history. The fortuitous symbolism of these foods often relates to the shape or colour of the dish. In addition, they specifically relate to how the character sounds when spoken in Chinese: a homonym to lucky-sounding words. These wildly delicious dishes are commonly relished during the Chinese New Year celebrations in Singapore.
Chinese New Year Foods: 6 dishes that bring good luck
Poon Choi or Pen Cai: Unity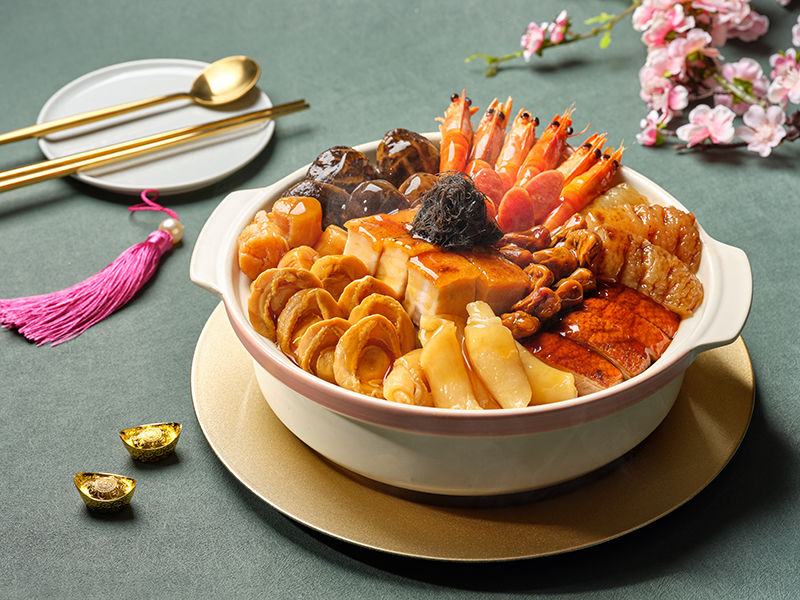 The celebratory Chinese dish poon choi (aka pen cai), is guaranteed to make an appearance during Chinese New Year. It is a literal translation of its Cantonese namesake: a basin filled to the brim with premium food. The tastefully crafted poon choi is layered with at least eight main ingredients, including turnip, mushroom, chicken and pork. Seafood, chicken and prawn make up the top layer of the dish.
Friends and family share the festive meal together, representing individual cooperation. Interestingly, early residents of the New Territories served the poon choi in birthdays and festivals. However, many restaurants around the city offer a version of this festive treat.
Where to try: Summer Palace, Si Chuan Dou Hua
Nian gao: Growth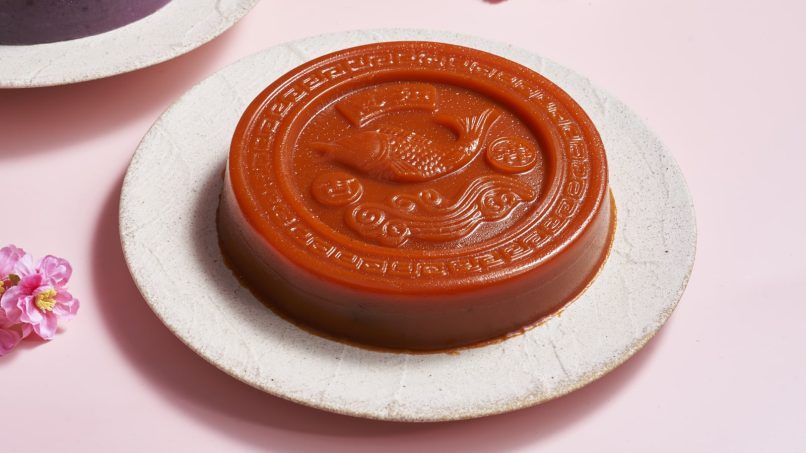 Growth plays a huge role in the Chinese New Year celebrations. The familiar image of the Sweet Rice Cake, or nian gao, is a welcome sight during the Lunar New Year. Nian gao, which means 'higher by the year', symbolises progress and growth. While specific regions prepare the savoury nian gao, the sweetened version is popular in Singapore. Every Chinese New Year, chefs across the city whip up unique versions of the treat with other auspicious ingredients such as tangerine, red bean, and black sugar.
Where to try: The Fullerton Hotel, Park Royal Collection Marina Bay Singapore
Yau gok/Kok zai: Wealth Fried dumplings are arguably the main attractions for Lunar New Year. Although deep-fried in oil, the traditional Cantonese delicacy is sweet, although savoury ingredients such as mushroom, peanut and coconut have also filled the glutinous dough, making for a decadent treat. In addition, the shape of the Yau Gok is evocative of the gold ingots the Chinese used for centuries as money. So, what better way to start the Year of the Rabbit than chomping down piles of golden ingots?
Where to try: Auntie Hong, Bake Avenue
Fish: Prosperity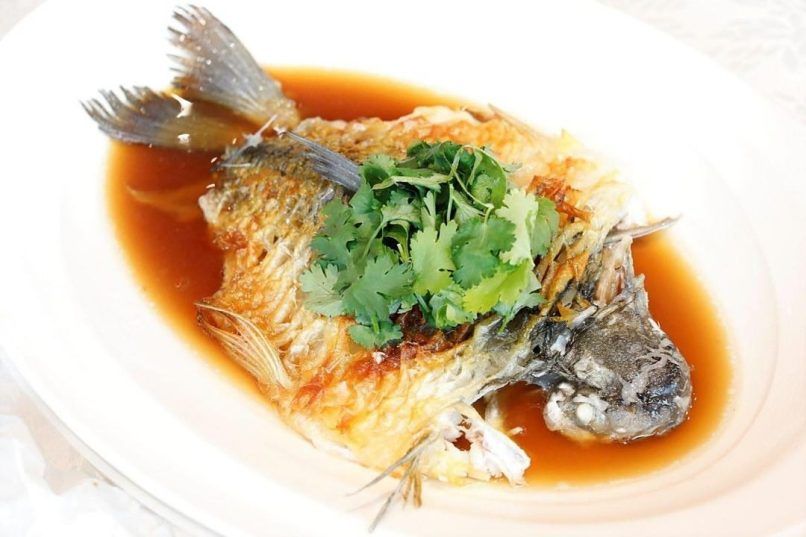 Eating fish is one of the most common traditions of the Chinese New Year. In Cantonese, the word for fish means 'surplus' or 'extra'. The fish indicates surplus and prosperity. The fish should be the last dish with some leftovers, as this has auspicious homophonic of surpluses every year. Traditionally, diners leave the head and tail of the fish to eat at the beginning of the new year.
Where to try: Mott 32 , Tung Lok Heen
Sesame smiling cookie balls: Happiness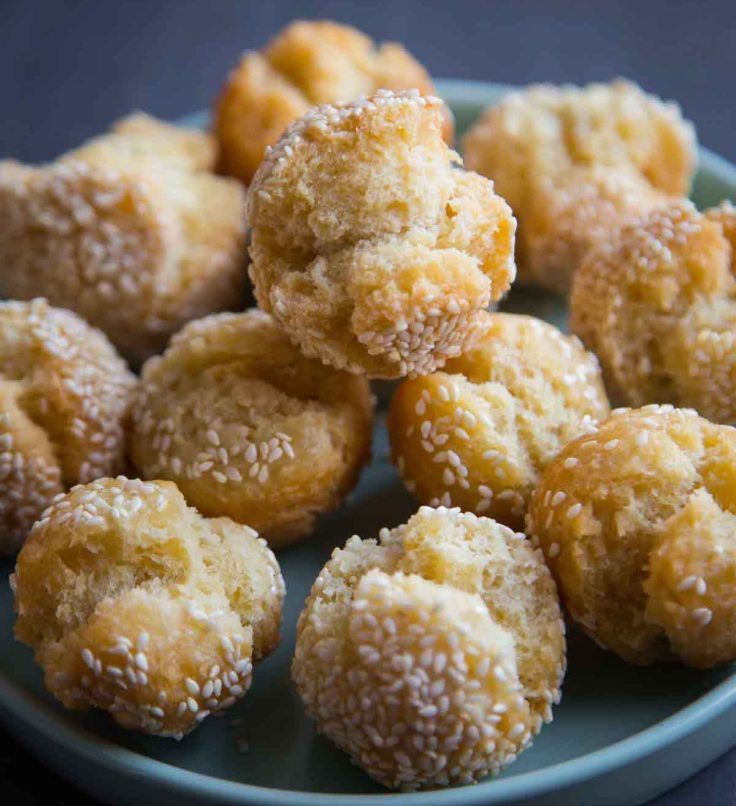 A beloved sweet treat, these traditional sesame cookies symbolise happiness and laughter. The Chinese name translates to 'smiling mouth cookies'. These balls of joy are crispy on the outside and chewy on the inside. The dough ball cracks open when deep fried, thus resembling a right jolly chuckle. Gifting these cookie boxes to your loved ones will guarantee a smile on their face.
Make it at home: What To Cook Today
Tang yuan: Reunion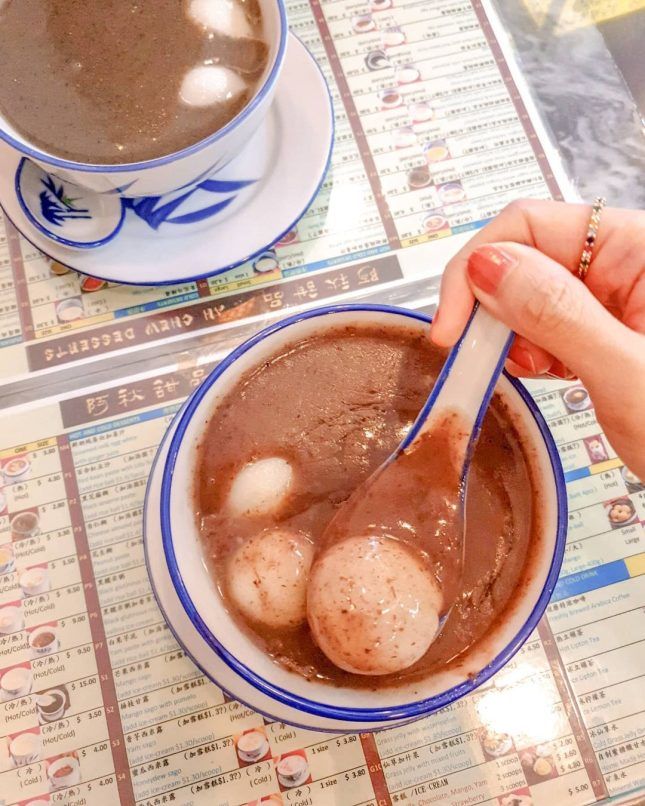 Traditionally served during the Lantern Festival, tang yuan symbolises 'reunion'. These round mochi rice balls come in various flavours, including peanut, black sesame, red bean paste and even yam. In addition, popular dessert shops in Singapore offer a unique version of these treats every year.
Where to try: 75 Ah Balling Peanut Soup, Ah Chew Desserts
(Hero and featured image credit: Parkroyal Hotel Singapore & Si Chuan Dou Hua)
Frequently Asked Questions (FAQs)
Question: What are the traditional Chinese New Year dishes?
Answer: Pen cai, fried dumplings, nian gao, and tang yuan are some of the best and most auspicious Chinese New Year traditional dishes.
Question: Where to try nian gao in Singapore?
Answer: Every Lunar New Year, chefs across the island whip up unique versions of Nian gao with auspicious ingredients such as tangerine, red bean, and black sugar.