Beef buffs, mark your calendars. Bedrock Bar & Grill's signature World Meat Series returns this year and kicks off the first quarter of 2023 by spotlighting Miyazaki Wagyu by Arita Ranch.
Launched in 2016 and developed by the award-winning Singapore steakhouse, it showcases premium and lesser-known meats from around the globe quarterly in the year.
Bedrock Bar & Grill's World Meat Series 2023 begins with the exquisite Miyazaki Wagyu by Arita Ranch. Procured directly to ensure traceability and consistency, expect quality cuts from the prized beef that's featured in Bedrock's limited menu.
What makes Miyazaki Wagyu by Arita Ranch special?
Arita Ranch, a single farm that raises Japanese Black cattle in the Miyazaki prefecture, has over 60 years of knowledge and experience in cattle farming. Reared without using artificial medicine or enhancements, the cattle thrive naturally to develop the highest quality beef. This results in the beef's umami flavour and tender marbling.
The ranch also engages a dedicated feed manufacturing manager certified by Japan's Minister of Agriculture, Forestry and Fisheries, who developed a unique feed mix comprising grains and self-cultivated pastures.
The best of Miyazaki Wagyu by Arita Ranch at Bedrock Bar & Grill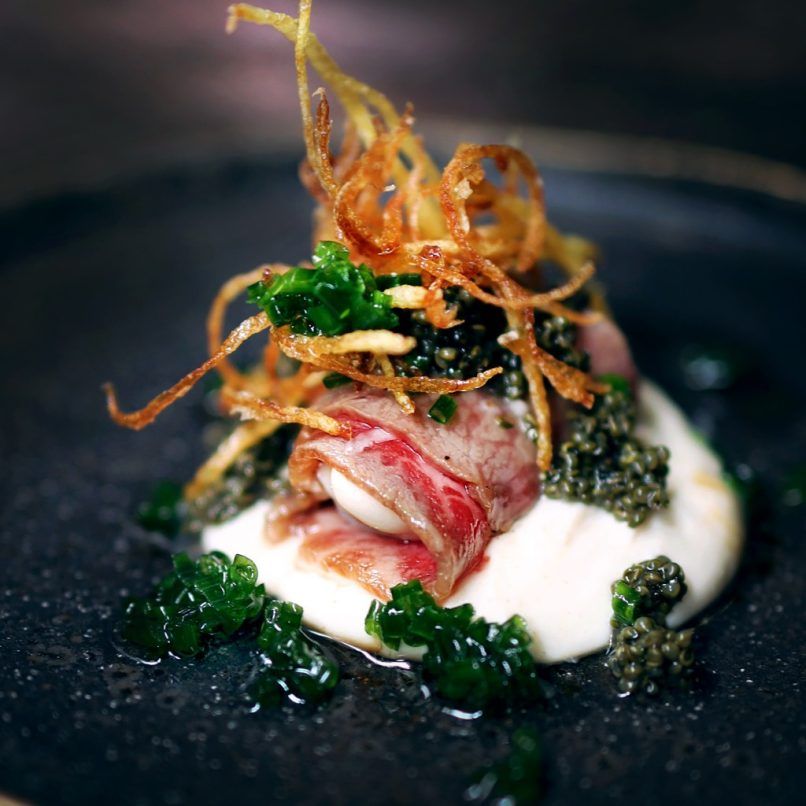 To best showcase Miyazaki wagyu by Arita Ranch, Chef Isaac Tan of Bedrock Bar & Grill uses various culinary styles and techniques to conceive a five-course tasting menu highlighting specific cuts. You can also complement it with an optional four-course Mobbile wine pairing.
The course starter is a flavour bomb as land and sea converge through the Cured Wagyu Beef Wrapped Oyster. A butter-poached Sakoshi oyster is wrapped snugly with a thin slice of soy-cured Wagyu beef rump on velvety celeriac puree and bright pesto. The Severed Hose, a rosé Cabernet Sauvignon 2019 made with small crushed red fruits, provides a bright sweetness to the chilled creation.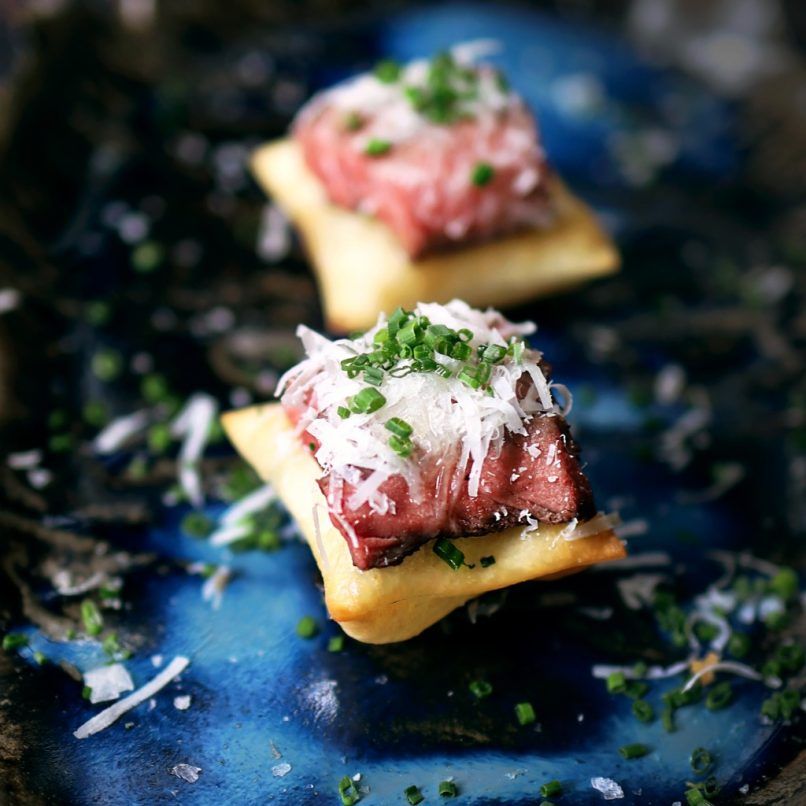 Next up is a unique and modern take on a wagyu Philly Cheesesteak. Instead of a hoagie roll, the sub appears as a crispy deep-fried cracker-like bread that's stuffed with sliced soy sauce-cured Wagyu beef rump, tangy black garlic mayonnaise, and topped with 36-month-aged Parmigiano cheese shavings. Intero, a Pinot Noir 2020, enliven the savouriness with its zesty and smooth tannins.
Beef can still be tender even if it's cooked for prolonged hours. 24-Hour Cooked Wagyu Burnt End highlights the roasted chuck rib cut on top of creamy porcini mushroom risotto and herb-filled gremolata. Pairing it is Bruce, a Cabernet Sauvignon 2019 with strong cassis notes and a peppery aroma.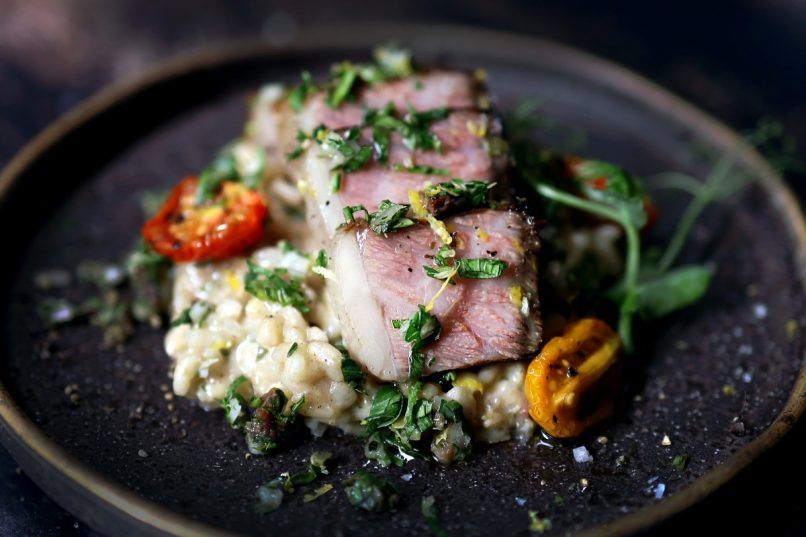 The main star arrives next – a juicy, applewood fire-grilled Rump Cap Wagyu Steak. Served alongside pan-seared Hokkaido scallops and in savoury foie gras sauce, it balances with refreshing flavours from caramelised Granny Smith apples and grilled cherry tomatoes. Sip on Edging, a Cabernet Blends 2019 that sports notes of cherries, black liquorice, and blackcurrant with lively acidity.
Rounding up this limited menu is a decadent Hazelnut Chocolate Gateau. Made with 66% Valrhona Dark Chocolate Noir, it is a texture heaven with delicate brittle, toasted hazelnuts, and fresh raspberry after every bite.
Selected dishes on the tasting menu are also available as à la carte specials, including a Soy-Cured Wagyu Beef Carpaccio. Cured overnight in soy sauce, the beef rump is aged for up to three days to concentrate the flavours. The sliced rump is layered onto a mildly spicy horseradish puree and crowned with a confit egg yolk and crispy Yukon Gold potato strips.
Bedrock Bar & Grill's World Meat Series – Miyazaki Wagyu by Arita Ranch happens till April 30. The 5-Course Dinner Tasting Menu is priced at $158++ per person with an option to top up $68++ per person for the wine pairing. À La Carte Specials are priced from $48++ per serving.
(All images credit: Bedrock Bar & Grill)
Bedrock Bar & Grill is located at 96 Somerset Rd, #01-05 Pan Pacific Serviced Suites, Singapore 238163.